Evangelical U.S. Air Force General Has Secretly Been Running a Christian Online Ministry in Possible Violation of Rules: Exclusive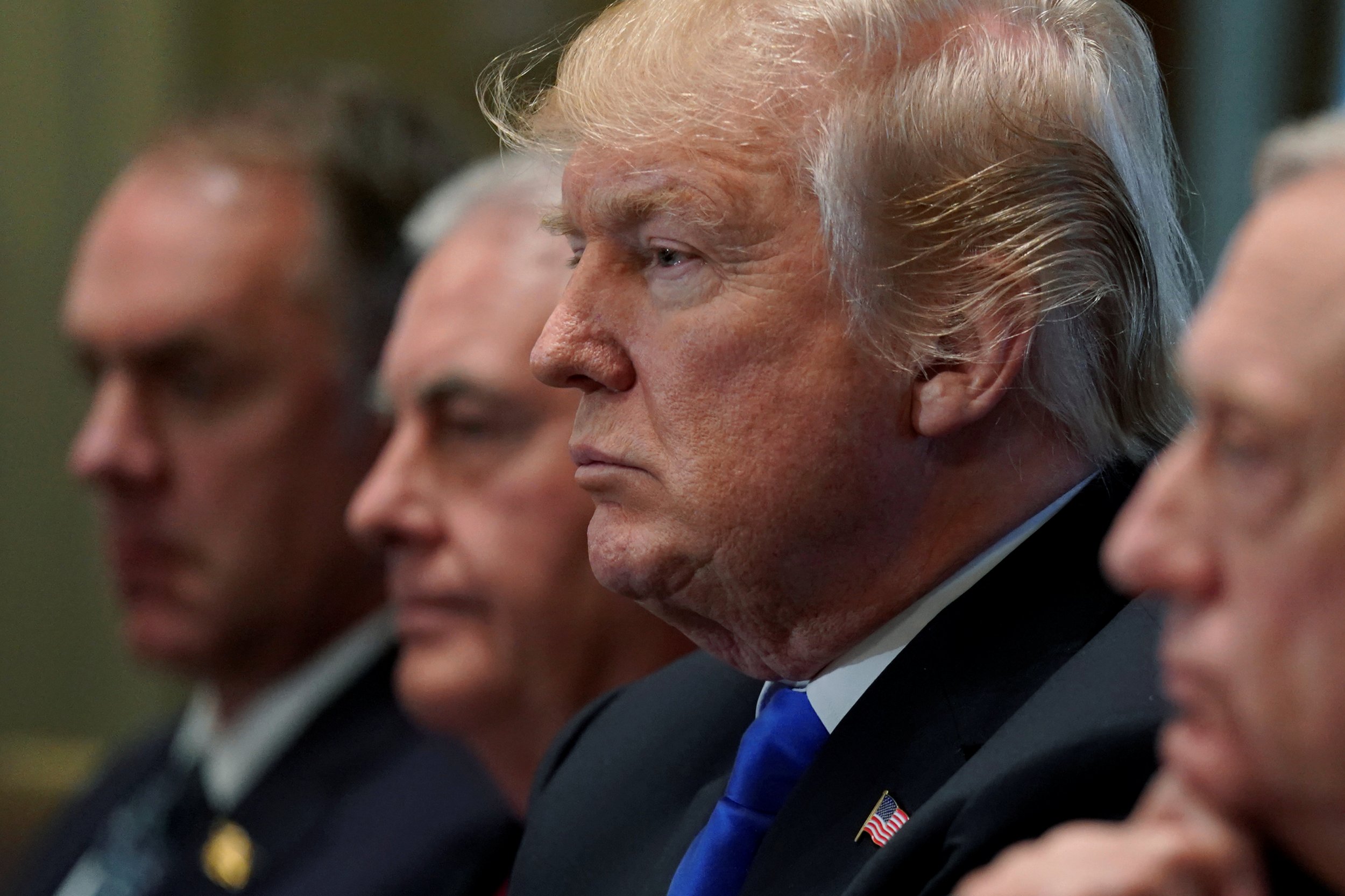 The Air Force brigadier general newly in charge of one of the nation's most celebrated and elite Air Force wings has been running an online evangelical Christian ministry for the last five years—in violation of Air Force and Defense Department rules about religious proselytizing, according to a formal letter of complaint sent to Defense Secretary James Mattis Sunday.
The Military Religious Freedom Foundation (MRFF), a nonprofit that advocates for separation of church and state in the military, sent the letter after receiving what its founder and president Michael "Mikey" Weinstein said were 41 complaints about Brigadier General E. John Teichert. Newsweek has seen one of the complaints, but has agreed to keep the complainant's name confidential.
Teichert, who flew combat missions over Iraq and the former Yugoslavia, according to his official bio, runs a website called Prayers at Lunchtime for the United States (PLUS). On it, in addition to short essays on Bible passages, and calls to pray to make America more Christian, he identifies himself only as "John." The website doesn't mention Edwards Air Force Base, but Teichert recently posted a picture of his newly acquired general's epaulet star, alongside a note about his new rank on the PLUS site.
Among the items on a long "prayer list" are: "A return to our Biblical Foundation"; "Appreciation for our national Christian heritage"; "Appreciation for a nation formed, blessed and prospered by God's power" and "The unborn."
Under "About John," the site states: "John is an active duty Brigadier General who has served in the United States Air Force since 1994, and who was saved by grace through faith in Christ in 2004. He has commanded at the wing, group and squadron levels, and is currently serving as as Air Force commander. The Lord has blessed his career while burdening his heart with the need for our nation to return to its Christian foundation."
The site also links to a 2014 interview in which his full name is published. In that interview, Teichert explained that he started the site in early 2013 hoping to "prompt Christians to be faithful in prayer such that it will spur widespread revival in our nation. The goal is to change our national spirit so that the Lord can change our national direction. I'm concerned about our country's drift away from the foundation on which we were built."
In a 22-page complaint letter sent Sunday to Mattis and to Teichert's superiors at the base and at the Pentagon, and shared with Newsweek, the MRFF requests an investigation into whether his "conduct interferes with or violates the civil liberties of service-members and civilians under his command," and whether it violated military diversity regulations.
The MRFF also suggests that by not including a disclaimer on his website, he is violating Air Force standards that require leaders to "balance constitutional protections for their own free exercise of religion, including individual expressions of religious beliefs, and the constitutional prohibition against governmental establishment of religion. They must ensure their words and actions cannot reasonably be construed to be officially endorsing or disproving of, or extending preferential treatment for any faith, belief, or absence of belief."
The letter suggests that besides violating Air Force regulations, Teichert is contravening several articles of the Uniform Code of Military Justice (UCMJ), including Article 133—"Conduct Unbecoming an Officer and Gentleman"—as well as several Supreme Court decisions restricting military service members' First Amendment rights.
"MRFF submits that Brig. Gen. Teichert's publicly posted remarks demonstrate his discriminatory animus and overt condemnation of all personnel under his command who do not share his personal and particular dominionistic brand of Christianity," the complaint letter states. "For those members of the 412th Test Wing at EAFB who are, e.g., agnostic, atheist, Hindu, Jewish, Mormon, Muslim, humanists, secularists, etc., his conduct at issue here, 'seriously compromises [his] standing as an officer.'"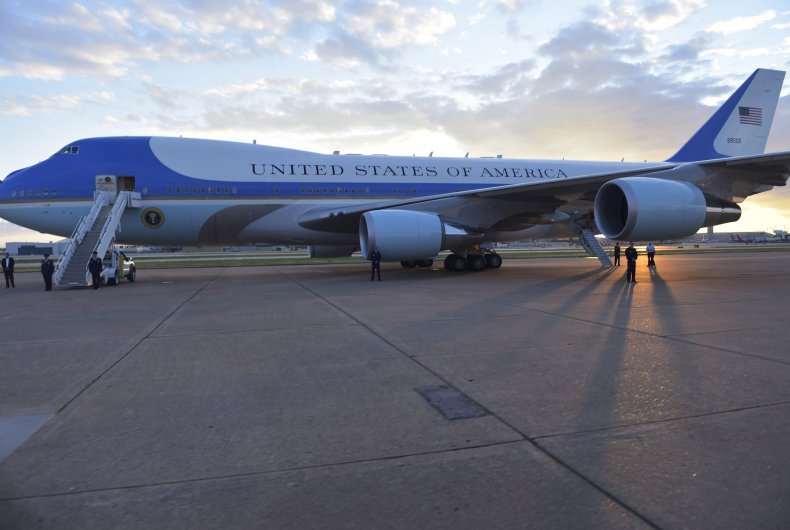 A spokeswoman for Defense Secretary Mattis said his office had received the letter; when asked about next steps, she emailed: "Nothing at this time."
Fundamentalist Christianity has been gaining ground in the U.S. military, especially after 9/11. In 2011, it was revealed that chaplains at another California Air Force base, Vandenburg, were teaching a course in "Christian Just War Theory," in which they used the Bible and Christ's teachings to justify atomic warfare. A year before that, the military admitted that hundreds of thousands of high-powered rifle sights inscribed with "Jesus secret codes" were being provided to troops in the Middle East—a direct violation of military rules prohibiting religious proselytizing in Iraq and Afghanistan in order to avoid accusations of a "crusade."
Weinstein, whose organization claims 57,000 members, has said that under President Donald Trump, radical evangelicals in the military have been emboldened.
The MRFF letter accuses Teichert of espousing Christian Dominionist beliefs. Dominionism is a set of beliefs that include the notion that America's founding fathers were devout evangelicals and which depict Jesus as a warrior and Christians as "prayer warriors." Dominionists promote the ideal of a United States as a Christian nation, ruled by God's Biblical rules above human laws.
Under "Motivation," Teichert writes on his website that his aim is to encourage prayer. "This site, and the associated Facebook and Twitter sites, will provide a weekly prayer theme to guide Christians in their prayers—bi-weekly posts will be based on an important Bible principle and specific scripture. They will be challenging and thought-provoking. The posts are directed towards Christians, who have failed to pray as we should and on whose watch this nation has drifted from its foundation. Christians are encouraged to find a place to pray and advertise it so that others can join them. This type of group prayer will create an environment of encouraging others, challenging others, and prompting accountability."
Before taking his post at Edwards, Teichert was wing commander at Andrews Air Force Base, which maintains, protects and flies Air Force One, the president's plane. Teichert was promoted to his position as commander of the 412th Test Wing at Edwards last month. According to its website, the test wing at Edwards "is the 'Center of the Aeronautical Universe.' This is where the future of the nation's aerospace defense system can be viewed. There are nine flight test squadrons with as many as 20 aircraft assigned to each. The aircraft are grouped by mission representing global power (fighters and bombers); global reach (transport); and global vigilance (unmanned and airborne laser)."
The 412th Test Wing oversees day-to-day operations and provides support for over 10,000 military, federal civilian and contract personnel assigned to a 470 square mile installation. The base has a storied history, and USAF elite pilots have tested new planes in theskies above the Mojave desert for decades. Chuck Yeager broke the sound barrier there, hitting Mach 1.0 in a Bell X-1 rocket plane. He later crashed an F-104 at the base. Every modern fighter plane, from B-1 bombers to drones to experimental rocket planes, has been tested there.
In a statement released to Newsweek, Weinstein, a retired Air Force officer and former Reagan administration lawyer, called Teichert "an unconstitutional train wreck."
"MRFF demands to know who Teichert's USAF and DoD enablers are and have been," he said in the statement. "Prior to assuming his new position at Edwards AFB, Teichert was the Wing Commander of the immensely visible 11th Wing at Joint Base Andrews in Maryland. The 11th Wing is the "Host Wing" at Joint Base Andrews which is world famous for being where Air Force One is housed and maintained. This Command allowed Teichert almost unrestricted universal access to the highest dignitaries and officials of DoD and the White House including Trump's own family."
Newsweek has reached out by phone and email to Teichert and Teichert's superiors at Edwards AFB and will update this story with any response.
Updated 8/13, 4:18 p.m.This story was updated to include a response from a Mattis spokeswoman.