Trump Executive Order on Mail-In Voting Would Face Swift Legal Challenge
An executive order targeting mail-in voting would likely face swift legal challenges, experts say, casting doubt on President Donald Trump's power to alter state voting procedures.
Trump has continually attacked mail-in voting, insisting it would lead to widespread fraud, despite there being no evidence to suggest this has happened in the past.
He has long pushed back against states expanding mail-in voting, which has occurred widely throughout the COVID-19 crisis, even suggesting November's vote perhaps be delayed so more people would vote in person.
With regard to potentially issuing an executive order on vote-by-mail, Trump said: "I have the right to do it.
"We haven't got there yet, but we'll see what happens."
However, the majority of election procedures are governed at a state level, with others set by Congress or the Constitution.
Richard H. Pildes, Sudler family professor of Constitutional law at NYU School of Law, told Newsweek that the president does not have the power to carry out his threat.
"The Constitution gives Congress the power to set the ground-rules for national elections, but it does not give the president any such powers. Congress has historically not used this power extensively and has instead left the regulation of elections, including national elections, to the states," he said.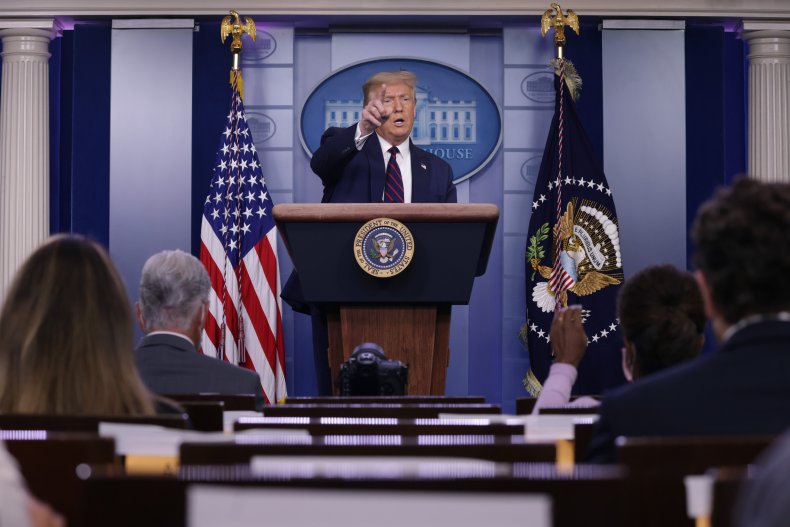 "We do not know what the content of this executive order might be, but if it purported to deny the states the power to use mail-in voting, the courts would almost certainly strike it down quickly."
Samuel Issacharoff, co-author of The Law of Democracy and Bonnie and Richard Reiss professor of Constitutional law at NYU School of Law, similarly said though Trump may push states to alter their regulations, he does not have executive power to do so.
"He has no executive authority over state election procedures," he told Newsweek.
"He does have the bully-pulpit, but his repeated claims to be in charge over all sorts of state activities, including COVID responses, has left it hollowed out. He repeatedly proclaims what he is going to command, and nothing comes of it."
Commenting on what sort of order the president might issue, Issacharoff suggested he could try to target the postal service.
"The fact that it is part of the executive means that the president can issue executive orders and can pressure it in many ways. While he does not have authority over the conduct of elections at the state level, he can issue orders of general application regarding the conduct of the post office," he said.
Moves to control the service would also be subject to legal challenges, Issacharoff said. He suggested there might be "voting rights challenges to the impact of his orders."
"The postal service is closer to his domain of authority because it is a branch of the federal government. But even here, there are procedures and substantive constraints, as the president discovered with his efforts to command the Census not to count non-legal aliens," Issacharoff added.
"Whether any presidential action is likely is a matter that will be determined by the politics of the moment, and his sense of electoral despair. What is certain are the legal challenges that would ensue."
Newsweek has contacted the White House for comment.
Trump recently called for litigation to be taken after Nevada's Democratic Governor Steve Sisolak signed a bill allowing every registered voter in the state to vote by mail.
The Nevada GOP has planned protests against this decision.
Meanwhile, Postmaster General Louis DeJoy has been called to testify at a House Oversight and Reform Committee after Democrats raised concerns that cost-cutting measures adopted by the Postal Service could delay or block mail delivery, potentially causing issues for mail-in voting.