Donald Trump's Executive Orders: More Symbol Than Substance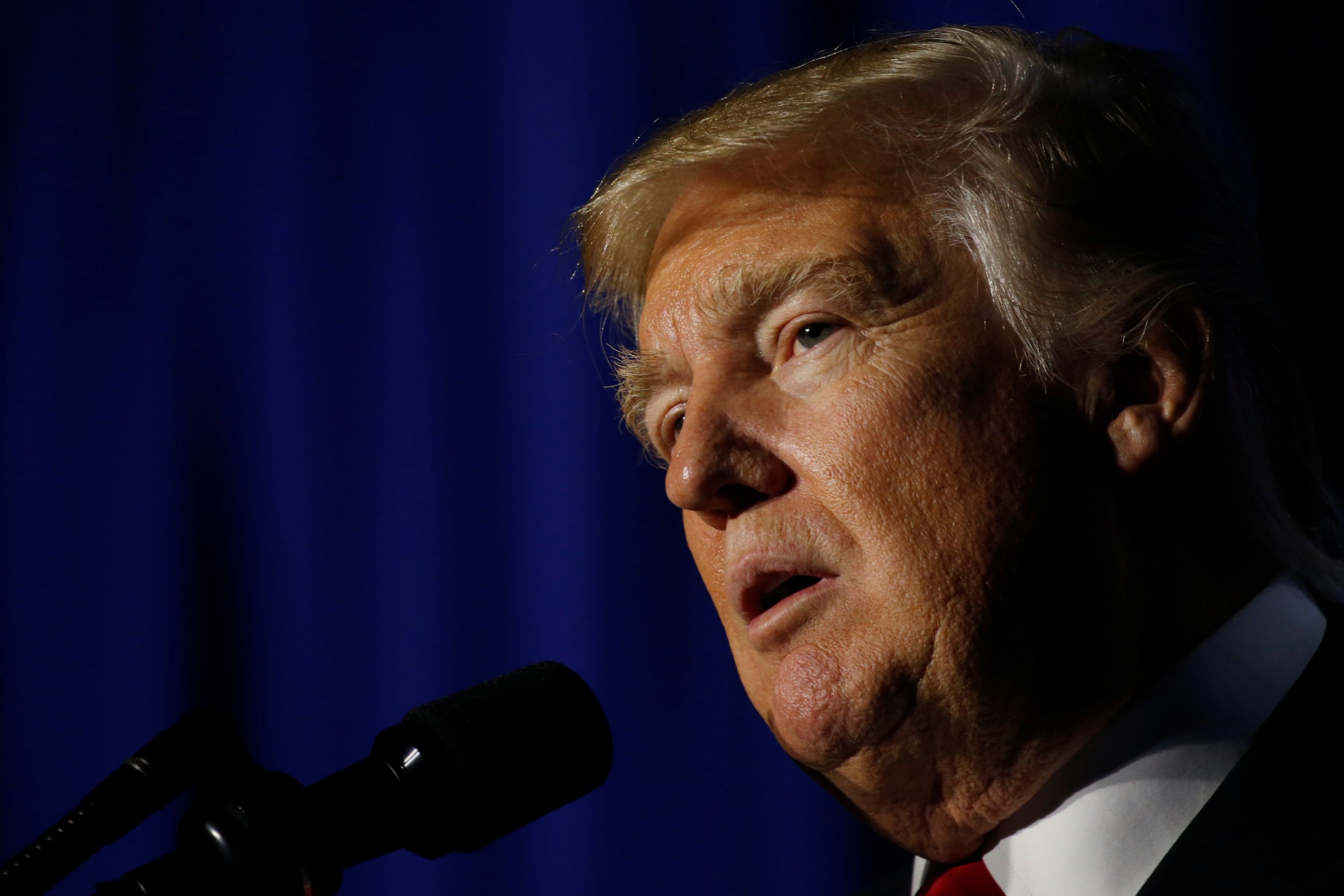 President Donald Trump has signed a flurry of executive orders and presidential memoranda since his swearing-in January 20—a sign of "bold action," according to his White House. But despite the pomp and circumstance of the signing ceremonies and the accompanying headlines, they do little, on their own, to advance Trump's main policy goals.
Instead, presidential scholars and policy analysts say, they are more about sending a message and setting a direction. The symbolism alone is not inconsequential, however, especially considering what it says to leaders abroad.
Related: Trump signs orders for border wall, 'sanctuary' cities
"The number and the scope of what he's doing is completely normal" when compared with past presidents, "and by and large insignificant," says professor Jeffrey Engel, director of the Center for Presidential History at Southern Methodist University.
George Washington University professor Matthew Dalleck has a slightly different take. "I think they are substantive, but their substance is limited," he says.
The two presidential historians agree, however, that regardless of whether it's Trump's first order—to rein in Obamacare—or Wednesday's orders to build a wall along the border with Mexico and shift immigration enforcement priorities, it will be up to the president's Cabinet officials and Congress to follow through on most of the actual policymaking.
There are plenty of potential obstacles. The executive order Trump issued Wednesday calling for the secretary of homeland security "to immediately plan, design, and construct a physical wall along the southern border" offers no cost estimate—which experts warn could be prohibitive—and it does not suggest where the money would come from. White House spokesman Sean Spicer has reiterated the idea that Mexico will ultimately pay for the wall "one way or another," but in the meantime, it will fall to American taxpayers and Congress to foot the bill. Some spendthrift Republicans could balk if the price tag spirals out of control.
Trump's order instituting a federal hiring freeze, meanwhile, includes several loopholes, granting agencies exemptions for "any positions that it deems necessary to meet national security or public safety responsibilities." The Office of Personnel Management may also grant exemptions when "otherwise necessary."
Even pending orders, drafts of which have been leaked to the press, are limited in scope. An executive order following Trump's promise of a so-called Muslim ban will last only 30 days and target just seven war-torn countries in the Middle East and North Africa that supply a relatively small number of immigrants—roughly 50,000 in 2015, or 5 percent of the more than 1 million foreigners granted permanent legal status. It does not include far larger Muslim-majority countries with their own troublesome histories of extremism, including Saudi Arabia, Pakistan, Egypt, Turkey, Morocco and Tunisia.
If Trump follows through on an order to suspend the admission of refugees, it would scramble the situations for some of the world's most desperate and vulnerable people. But, again, it would affect only a sliver of America's overall immigration total—the United States granted refugee status to 85,000 people in 2016. Syrians, whom the president would ban, made up 10,000 of that total. In other words, it's a symbolic and, refugee advocates argue, misguided crackdown on a small number of people that will do little to alter overall immigration flows or domestic security.
Just because a president signs executive orders, moreover, doesn't mean the commands will ultimately be carried out. As Engel points out, President Barack Obama ordered the closure of the Guantánamo Bay detention camp in Cuba on his second day in office. Eight years later, Gitmo is still up and running, although Obama did succeed in dramatically reducing the number of prisoners held there. Another Obama order, known as Deferred Action for Parents of Americans and Lawful Permanent Residents (DAPA), halts deportations for certain classes of undocumented immigrants but has been held up by legal challenges. The same could happen to several of Trump's actions on immigration enforcement.
Other orders and memos Trump has issued in recent days are more simple to execute but have less of an impact. The president declared in a memo that the United States was withdrawing from the Trans-Pacific Partnership (TPP), a multilateral trade agreement with nations in the Asia-Pacific. But that agreement had not yet been ratified by Congress and was already presumed dead. Trump also reopened the approval process for the Keystone XL and Dakota Access pipelines, a blow to environmental activists. Analysts, however, largely agree that the pipelines have become outsized symbols for supporters and opponents alike and will not have a significant effect on either the environment or energy production in this country.
Trump is still considering an order to overturn the DAPA Obama order and another, Deferred Action for Childhood Arrivals (DACA), which has allowed roughly 800,000 undocumented immigrants to stay in the United States. That action stands out as one that would take immediate effect and have a widespread impact. It would set an expiration date on the legal status of these longtime American residents, who were brought to the United States illegally as children, raising questions about whether they could be rounded up and deported.
The Trump White House has indicated that participants in DACA, known as DREAMers, will not be a deportation priority, but the uncertainty is sure to roil the entire community.
Overall, however, the scope of Trump's executive orders this week underscore the importance of symbolism, whether it's the pipelines, the TPP, a border wall, a federal hiring freeze or reinstating what's known as the Mexico City Policy: barring U.S. foreign aid to groups that advise on or offer abortions. "In terms of the day-to-day, how much these things affect the average Americans' lives, it's relatively small," says Engel. "In terms of how much it demonstrates symbolically that there is a new commander in chief and a new sheriff in town, it's huge."
University of Minnesota professor Larry Jacobs, for example, does not expect Trump's Cabinet secretaries to use his executive order on health care to undermine Obamacare, even though they could. "I don't think that does anything except create problems for the Trump administration," he explains. "They'll be held responsible."
Instead, Jacobs expects the health and human services secretary nominee, Tom Price, to focus most of his efforts on working with Congress to pass new health care legislation. And he predicts that process will be as long and politically fraught as the battle to pass Obamacare, formally known as the Affordable Care Act, in 2010. The order, he says, is little more than a signal to his political base "that he promised to repeal Obamacare right away and he's off to the races."
Trump's orders are also intended to send a signal to the rest of the world, much the way Obama tried to do in 2009. In addition to his order to close Gitmo, Obama issued an order shortly after being sworn in outlawing the torture of foreign prisoners and nullifying related legal guidance issued under his predecessor, President George W. Bush. "It was framed not as an administrative decision but as a moral decision," says Engel. "'We are going to resurrect America's good standing in the world.'"
Trump, on the other hand, is sending a very clear message with his orders on trade, immigration and border security: that the United States is "distinct and different from the rest of the world and not necessarily a partner for the rest of the world," Engel says.
That could have weighty implications for American foreign policy and diplomacy. Obama's efforts to expand refugee resettlement, for example, were as much about reassuring partners in Europe and the Middle East that the U.S. was willing to share more of the burden stemming from the global refugee crisis as it was a humanitarian gesture. Closing the door to refugees, even temporarily, sends the opposite signal.
Trump's executive order to build a wall on the southern border, meanwhile, came the same day Mexico's foreign minister arrived in the United States for meetings with the new administration. The timing, along with the White House's insistence that Mexico will pay for the wall, is "very undiplomatic, a very big faux pas," says Vanda Felbab-Brown, a senior fellow on foreign policy at the Brookings Institution, a D.C. think tank.
Felbab-Brown warns it could have major consequences for U.S.-Mexico relations. "In practice, a huge element of the border control is cooperation with Mexican border patrol," she points out. She adds that could hurt Trump's ability to wring significant concessions from Mexican President Enrique Peña-Nieto on the North American Free Trade Agreement, which he hopes to renegotiate.
Indeed, Peña-Nieto was scheduled to meet with Trump at the White House next week. But after Trump reiterated Thursday morning on Twitter that Mexico ought to pay for "the badly needed wall," the Mexican government canceled the trip.