Trump Expected to Remove Kirstjen Nielsen as Homeland Security Secretary in Coming Weeks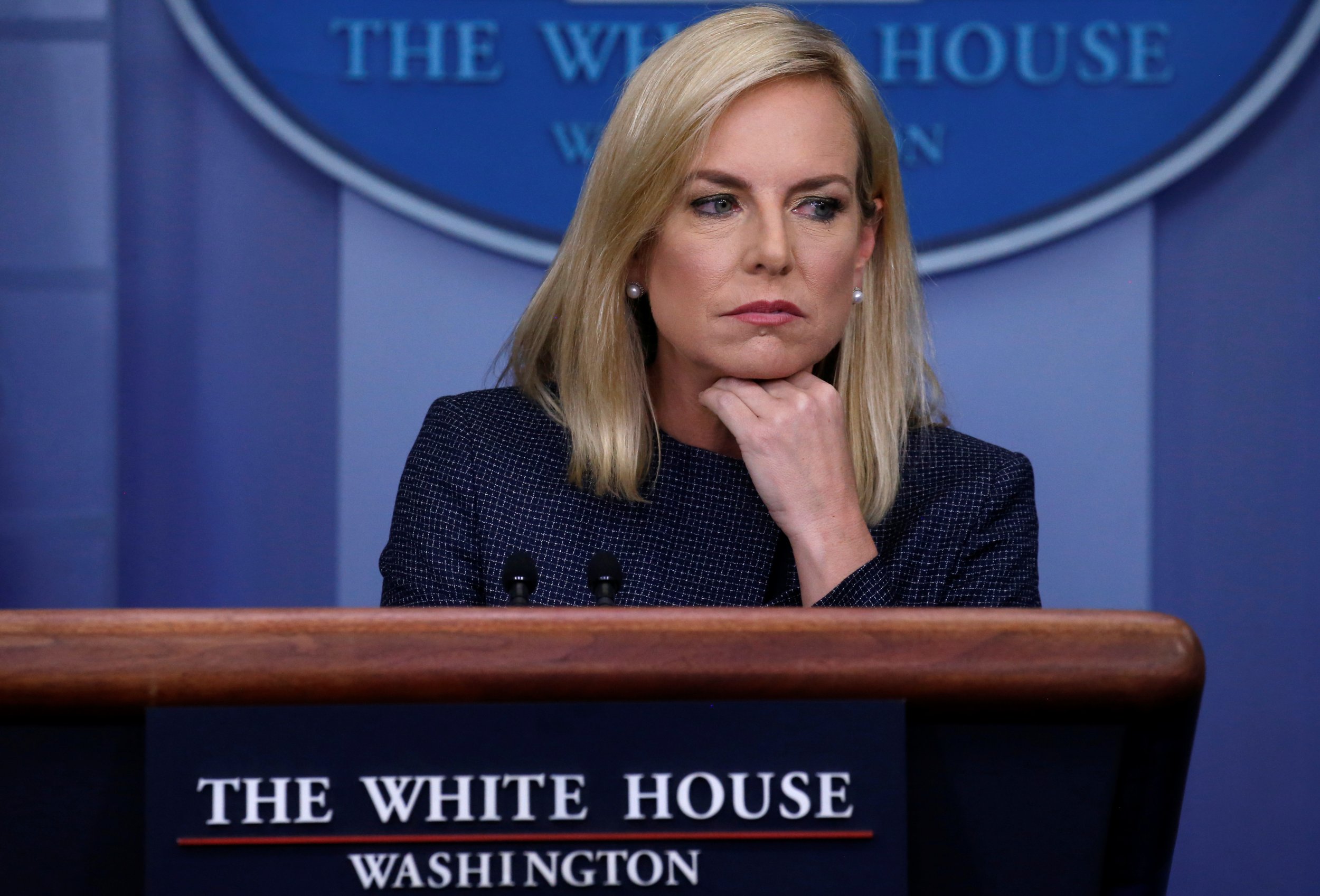 Department of Homeland Security Secretary Kirstjen Nielsen may be leaving the White House sooner than she'd planned.
In a report from The Washington Post, five current and former White House officials said that Trump had told advisers that he wanted to remove Nielsen from his Cabinet.
Trump had been vocal in recent months about his displeasure with Nielsen's "lackluster performance on immigration enforcement," The Post said.
The president is believed to be looking for a DHS secretary who would put forth his immigration policy "with more alacrity," The Post said.
According to the report, Trump had "berated" Nielsen during Cabinet meetings and taken to calling her a "Bushie," a callback to Nielsen's previous post in President George W. Bush's administration, as a way to cast suspicion about her loyalty.
White House aides said the president had become impatient and frustrated with Nielsen as she tried to explain to him laws and regulations that prevented the U.S. from "drastically curtailing immigration or closing the border with Mexico."
Nielsen had reportedly been unhappy in the job for months but had hoped to stick with the position for one calendar year before leaving her post. Her one-year mark is December 6.
This week, Trump canceled a trip with Nielsen to visit the U.S. troops patrolling the area along the U.S.-Mexico border in South Texas.
Should Nielsen be removed from her post, it would leave a void at the top of the federal government's third-largest agency. DHS operates under a $60 billion budget and employs 240,000 people.
The DHS deputy secretary post, the most likely candidate to serve as interim DHS secretary, has remained vacant since April. The White House has not yet submitted a nomination for the position to Congress.
Without Trump naming another official to lead DHS, the task would likely fall to the undersecretary for management, Claire M. Grady.
"If I were advising the White House, I'd encourage them to nominate someone with executive branch experience. This will be our fourth secretary in two years. The last thing we want is someone who needs hand-holding," one senior DHS official, speaking on the condition of anonymity, told The Post.
The Post reported that Trump had told White House officials to begin thinking of replacements for Nielsen.
Kris Kobach, who lost the Kanas governor's race last week, is a name prompting speculation to replace Nielsen. But Korbach's view on immigration is considered too harsh by many to earn confirmation by the Senate.