President Donald Trump on Friday expressed his dismay at news that long-time backer Robert Kraft of the New England Patriots had been charged with soliciting prostitution.
"It's very sad. I was very surprised to see it," the president said. "He's proclaimed his innocence, totally, but I am very surprised to see it."
Kraft, 77 faces two misdemeanor charges of soliciting prostitution in Jupiter, Florida. Police claim to have videos of two visits Kraft made to the Orchids of Asia Day Spa last year.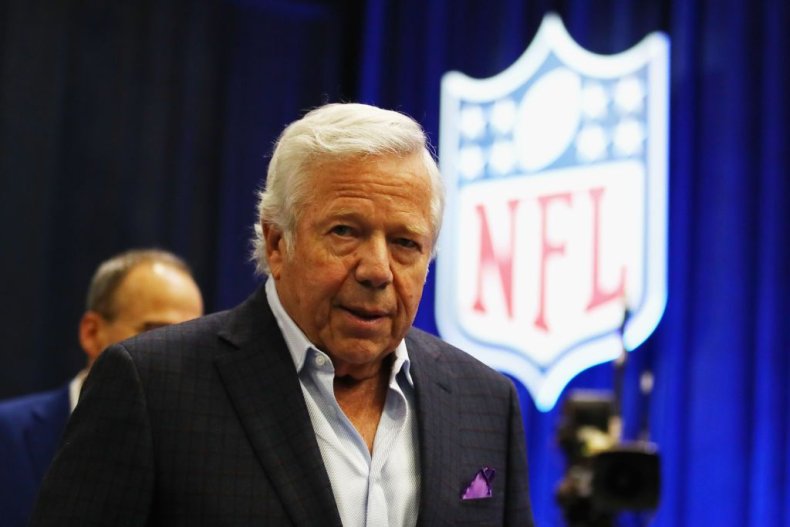 He is one of 25 people who have been charged as part of a human trafficking sting in several Florida countries. Kraft has not been accused of involvement in human trafficking.
Kraft's spokesman strenuously denied that the billionaire had broken the law.
"We categorically deny that Mr. Kraft engaged in any illegal activity," Kraft's spokesperson said in a statement to USA Today. "Because it is a judicial matter, we will not be commenting further."
Kraft is owner of the Kraft group, which has interests in sports and real estate, and has been the owner of the Super Bowl-winning Patriots since 1994.
He is a longstanding friend of President Trump, and is a frequent visitor to his Mar-a-Lago resort in Florida, a short distance from Jupiter.
He donated $1 million to the president's inaugural committee in 2016, and has defended Trump's presidency.
In a January interview with Fox News he praised Trump for "working very hard to serve the best interests of the country."
Kraft told the New York Daily News that when his wife, Myra, died in 2011, Trump attended the funeral.
Then he called me once a week for the whole year, the most depressing year of my life when I was down and out," said Kraft. "He called me every week to see how I was doing, invited me to things, tried to lift my spirits. He was one of five or six people that were like that. I remember that."