Trump Extends Offshore Drilling Ban Off Florida Coast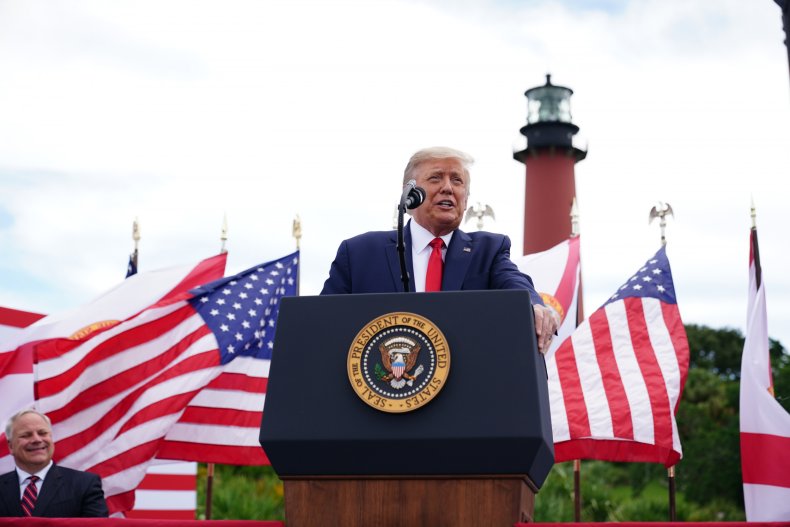 President Donald Trump is extending and expanding an offshore drilling ban that protects Florida's Gulf Coastline—a reversal from his administration's previous support for opening more of the country's coasts to oil and gas production.
"Thanks to my administration, we can take this step and the next step, while remaining the No. 1 producer of oil and natural gas anywhere in the world," Trump told a cheering crowd in Jupiter, Florida on Tuesday during a formal signing of his executive order.
The moratorium on drilling off of Florida's Gulf Coast was set to expire in 2022, but lawmakers have sought an extension to protect coastal tourism, the environment and seafood and real estate industries.
The order, which was issued through the president's authority under the Outer Continental Shelf Lands Act, extends the ban to Florida's Atlantic coastline, as well as the coastlines of Georgia and South Carolina, and it runs through 2032.
Trump said he initially wasn't interested in extending the moratorium, but was heavily lobbied by the states' governors and Congressional delegations, who told him it would bolster his environmental record.
"We can create jobs, safeguard the environment and keep energy prices low," Trump said.
Politico, citing unnamed sources, reported in June that the Trump administration was eyeing the opposite decision, planning to pave the way for oil and gas drilling off Florida's coast, but would wait until after the November 3 election to avoid any backlash in a crucial swing state.
Energy companies have long sought access to the energy-rich coastal waters of Florida for drilling. Some lawmakers from other states also supported the move, arguing that it would help the United States be energy independent, but most in Florida have been staunchly opposed opening up to drilling.
The moratorium leaves the western side of the Gulf Coast—Louisiana and Texas, specifically—as the only U.S. offshore energy sites.
The move could help build Trump's support in Florida, which is seen as key to his reelection efforts.
Before his appearance, Biden's campaign released a statement criticizing him for the coronavirus spread in Florida and on his environmental record.
"As President, I will work with experts to fight COVID-19, make historic investments to create millions of clean energy jobs, and get our economy back on track so it works for all Americans, not just Trump's Mar-a-Lago crowd," Biden said in the statement.
Before Trump's announcement, his campaign manager Bill Stepien told reporters during a briefing on the campaign strategy that Trump is holding strong in the state.
"We will defend Florida," he said. "We will win Florida."
The Trump administration continues to challenge a federal ruling that blocked his efforts to open up offshore waters in the Arctic.
During Trump's appearance in Florida Tuesday, which came before a campaign-focused trip to North Carolina, Trump touted other environmental efforts during his time in office.