Trump Reelection Campaign Facebook Ads Are Using Actors to Portray Actual Supporters
According to a new report, a series of Facebook video ads for President Donald Trump's reelection campaign are featuring actors in place of real Trump supporters.
In "Tracey from Florida," viewers can see a blonde woman walking along the beach with the voiceover saying: "President Trump is doing a great job. I could not have asked for a better President of the United States of America."
A man labeled on another video as "TJ from Texas" stares into the camera as a voice in the background says, "Although I am a lifelong Democrat, I sincerely believe that a nation must secure its borders."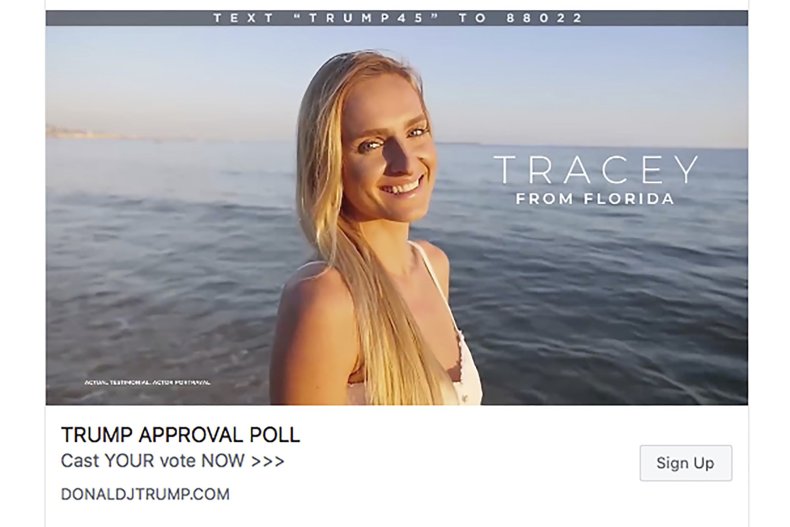 And in "Thomas from Washington," a bearded hipster smiles behind the counter at a coffee shop, with the voiceover heard in the background saying, "President Trump and his family and the administration are in our prayers for strength and wisdom from God almighty. God bless."
As the Associated Press points out, "Thomas from Washington" can be found at the iStock video gallery under the title, "Bearded and tattooed hipster coffee shop owner posing." "Tracey" is a stock video model as well, and you can license the right to use her walk on the beach from iStock for $170.
The ads do come with a disclaimer that quickly flashes for about two seconds in the bottom left corner of the screen, "Actual testimonial, actor portrayal." Political campaigns have long used stock video for advertising, but these online ads are particularly misleading because they are featuring specific testimonials from supposedly real people.
The people aren't the only thing the Trump campaign lifted off of iStock, the actual businesses seen were taken as well. As Slate points out, the coffee shop seen in "Thomas from Washington" is not a coffee shop from Washington, it's actually a storefront from Tokyo.
Trump campaign officials denied repeated requests for comment from the Associated Press and Slate on these findings.
This isn't the first time Trump has used imagery from a foreign country in his campaign advertising, claiming it is the United States. A 2016 television ad vowing to build a wall to keep out immigrants from Mexico showed people pouring in across the border — except the shots of refugees were taken 5,000 miles away, in Morocco.