Trump Faces Backlash From Critics Over London Hospital 'War Zone' Claim
President Donald Trump has been criticized after claiming that a London hospital was like a "war zone" because of stabbings, in a swipe at the U.K's tight gun control laws.
"I recently read a story that in London, which has unbelievably tough gun laws, a once very prestigious hospital right in the middle is like a war zone for horrible stabbing wounds," said Trump in a speech to gun rights lobbying group the NRA in Dallas, Texas, Friday.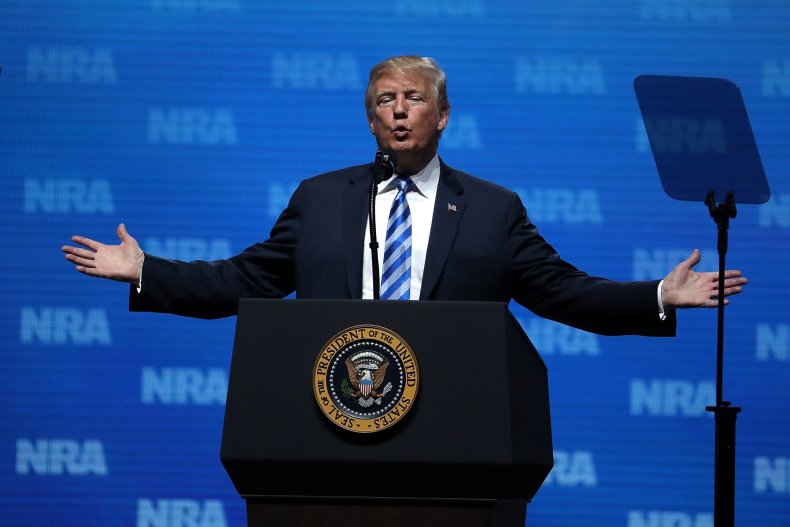 "They don't have guns. They have knives and instead there's blood all over the floors of this hospital.
"They say it's as bad as a military war zone hospital. Knives, knives, knives, knives." He mimed a stabbing motion.
"London hasn't been used to that. They're getting used to it. It's pretty tough."
Critics on Twitter lambasted the president for singling out the U.K. for criticism, pointing to the U.S.' higher crime rates.
"4.88 per 100000 murdered in US per annum, 0.92 per 100000 in UK. Implication UK has similar murder rate to US except knives not guns obviously false. Trump lies on everything, but lots of people in US now believe London a knife-armed war zone," tweeted former Labour cabinet minister Lord Falconer.
"I've been to a couple war zones in my life. They're flooded with guns. The US has 10.6 gun deaths per 100,000 people. London has 1.8 knife deaths per 100,000 people. Trump is lying to please America's militant armed group, which spent over $30m to help elect this liar," wrote Andrew Stroehlein, a spokesman for charity Human Rights Watch.
However, some Britons defended the president.
In response to one critic, TV presenter Piers Morgan, who won the Celebrity Apprentice when Trump hosted the reality show, tweeted a link to an article in U.K. newspaper The Daily Mirror, in which a leading surgeon at Barts Health NHS Trust compared his hospital to a war zone.
Martin Griffiths made the comments in an April interview with BBC Radio 4, with the interview then reported by publications including the Daily Mail.
"We're doing major life-saving cases on a daily basis," said Griffith.
He said colleagues who had served in the military compared working in the hospital to war zones in Afghanistan.
He added: "We routinely have children under our care, 13, 14, 15 years old are daily occurrences, knife and gun wounds."
On Saturday, Griffith invited the president to visit the London hospital where he works to see first hand efforts to reduce knife crime.
Far-right Trump allies in the U.K. also defended the presidenrt. Raheem Kassam, U.K. editor for Breitbart, linked to a report on Griffith's claims by the populist website and claimed, without citing any evidence, that Trump was citing the article.
It is unclear whether Trump was refering to the interview with Griffiths in his speech.
The controversy comes amid a spike in knife crime in London, with 38 people having lost their lives in stabbings in the U.K.'s capital this year so far.
Trump has previously clashed with London Mayor Sadiq Khan over security in London in the wake of a pair of deadly terror attacks last year, and is due to visit the city on July 13, having backed out of a visit planned earlier in the year.