Trump Faces Criticism After Saying Paralympic Games 'Tough' to Watch
President Donald Trump has been criticised for saying that he had a "tough" time watching Paralympic athletes compete in South Korea.
Tump made the comments Friday while congratulating U.S. athletes who competed in the Olympic and Paralympic games in Pyeongchang last month.
"What happened with the Paralympics was so incredible and so inspiring to me," Trump said in remarks at the White House. "And I watched — it's a little tough to watch too much, but I watched as much as I could."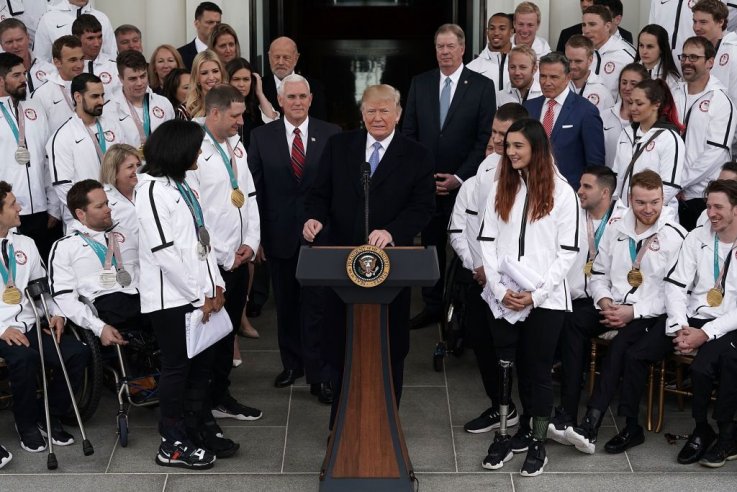 Aides told the New York Daily News that the president was referring to his schedule and the difficulty in finding time to watch the contests, but critics insisted the remarks were an insult to Paralympic competitors.
"Imagine losing your legs then fighting your way to the top of a new sport only to be INSULTED by the President of the United States," musician Mikel Jollett tweeted.
Several Team USA athletes had skipped the event, citing political differences with the president, including U.S. figure skater Adam Rippon, who tweeted, "I will not stand with people who discriminate against those that they perceive as different."
Trump faced widespread criticism when on the presidential campaign trail he physically mocked Serge Kovaleski, a New York Times reporter who has arthrogryposis, which causes constriction of his right arm.
"You've got to see this guy: 'Uhh, I don't know what I said. Uhh, I don't remember,' he's going like, 'I don't remember. Maybe that's what I said,'" Trump said during a campaign rally in South Carolina during the Republican presidential primaries in 2015, while twisting his arms in an apparent parody of Kovaleski.
Trump subsequently denied he had ever met Kovaleski, but the reporter said that he had met the former real estate mogul face-to-face on several occasions.
Trump Faces Criticism After Saying Paralympic Games 'Tough' to Watch | U.S.