Trump Faces Tough Fight for Pennsylvania's 'Swing County USA' After Flipping It From Obama
In Northampton County, Pennsylvania—or "Swing County USA" as some might say—voters are expecting a tight race between former Vice President Joe Biden and President Donald Trump. But if the question is who would come out on top, the answer is the same: whichever candidate the person supports.
The northeastern Pennsylvania county of about 300,000 people was built on manufacturing. Its history is steeped in cement production and was home to Bethlehem Steel, one of the world's largest steel manufacturers, until 2003. Hardly the biggest county in Pennsylvania, eyes are on Northampton for its bellwether status. It voted for the winning presidential candidate in nearly every election since 1932, including twice for President Barack Obama and once for Trump.
"I supported gay rights, women's rights, and all I wanted was someone to protect my job and nobody wanted to do that," Gary Read, a Nazareth resident working in the construction industry, who voted for Obama in 2008 and Trump in 2016, told Newsweek.
Countless hours are spent analyzing candidates' policy positions and their impact. But many voters aren't getting into the weeds of what a candidate intends to do and instead rely on intuition to guide their ballot choice. For some voters in Northampton County, impressions of Trump and Biden—not specifics of their platforms— are the deciding factor.
Bruce Haines, who owns a specialty running store in Bethlehem, always liked Biden. Why? He "seems like a regular guy" who "doesn't seem like he's out to screw everybody," Haines said about Biden.
The store owner also acknowledged it may be naive, but compared to other politicians, he doesn't feel as if he's getting "conned" when Biden speaks—and the distrust that Trump evokes isn't there with the Democratic candidate.
"People see him as someone who really understands what they're going through," Matt Munsey, chair of the Northampton County Democrats, said of the former vice president.
Biden was born in Pennsylvania and spent the first 10 years of his life in Scranton, a working-class area just 60 miles northwest of Northampton County. The candidate's frequent shout-outs to his hometown—seen by some as politically motivated—resonate with voters because it shows he hasn't forgotten "where he came from" and that he "stayed connected to his roots" regardless of where life took him, Northampton County Executive Lamont McClure, said.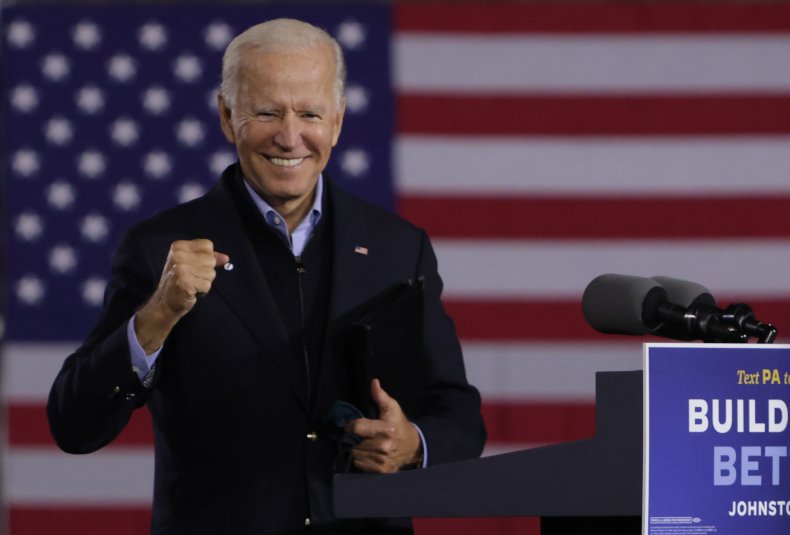 Trump only won the county by 3.78 percentage points, a decrease from the 4.71 points Obama had in 2012. Becky Wamsely, chair of the Bethlehem City Democratic Committee, said part of the issue was that voters didn't trust, like or believe Democratic candidate Hillary Clinton. They didn't see her as someone who "would be on their side." Four years later, though, people believe Biden will.
"It wasn't surprising to me that Clinton lost the county but Biden winning it wouldn't surprise me at all," Sam Chen, a Republican strategist and assistant professor at Northampton Community College, said. Chen added that his "gut" is telling him a Democratic victory is coming.
Chen said there was a level of "tone deafness" coming from Clinton, particularly with comments she made toward the fate of the coal industry. When voters vote on their "everyday lives," they're looking for the candidate that will protect their jobs and make sure they can raise their family in the same place they were raised.
As a candidate, Trump heavily campaigned to the "forgotten men and women" of America. Michael Feldman, Biden's Pennsylvania communications director, said communities that felt "ignored or overlooked" by politics gave Trump "a shot" in 2016. According to Feldman, all Trump's delivered is "broken promises and more economic turmoil."
"That's why Joe Biden talks about building back better. It's not just about going back to what was happening before the pandemic, it's about addressing issues that have long hurt these communities," Feldman said.
With a focus on "made in America" and manufacturing, Biden's nationalist plan for the economy was seen as a counter to Trump's "America First" agenda and the president's supporters made note of the similar themes. Haines, who predicted a Biden victory, hadn't gotten into the "nitty, gritty" of the plan, but said he was "tied up" with the idea of Trump bringing back the coal industry. Instead of investing in things that were prominent 30 or 40 years ago, he advocated for putting money and time into industries that will be here in 30 or 40 years, such as clean energy that's included in Biden's plan.
Regardless of what side of the aisle a person is on, the economy is the number one issue to voters, Haines said, because "if you can't put food on the table, the rest of the stuff is an aside, isn't it?"
In 2008, Obama's eloquent speech had Matthew Walter, a truck driver, "hook line and sinker." The former president was the reason Walter registered to vote in his late twenties and became politically engaged. But, he was left disappointed after Obama's first term and in 2016 cast a ballot for Trump.
As "weird" as it sounds given Trump's billionaire status, the self-described "die-hard" supporter said part of Trump's support comes from people being able to "relate to him" and the feeling he projects that he's "for the people." Read said he "spoke my language" and was tired of being let down on immigration reform that impacted his industry.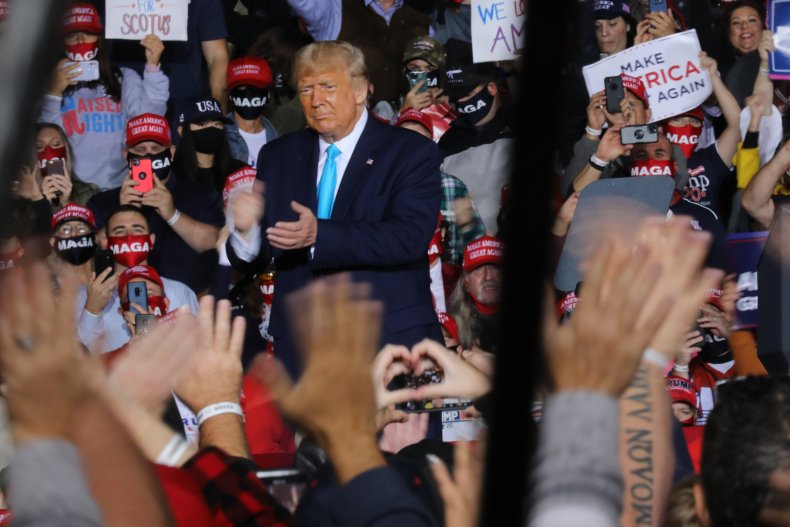 The new coronavirus pandemic put millions of people out of work and forced the closure of small businesses, so McClure foresees Trump being judged harshly on the economic question posed by Ronald Reagan in 1980: "Are you better off than you were four years ago?" Walter, however, sees the economic recovery during the pandemic as a "driving force" for people to support Trump because while the record low unemployment seen in winter was "very impressive," the rate that jobs are coming back is "even more impressive."
Obama's eloquence also drove Easton-resident Lauren Jessop to vote for him in 2008 and 2012. While Trump is not "eloquent in the least," Jessop said his actions speak louder than Obama's words. A person with no allegiance to a party, she liked that no one owned Trump and "neither side wanted him"—but at the end of the day, the economy is at the top of voters' lists.
It's no secret that the economy can make or break an election and Nick Trainer, director of battleground strategy for the Trump campaign, said: "Kitchen table issues will be key here."
Polls have Trump trailing in Pennsylvania, and the "gut feeling" in the Northampton area is that it's going to be a battle that ends in a slim margin between the two rivals.
Meanwhile, Walter's backing Trump to win Northampton. But having traveled the area as a truck driver, he thinks it'll be closer than it was in 2016.
"I still see the enthusiasm for Trump in the Lehigh Valley but where I saw nothing but Trump signs in 2016 ... I see a little bit more enthusiasm by the people that are supporting Joe Biden," Walter said.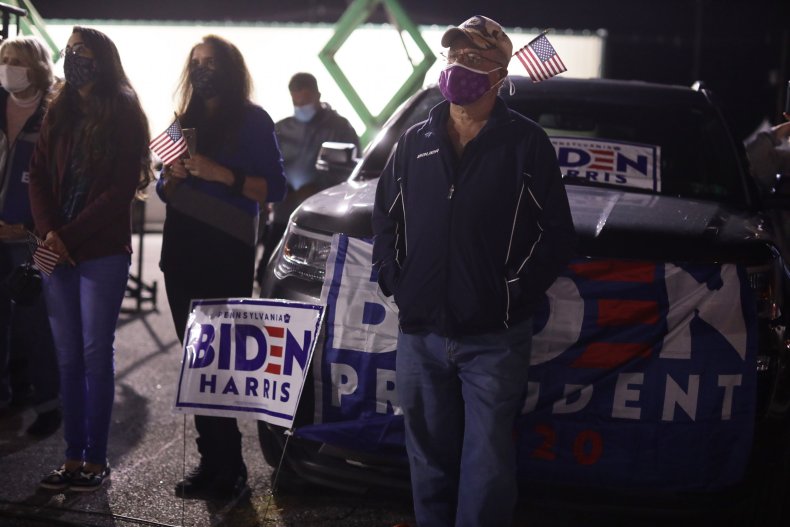 McClure doesn't put his faith in political signage because after all, "signs don't vote," and the mixture of voters is evident in Martin's Creek. Driving to work one day, Jessop passed down a road that was so "symbolic of America right now" that she was tempted to stop to take a picture. In what she likened to a "sign war", on one side of the road was a house littered with Trump signs and across the street, the neighbor's house had a Biden sign and a flag on the porch.
Munsey has "no illusions" that Trump will keep the majority of his base and by virtue of the president's support from his own party, he'll likely receive 45 or 46 percent of the vote, McClure said. But Munsey noted pulling off 5 or 10 percent of Trump's 2016 supporters gives Biden a "good shot" at taking the county.
"We've always said this is going to be a close race everywhere so I think especially there we're not taking any votes for granted and we'll fight hard for every vote," Feldman said.
Trainer said 1,400 people have switched their party registration from Democrat to Republican, and although it'll be "closely fought," Trump would win Northampton again. Part of that victory will come from those who are "staying quiet" about their vote, Bonnie Mertz, who voted for Trump in 2016 and is excited to do so again, said.
"Even though people are trying to make it look like he's not going to win, I live here and I see the people and I see the rallies with trucks flying flags in the breeze," Mertz said. "I think people are going to vote for him."
With 90 percent of voters already decided on who they'll cast their ballot for, the election could come down to which candidate mobilizes voters to not just talk about the election, but show up on Election Day. And with the enthusiasm Trump's supporters have for their candidate, it makes Haines "nervous" as a Democrat.
"Even if there's a three-foot blizzard on November 3, they'll be out and I feel as if a section of Biden voters isn't quite as committed," Haines said.