Donald Trump Claims Homelessness Started When He Entered Office: Fact-Checking President's Comments to Fox News
Donald Trump said on Monday that he is considering using the federal government to "intercede" on homelessness and filth in American cities, an issue he claimed started when his presidency began.
In an interview that aired on Monday night, Fox News host Tucker Carlson asked the president to weigh in on homelessness in largely Democratic-run cities around the country. The exchange was taped while Trump was in Japan for his visit to the G-20 summit.
"You've come to where we are now Osaka or Tokyo, and the cities are clean. There's not graffiti. No one going to the bathroom on the street. You don't see junkies," Tucker said. He then asked Trump why American cities like New York, San Francisco and Los Angeles have a major problem with "filth."
"It's a phenomena that started two years ago," Trump claimed. "It's disgraceful. I'm going to maybe — I'm looking at it very seriously — we're doing some other things that you probably noticed like some of the very important things that we're doing now."
While Trump did not explicitly use the word "homelessness" in the interview, it appeared to be the issue he was repeatedly addressing. At one point in the conversation, the president said that "some of them have mental problems where they don't even know they're living that way."
According to data from the Department of Housing and Urban Development compiled by the National Alliance to End Homelessness, homelessness overall throughout the U.S. has decreased by 15 percent since 2007. Although between 2017 and 2018, homelessness did increase slightly by 0.3 percent (or roughly 1,840 people).
But there has been an increase in homelessness in Los Angeles, San Francisco and New York in recent years. LA County reported a 12 percent increase in homelessness this year, from 52,765 residents in 2018 to 58,936 in 2019. Local leader Reverend Andy Bales said in April that the city was at the "tipping point of danger" because of homelessness. Mayor Eric Garcetti is facing a potential recall due to the political fallout from the crisis.
Here's some more fact-checks on Trump's remarks during the Fox News interview.
TRUMP: "You can't have what's happening — where police officers are getting sick just by walking the beat. I mean, they're getting actually very sick, where people are getting sick, where the people living there living in hell, too."
The Associated Press reported in May that a Los Angeles police detective had been diagnosed with typhoid fever and five other officers showed symptoms of the rare disease. The station where the officers worked was under review after a state report found it had notable health violations.
The officers police downtown L.A., including the notorious Skid Row area where hundreds of homeless people camp out on the streets. Their infection was thought to be related to an outbreak of typhus that sickened the homeless population in that area, but the officers contracted a different strain of the disease.
Dr. Abinash Virk, an infectious disease specialist, told the outlet that the officers were probably sickened through food or water contamination. While homeless populations do have a higher risk of contracting typhoid fever, it's very unlikely the police got infected just by interacting with them.
"You're not just going to get it from shaking hands," she told the AP.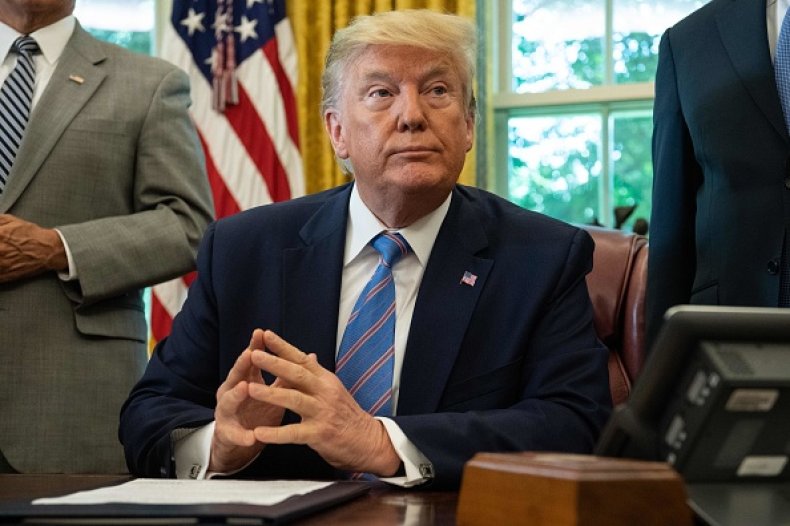 TRUMP: "I had a situation when I first became president, we had certain areas of Washington, D.C. where that was starting to happen, and I ended it very quickly."
Trump's claim that he personally stopped homelessness in Washington D.C. is not supported by any evidence. The federal government only controls about 30 percent of D.C., while the rest of the city being governed by Mayor Muriel Bowser and the city council.
In May, Mayor Bowser announced that D.C. experienced a 21.9 percent decrease in homelessness since 2016. She attributed the decrease to the implementation of her "Homeward DC" plan, which developed new short-term family housing programs in every neighborhood.
Meanwhile, Trump's 2020 budget plan includes slashes to public housing and other programs that could increase homelessness. The budget proposes funding cuts to Homeless Assistance Grants, the Public Housing Operating Fund, Family Self-Sufficiency Program and Housing Counseling Assistance.
According to the Center on Budget and Policy Priorities, Trump's 2020 proposal would " radically reduce the federal role in helping low-income seniors, families with children, and others to pay rent and make ends meet."
TRUMP: "Although some of them have mental problems where they don't even know they're living that way. In fact, perhaps they like living that way. They can't do that."
Advocates for the homeless have largely disregarded the idea that people voluntarily choose to be live on the streets. Though they do acknowledge that many homeless people choose to stay on the street rather than go to a shelter.
According to the National Alliance to End Homelessness, the main reason people become homeless is because they can't find affordable housing.
"Despite common stereotypes, most homeless single adults do not suffer from chronic mental illness, substance abuse, or other disabling conditions. Most are homeless for a relatively short time before reconnecting to housing," the organization wrote on it's website