Trump Vacancies at Homeland Security Endangering Nation, Group Says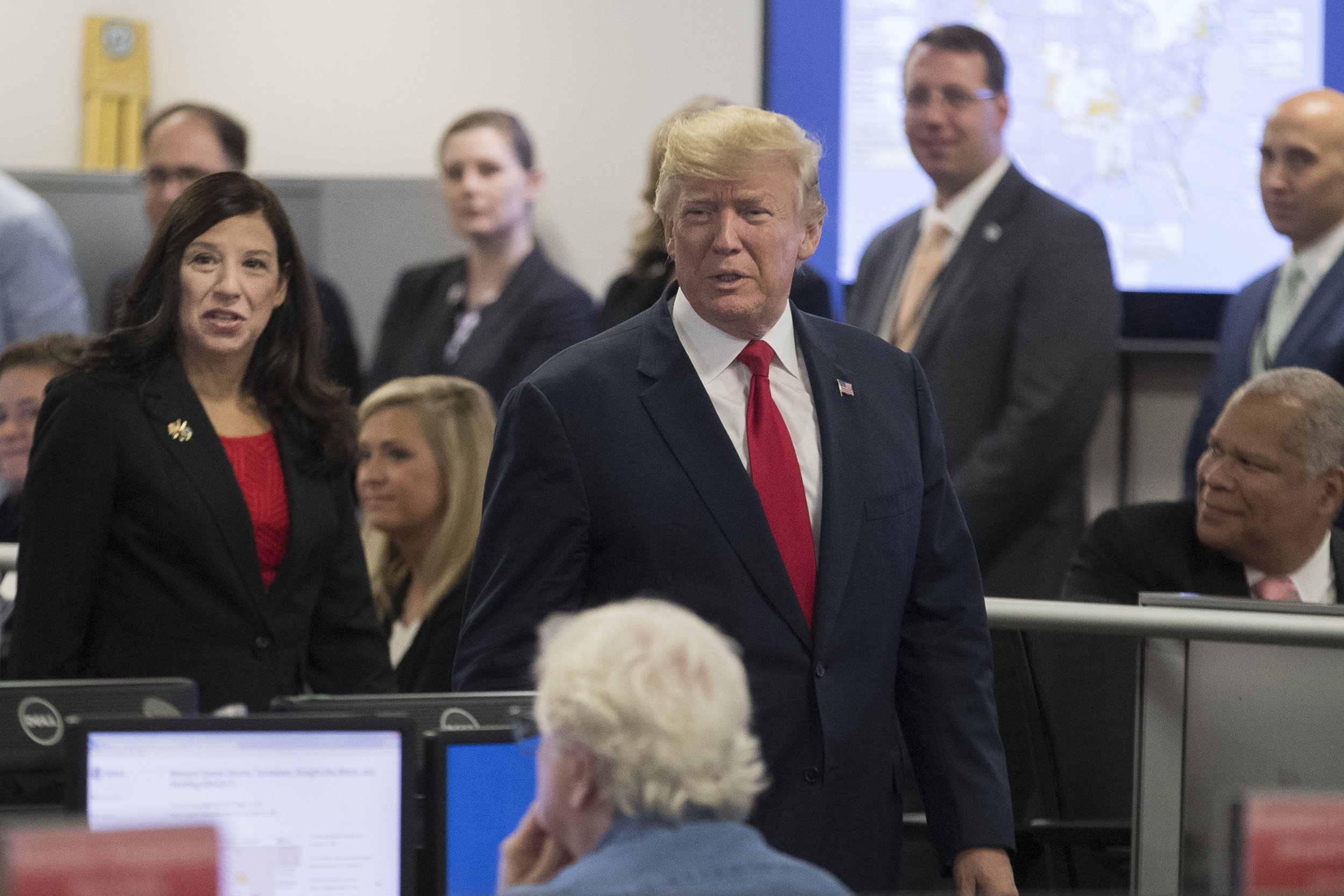 Updated | President Donald Trump has failed to fill nearly a dozen key positions in the department tasked with thwarting terrorist attacks and protecting the nation's borders—inaction a government watchdog group warns could compromise the agency's efficiency and effectiveness.
The Department of Homeland Security has been operating without at least 11 top employees needed to run the department in the 11 months Trump has been in office, according to lists of the vacancies compiled by the publication Quartz and the Partnership for Public Service, a nonpartisan government watchdog group.
Scott Amey of the Project on Government Oversight, a nonpartisan independent watchdog, told Newsweek he worries that what appears to be a Trump cost-cutting strategy could prove harmful.
"In the long term, I think that's a risky strategy to take due to the fact that the Department of Homeland Security provides a vital mission in securing our borders and our ports and the nation overall," Amey said. "It also creates a lot of inefficiencies inside of the Department of Homeland Security, because all of sudden you have people that may be stepping into roles that haven't been vetted and haven't gone through the confirmation process."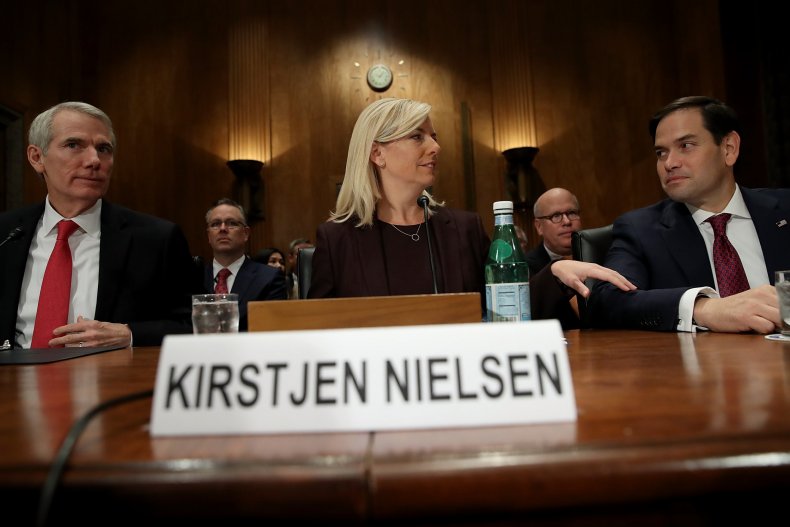 Having staffers dealing with the responsibilities of the unfilled positions in addition to their own jobs could create a chaotic atmosphere in the department, limiting its efficiency, Amey said.
"It could also stretch the staff very thin," Amey said. "The problem with not filling positions is it creates uncertainty in people's roles and can create chaos inside an agency and limit the amount of work that can be accomplished."
The vacancies also hamper the formulation and implementation of vital policies, Amey said.
"We may be missing out on the knowledge base that we need to make government decisions, create policy," Amey said.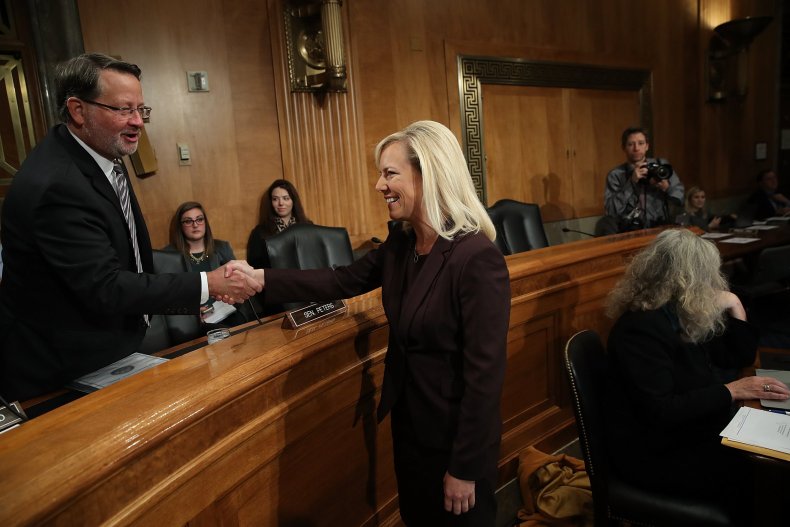 Homeland Security, however, insists it's running efficiently despite the vacancies.
"DHS has an enormous and exceptionally capable career staff and is operating effectively in carrying out our critical missions under Secretary Nielsen's leadership," Homeland Security's acting press secretary Tyler Houlton told Newsweek in an email.
Several of the key positions require Senate approval. Trump is lagging behind other recent presidents in having people confirmed for key posts, according to the Partnership for Public Service, which is tracking Trump's executive branch nominations through the confirmation process.
Trump had 262 nominees confirmed to top positions through December 20, falling far behind all of his predecessors since George H.W. Bush, the data show.
In each of their first years in office, Barack Obama, George W. Bush, Bill Clinton and George H.W. Bush all received Senate confirmations for more than 400 nominees, the data show.
Here's a list of unfilled positions in the Department of Homeland Security, compiled by Quartz and the Partnership for Public Service:
Chief of staff
Head of the Office of Strategy, Policy, & Plans. The office develops policy, coordinates the country's security activities overseas, collects immigration data and issues visa waivers, among other things. Within the department, 11 of 19 senior positions are vacant or have been filled temporarily.
Head of the Office of Partnership and Engagement. The office coordinates with state and local governments and law enforcement, such as officials with the New York Police Department and the Port Authority.
Head of the Weapons of Mass Destruction Office
Deputy of the Weapons of Mass Destruction Office
Chief medical officer at the Weapons of Mass Destruction Office
Undersecretary for National Protection & Programs Directorate. This position leads efforts to protect and enhance the resiliency of the nation's physical and cyber-critical infrastructure from terrorist attacks, natural disasters and other catastrophic incidents by partnering with infrastructure owners and operators as well as federal, state, local and territorial officials
Chief financial officer. Oversees the department's budget, financial management and operations
Undersecretary for science and technology. Acts as the secretary's technology adviser, manages science and technology research to protect the homeland and monitors technology threats.
Assistant secretary for policy. Serves as a central resource to department leaders for strategic planning, analysis and decision-making assistance on issues across the department.
Deputy administrator, Federal Emergency Management Authority. Assists the administrator in leading FEMA in its mission to support citizens and first responders, and to ensure the country works to improve the capability to prepare for, protect against, respond to, recover from and mitigate hazards.
Head of the National Protection & Programs Directorate. Responsible for cybersecurity and making sure no one poisons America's water supply or tampers with its electrical grid.
This story was updated to include a comment from the Department of Homeland Security.