Trump Fails to Mention Santa Clarita Shooting During Louisiana Rally, But Talks About Protecting Gun Rights
Hours after the Santa Clarita shooting, President Donald Trump on Thursday evening held a rally in Bossier City, Louisiana, where he promised to protect gun rights while failing to mentioning the deadly shooting that left two children dead.
While at a rally to promote Eddie Rispone's candidacy for Louisiana governor, Trump shied away from mentioning the shooting Tuesday morning at Saugus High School in Santa Clarita, California. Trump did, however, tell the assembled crowd that he would support and defend their Second Amendment rights.
Though Trump didn't mention Thursday's shooting, he did, however, mention shooting survivor Rep. Steve Scalise. Scalise was wounded in 2017 when James Hodgkinson opened fire at the Congressional Baseball Game for Charity in Alexandria, Virginia.
Trump praised Jennifer Letulle, Scalise's wife, for by his bedside as he recovered.
"Your wife loves you, because she's crying... Your wife is in love with you, man," Trump said.
The graphic below, provided by Statista, illustrates the rise in the number of school shootings each decade since 1970.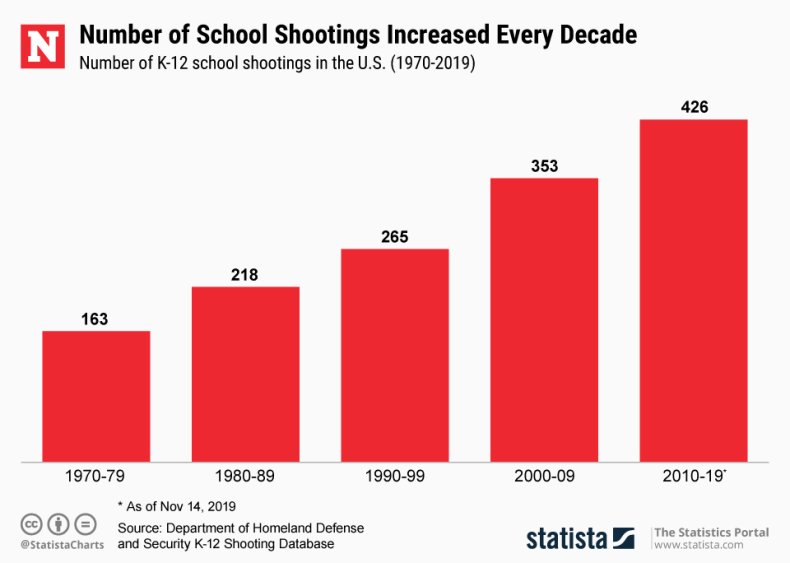 Guns and the Second Amendment made up a small part of Thursday's rally. The impeachment hearings came up frequently, perhaps understandably, as this was the first rally since the hearings started. Trump said the hearings were an attempt at erasing the votes of "10 million Americans."
He also referred to Wednesday's witnesses Bill Taylor and George Kent as "never Trumpers," in spite of the fact that both men testified under oath that they were not. Trump also referenced an article in the far-right, Ben Shapiro-run political website The Daily Wire, which declared that new remarks from a Ukrainian official have damaged the impeachment case.
"We did nothing wrong and they're doing nothing—they haven't done a thing since Nancy Pelosi was speaker," Trump said, adding that the relationship between the media and the Democratic party was "a partnership made in Hell."
Though Trump said the impeachment hearings were "taking a toll" on his family, he claimed the impeachment proceedings have been wonderful for the poll numbers of unnamed Republican colleagues, and that his advisers have "begged" him to keep them going. Trump also had words of praise for Republicans, thanking them for sticking together during the proceedings.
"Everything is absolutely perfect...we're going up and they're going down."
The president concluded by saying that the country would be "demolished" if the Democrats won in 2020. In closing, he asked a question many in the audience already knew the answer to.
"Would you rather be anyplace else than a Trump rally?"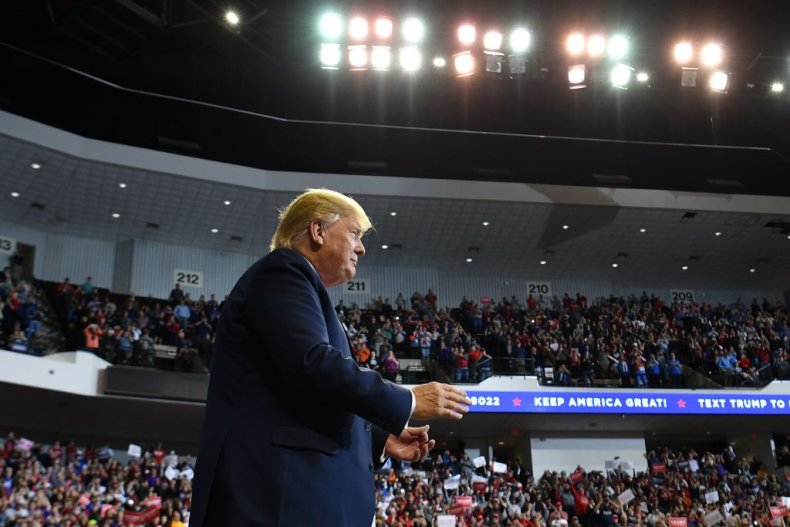 This article was updated to include an infographic.