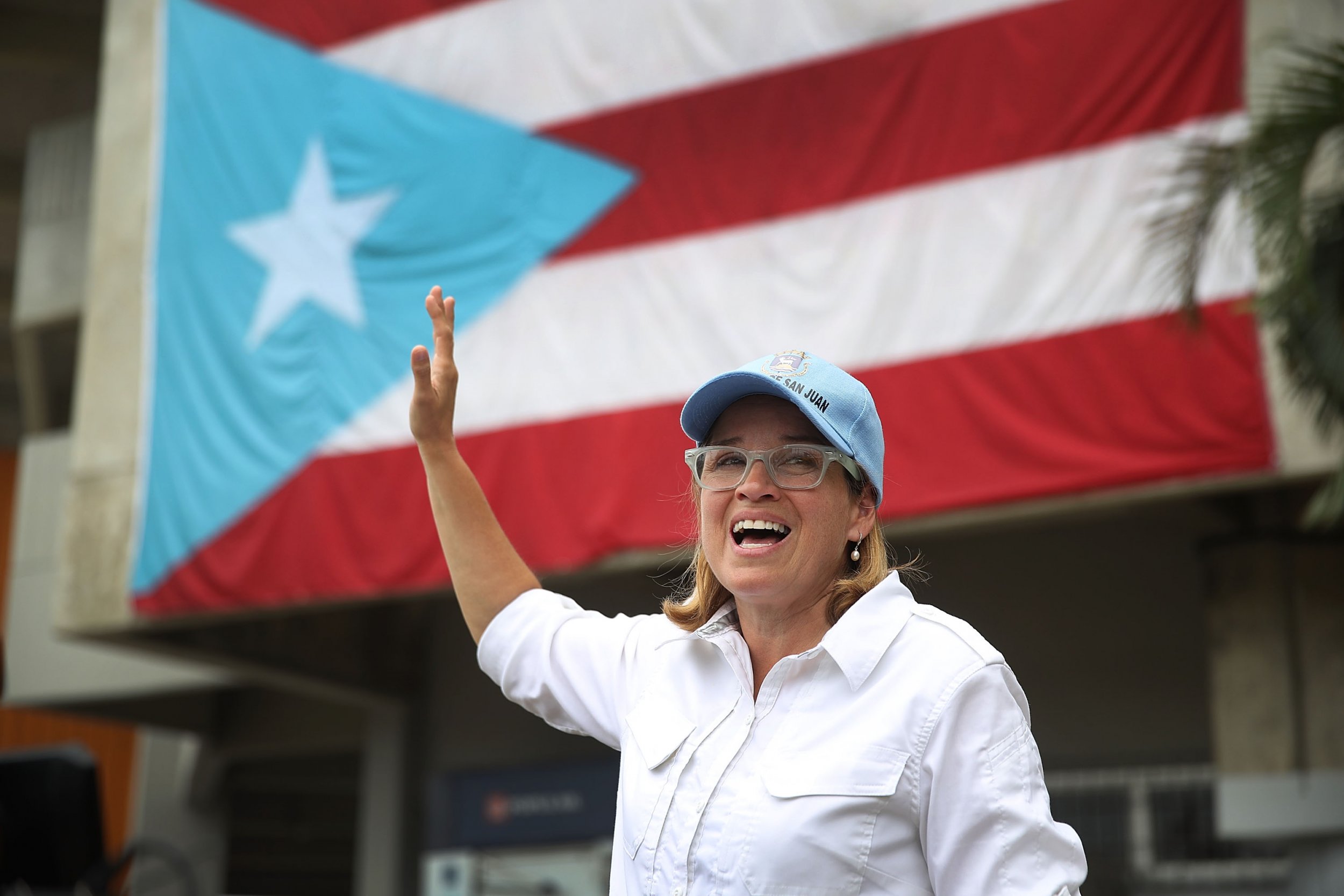 San Juan Mayor Carmen Yulin Cruz, who criticized President Donald Trump's slow recovery efforts for the devastated island of Puerto Rico, is now facing a wave of backlash from America's far-right Twitter trolls and fake news writers.
The mayor's name was plastered all over the web by the time the president walked off Air Force One on Tuesday, as bots and trolls shared misleading news reports claiming she had funneled government money to support a violent protest a year before the storm.
Related: Here's how Donald Trump could actually be impeached
"Carmen Yulin Cruz, the Trump-bashing, terrorist-supporting Mayor of San Juan, diverted $20,000 worth of government money to fund a violent protest against the establishment of a Federal Fiscal Board," one site claimed under the headline "BUSTED: Anti-Trump Mayor Of San Juan Spent $20,000 In Public Funds To Bankroll Violent Protest."
"In September of 2016, Cruz admitted that she and the San Juan People's Assembly had financed the violent protest to the tune of $20,000," the article reads.
But Cruz never funded protests over federal bailout plans for the cash-strapped island. Rather, she allocated San Juan municipal funds to clean up and provide a semblance of order to an encampment set up by protesters outside a federal court in Hato Rey; the local money was not used to encourage protests or exacerbate demonstrations.
"The municipality collects their trash, offers two latrines and brings them ice. That's all. What's the crime in picking up trash? What's illegal about cleaning two latrines? What's wrong with bringing them ice made by the municipality?" Cruz said at the time. "It is worth noting that at that camp there hasn't been a single violent incident. In fact, that camp is a living reminder of the violence being perpetrated in our country with an unjust, colonial and abusive law."
With her new national recognition has also come stinging rebukes from right-wing sites like Gateway Pundit, which brought attention to her support for Clinton during the primaries, as well as Twitter accounts that have labeled her a puppet for the billionaire financier George Soros—a popular conspiracy theory used online against many of Trump's apparent enemies.
"Is Carmen Yulín Cruz, Dem mayor of San Juan, paid by George Soros to obstruct FEMA, or is she just dumber than a rock?" Twitter user Christopher Hershman wrote Monday.
"Maybe SJ Mayor Cruz receives her direction from Soros just like Schumer, McCain," suggested another.
The right-wing media attacks do not appear to be coordinated with the president, but they definitely follow his response to Cruz's criticism of him. After initially thanking the mayor for her "kind words" and promising "much food and water there/on way," Trump slammed Cruz for her criticism of the federal government's response to the disaster.
"The Mayor of San Juan, who was very complimentary only a few days ago, has now been told by the Democrats that you must be nasty to Trump," he wrote Saturday. "Such poor leadership ability by the Mayor of San Juan, and others in Puerto Rico, who are not able to get their workers to help. They want everything to be done for them when it should be a community effort. 10,000 Federal workers now on Island doing a fantastic job."
Cruz has earned herself a new spot among Trump's list of successful women who he's repeatedly attacked throughout his presidency, from former Secretary of State Hillary Clinton, to television news personality Mika Brzezinski. The progressive lawmaker, who represents the Popular Democratic Party, supports Puerto Rico remaining a commonwealth instead of becoming a state.