Trump Fake News: 'No Breathing Human on the Planet' is More Guilty Than President, Says Jimmy Kimmel
It was another day, another barrage against "fake news" media from President Donald Trump Thursday. But there's one problem, says Jimmy Kimmel: "No breathing human on the planet Earth produces more fake news than Donald Trump."
Speaking on Thursday's Jimmy Kimmel Live, the talk-show host called the president out on his own peddling of mistruths, after Trump again tweeted his fury at NBC News over a report that Secretary of State Rex Tillerson planned to quit the White House.
On Thursday, Trump asked why the Senate intelligence committee wasn't investigating "fake news networks" for propagating inaccurate and false news stories. That was a day after he went on the offensive against NBC News over their scoop on Tillerson.
Trump tweeted:
"I guess he's moved on from Puerto Rico and Las Vegas," Kimmel said wryly, referring to more pressing events that might warrant the president's attention.
And reacting to Trump's call for action from the Senate intelligence committee to investigate "fake news," Kimmel offered this: "The Senate intel committee, by the way, is busy right now looking into the fake news the Russians made up to help him win the election."
Kimmel said that the "irony" of Trump's crusade against so-called fake news is that the president himself is the biggest purveyor of spouting falsehoods.
The comedian pointed to Trump's page on the political fact-checking website PolitiFact, which shows that "only 5 percent of the things that come out of his mouth are true," Kimmel said.
"More than two thirds [of things he says], 69 percent, are false, mostly false or pants-on-fire false."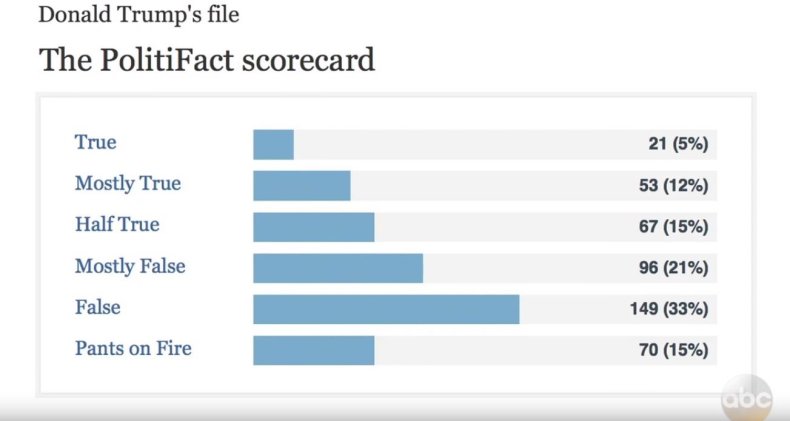 Kimmel then pointed to another chart from The Washington Post that show that "over the last 232 days, Donald Trump has made 1,145 claims that are false or misleading."
He added: "And that's just the stuff he says in public. Donald Trump is a tornado of fake news. He is the Michael Jordan, Elvis Presley and Great Wall of China of fake news combined."
Kimmel concluded with the punchline: "Donald Trump criticizing fake news is like Hugh Hefner criticizing fake breasts."
Ba dum tish.