At Georgia Rally, Trump Falsely Claims Arizona Audit Found He Won in Maricopa County
Former President Donald Trump falsely claimed during a rally in Georgia on Saturday night that the results of the Arizona election "forensic audit" concluded that President Joe Biden lost in Maricopa County, despite the report stating that Biden won with 1,040,873 votes—99 more votes than shown in the certified ballots.
"We won at the Arizona forensic audit yesterday at a level that you wouldn't believe," Trump told the crowd in Perry, Georgia. "They had headlines that Biden wins in Arizona, when they know it's not true. He didn't win in Arizona. He lost in Arizona based on the forensic audit."
The review of results by Trump's GOP allies was in line with the 2020 presidential election results and three previous audits, affirming Biden's win in Arizona's most populous county.
"Truth is truth, numbers are numbers," said Arizona Senate President Karen Fann, the Republican who pushed for the review of more than two million ballots, adding that the "numbers were very close, within a few hundred."
Still, Trump is continuing his campaign of pressuring states to investigate his baseless voter fraud claims. He slammed Georgia Governor Brian Kemp and Secretary of State Brad Raffensperger during the rally for refusing his requests to advance a review of the election results.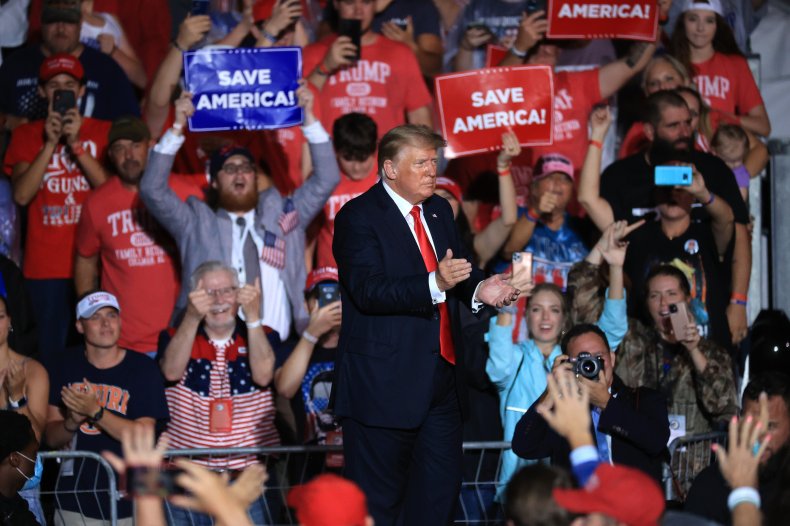 "I'm telling you, I think there's something wrong with them ... your RINO Governor Brian Kemp has been a disaster on election integrity," Trump said, adding that Democrat Stacey Abrams "might be better than having your existing governor."
After mounting pressure from Trump, Texas became the latest state to launch an effort to review the election results, joining Michigan, Pennsylvania and Wisconsin. Texas election officials said Thursday they had started auditing the presidential election results in four counties.
The Texas secretary of state's office did not reveal the rationale for the decision in the announcement, which occurred months after Keith Ingram, the office's elections administrator, assured constituents that the elections were "safe and secure."
None of the reviews can actually change Biden's first term in office. Congress certified the president's Electoral College win January 7, after a mob of Trump supporters stormed the U.S. Capitol in an effort to halt the certification process.
Trump has repeatedly alleged widespread voter fraud in remarks to the public, but the dozens of lawsuits filed by his campaign challenging results in swing states have been narrower and unsuccessful in court. So far, Trump and his supporters have not produced any real evidence for his stolen election claim.
Newsweek reached out to Trump representatives for comment.