Trump Swipes At Democrats For 'Never' Asking John Bolton To Testify in Impeachment Inquiry— But They Did
Amid explosive new revelations about John Bolton and Ukraine, President Donald Trump criticized House Democrats for never calling the former national security adviser to testify in the impeachment inquiry—but that is not true.
"The Democrat controlled House never even asked John Bolton to testify. It is up to them, not up to the Senate!" Trump asserted in a tweet on Monday morning.
House committee members did formally request documents and testimony from Bolton during their months-long inquiry last year. But the White House directed Bolton and other officials not to comply with any congressional requests to participate in the investigation.
Bolton's lawyer had also told lawmakers that his client would take the House to court if subpoenaed in the probe. Democrats ultimately decided against such a move, arguing that they didn't have the time to wait for a court to weigh in on the matter as the case could have dragged out for months.
Since then, Bolton has had a change of heart. In December, the former national security adviser announced that he'd be willing to testify if he was subpoenaed by the Senate. His testimony could be a game-changer in the impeachment proceedings, as he is thought to have firsthand knowledge of Trump's dealings with Ukraine and why the administration temporarily withheld nearly $400 million in military assistance from the U.S. ally.
Trump made the claim about House Democrats in the wake of a bombshell New York Times report about Bolton. The report said that Bolton will assert in his upcoming book that Trump told him the military aid to Ukraine was being withheld until the country opened an investigation into former Vice President Joe Biden and his son Hunter.
Trump took to Twitter to deny the Times article, writing that he "NEVER told John Bolton that the aid to Ukraine was tied to investigations into Democrats, including the Bidens. In fact, he never complained about this at the time of his very public termination. If John Bolton said this, it was only to sell a book."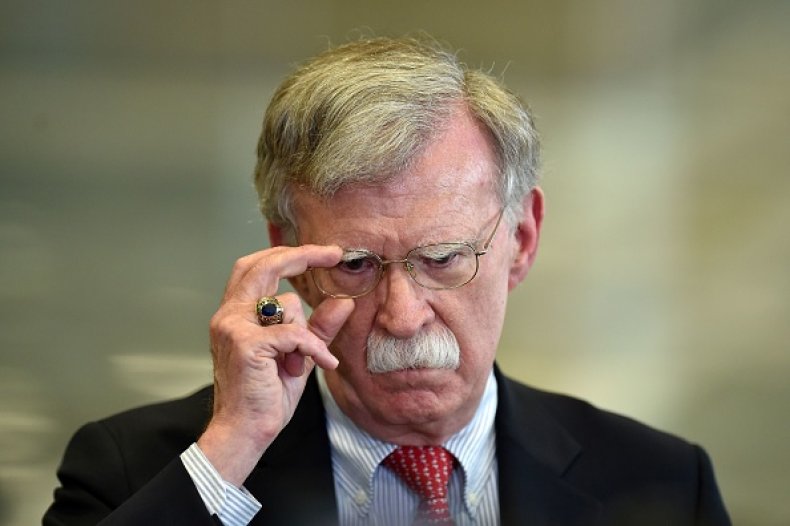 Trump's tweets also come hours before his impeachment trial is expected to resume in the Senate. Monday's portion of the proceedings will feature opening arguments from the president's defense team, which is being led by White House counsel Pat Cipollone and Trump's personal attorney Jay Sekulow.
The defense strategy has involved taking aim at both the articles of impeachment and the process used by Democrats during the impeachment probe.
"The Articles of Impeachment now before the Senate are an affront to the Constitution and to our democratic institutions. The Articles themselves—and the rigged process that brought them here—are a brazenly political act by House Democrats that must be rejected," the Trump team wrote in a legal brief submitted to the Senate last week.
After the president's defense team completes their opening arguments, the Senate will be able to vote on issues like witness testimony and new evidence. And while it appears as though Republicans have enough votes to squash any Democratic attempts for Bolton or others to testify, just four GOP senators would have to break with their party for witnesses to be allowed.
Trump told reporters last week during a news conference in Davos, Switzerland that he didn't want Bolton to testify.
"The problem with John is it's a national security problem," the president said. "He knows some of my thoughts. He knows what I think about leaders. What happens if he reveals what I think about a certain leader and it's not very positive?"