Trump Falsely Claims He Won Election in Press Briefing 2 Weeks After Election
President Donald Trump hasn't taken reporters' questions in 17 days. He held a news conference on Friday in which he claimed, falsely, that he won the November 3 election, even as President-elect Joe Biden works his background transition.
Trump, announcing health care updates amid the coronavirus pandemic, referred to "the campaign, which I won by the way," though Democratic rival Joe Biden has been projected the winner in the race by all major media outlets.
Trump didn't take questions from reporters after his briefing, and he hasn't since the election.
The president has shied away from most public appearances since the election was called on Saturday, November 7. Trump has continued legal challenges in crucial states to try to upturn the results.
He hasn't taken a reporter's question since the election and did not acknowledge shouted questions after his briefing on Friday.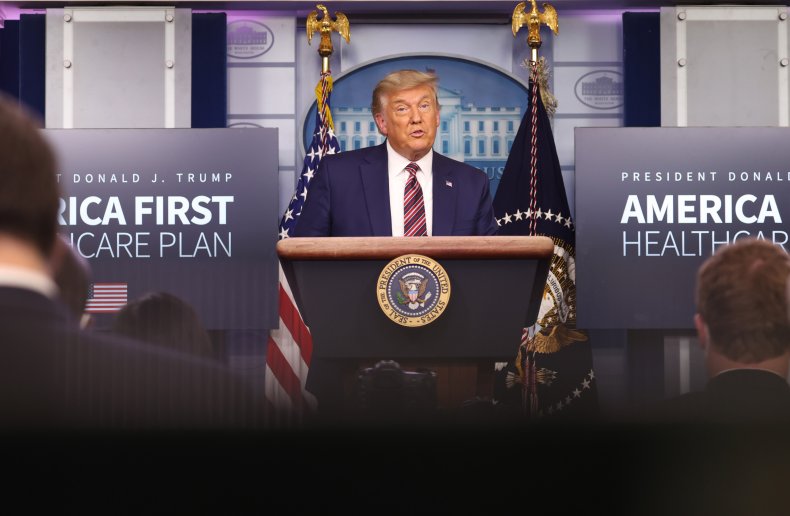 Since losing the election, Trump has stayed mostly behind the scenes after weeks of high-profile rallies in battleground states.
He held a news conference earlier this week to give updates on coronavirus vaccines but didn't take questions there either.
Trump, 74, was seeking a second term as president against former Vice President Biden. He has refused to concede despite widespread evidence that he has lost.
Biden, 78, has continued to work on a "transition" effort, even though the Trump White House has not granted him access to typical transition resources. Biden has had multiple discussions with world leaders and members of Congress to build up his administration ahead of the January 20 inauguration.
During his news conference on Friday, Trump claimed success for news that there are multiple coronavirus vaccines in the pipeline, after he had downplayed the pandemic in the early stages. Trump said the disease would "go away" by summer, but nearly 250,000 people have died from it this year and states continue to see surges into the winter.
"This is a very big thing," Trump said Friday. "I don't know if anyone's going to appreciate it."
Trump's campaign has unsuccessfully challenged the results in crucial swing states. He's trying to upend Biden's decisive win, despite experts determining Biden as the winner.
Trump, a New Yorker who recently moved to Florida, trails Pennsylvania-Delaware native Biden 306-232 in the Associated Press' Electoral College projection.
Trump won a surprise victory four years ago over Democratic candidate Hillary Clinton 304-227.