Trump Family Is 'American Royalty,' Trump Friend Newsmax CEO Christopher Ruddy Tells Brits: 'They Have Their Own Ballrooms and Palaces'
Following a state banquet at Buckingham Palace last night for President Donald Trump, hosted by Queen Elizabeth, one of the attendees, a Trump ally, has told the British press the first family is like "American royalty."
Speaking to the BBC, longtime Trump friend, Newsmax Media CEO Christopher Ruddy, who was present at the royal banquet in the British capital, said the Trump family was like royalty and not unaccustomed to its luxurious trappings.
"The Trumps and Ivanka was there. Don Jr.—I spoke to them all last night—Jared. They were so impressed and these are folks not easily impressed," Roddy told the BBC's Today program.
"Remember they have their own ballrooms and palaces and they have wonderful homes like Mar-a-Lago, where I am a member. So they are used to very high living, sort of American Royalty, should we say," the Newsmax CEO added.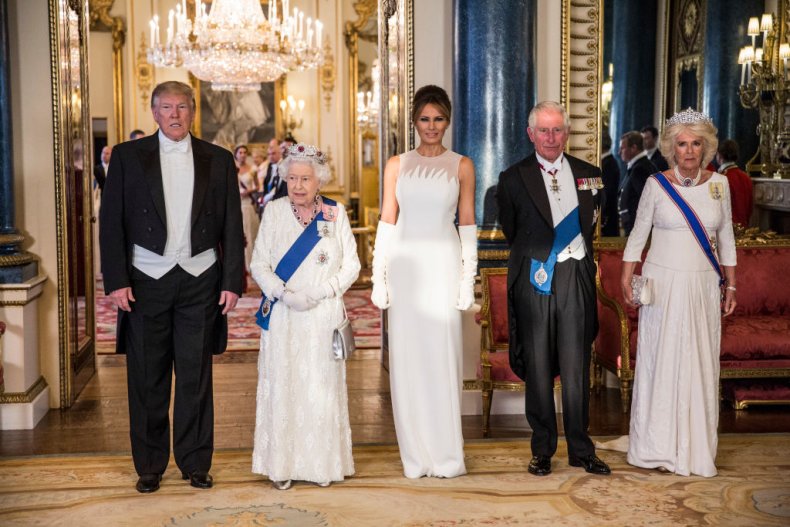 Getting off to a rocky start during his second official trip to the United Kingdom as president after tweeting that London's mayor Sadiq Khan was a "stone cold loser," the president's performance in Britain has been free of the lapses in protocol that characterized his first visit. The British press pounced on Trump in July last year when he appeared to walk in front of the Queen, flouting convention.
However, the BBC's Nick Robinson said Trump had behaved with deference to the queen during last night's proceedings. Ruddy said the banquet had been "a love fest."
"I spoke briefly with the Queen when I came in. I spoke to the president a little bit longer. He was very happy and excited. She seemed to be very pleased they were there. The president has tremendous respect for not only the British royals but for Britain," Trump's friend said.
"This is a president that loves brands. The Queen has the greatest brand in the world, doesn't she? I think he is just super impressed by that," he added.
Speaking yesterday during the state banquet at Buckingham palace the president heralded an "eternal friendship" between the United Kingdom and the United States. He is in the country for three days as part of an official visit to Europe to commemorate the 75th anniversary of the D-Day landings, the allied invasion of Nazi-occupied France.
The president referred to the queen as a "great, great woman" in his speech but was seen to be given a soft rebuke by the British sovereign about his antipathy towards international alliances such as NATO.
"After the shared sacrifices of the Second World War, Britain and the United States worked with other allies to build an assembly of international institutions, to ensure that the horrors of conflict would never be repeated," the queen told her assembled guests.