Donald, Ivanka Trump and Jared Kushner Have Donated Thousands of Dollars to Democrat 2020 Rivals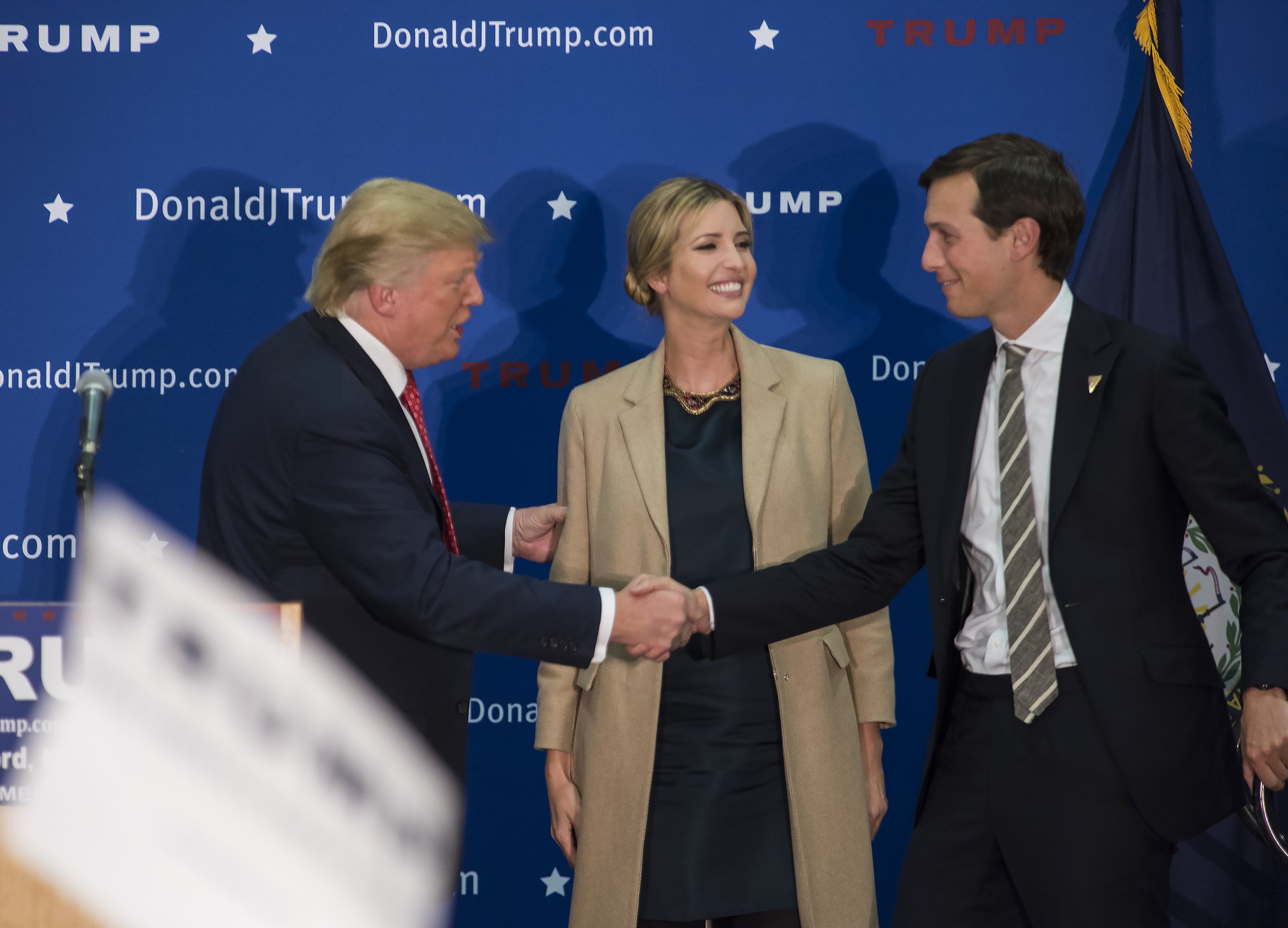 President Donald Trump has been relentlessly attacking 2020 Democratic candidates in recent days, particularly the current frontrunner, former Vice President Joe Biden. However, Trump has not always been nearly so frosty toward his now-rivals and, indeed, donated to several of them in the past.
The president, along with his daughter Ivanka Trump and his son-in-law Jared Kushner, both senior White House advisers, have donated thousands of dollars to a half dozen Democrats making bids for the presidency, records indicate.
Donald Trump:
Kamala Harris
In 2011 and 2013, a few years after Donald Trump switchedhis registration from Democrat to Republican, he donated $6,000 to Harris' campaign for California attorney general, according to The Sacramento Bee. Harris donated all of that money to a nonprofit aimed at furthering civil and human rights for Central Americans in 2015, Harris campaign spokesman Ian Sams told McClatchy. That was a year after Harris was re-elected as attorney general and as she was gearing up for her Senate bid. The Harris campaign told the Bee that Harris never met Donald Trump or treated him in a special way.
Texas Senator Ted Cruz, who was the runner-up for the Republican nomination for president in 2016, slammed Trump at the California GOP convention that year for donating to Harris and other California Democrats.
"Here in California, Donald Trump has given $12,000 to Jerry Brown, Gavin Newsom and Kamala Harris," Cruz said.
Joe Biden
Donald Trump donated $1,000 to Joe Biden in 2001, when the Democrat was a senator in Delaware. The president has recently attacked Biden, who announced his 2020 bid last week and is considered one of the leading Democratic candidates, as "Sleepy Joe."
Kirsten Gillibrand
Donald Trump contributed a total of $5,850 to Kirsten Gillibrand on three occasions between 2007, when she was a New York congresswoman, and 2010, a year after she became a U.S. senator. The president later in 2017 ridiculed Gillibrand on Twitter and she donated an amount close to what she received from him to a nonprofit.
While campaigning in Iowa for the primary, Donald Trump mocked Democrats who accepted his donations.
"It's interesting: I was looking at the ones I'm running against. I've contributed to most of them. Can you believe it? I've given to Democrats. I've given to Hillary. I've given to everybody!" he announced. "Because that was my job. I gotta give to them. Because when I want something, I get it. When I call, they kiss my ass."
Ivanka Trump:
Kamala Harris
The president's eldest daughter gave $2,000 to Harris' attorney general reelection campaign in 2014
Kirsten Gillibrand
Donald Trump wasn't alone in donating to Gillibrand. His daughter gave the now-presidential candidate $2,000 in 2014, five years into her service in the Senate.
Cory Booker
Ivanka Trump contributed $10,400 to Cory Booker in 2013, which was the year he assumed office as a New Jersey senator. Along with her husband Jared Kushner, Trump got together $41,000 and hosted a fundraising event for Booker's Senate campaign.
President Trump has shown that he likes having his eldest daughter and senior adviser at meetings with Democratic leaders. In a meeting with Democratic and Republican leaders last September, the president said his daughter is "like a Democrat," according to the book The Hill to Die On: The Battle for Congress and the Future of Trump's America by two Politico Playbook writers.
On Tuesday, Ivanka Trump joined her father and other White House officials in a meeting with House Speaker Nancy Pelosi and Senate Minority Leader Chuck Schumer on infrastructure funding.
Jared Kushner:
Cory Booker
Kushner also donated $10,400 to Booker in 2013. Booker in a BuzzFeed News podcast in 2017 said he did not regret fundraising with Kushner and Ivanka Trump but would not take a dime from the couple in future.
Trump extended family members:
Kushner's younger brother Joshua Kushner, a Democrat from New Jersey, gave $10,400 to Booker as well. Joshua Kushner has also donated to two other Democrats running for president—former Texas congressman Beto O'Rourke and Massachusetts Congressman Seth Moulton.