Trump Family Documentarian Alex Holder: Eric Trump 'Scared' of Don Jr.
Alex Holder, the documentarian whose footage of former President Donald Trump's family was subpoenaed by the House select committee investigating the January 6 riot on the U.S. Capitol, answered questions about the Trumps during a Tuesday Reddit "Ask Me Anything" (AMA).
Holder discussed his feelings about the family during the Q&A session, including his impression that Eric Trump is scared of Donald Trump Jr. Throughout the online talk, the British filmmaker made it clear he's not fond of the former president.
Holder spent a substantial amount of time with the Trumps and the White House inner circle during the lead-up to the 2020 presidential election. His filming resulted in the three-part documentary series, Unprecedented, which premiered in July on Discovery+. Before the series was released, though, Holder was issued a subpoena by the January 6 committee for raw footage of the family, which he turned over.
During the Reddit AMA, Holder said he found Donald Trump to be "a very insecure man who depends on external adoration." He also said Trump was "obsessed with how he looked" and wore "a huge amount of makeup."
When one person asked if Trump "ever said racist things off camera," Holder wrote only "yes" without elaborating.
Another Reddit user asked Holder about what "smaller moments" between the members of the Trump family surprised him most, to which he replied, "Eric seemed to be pretty scared of his older brother."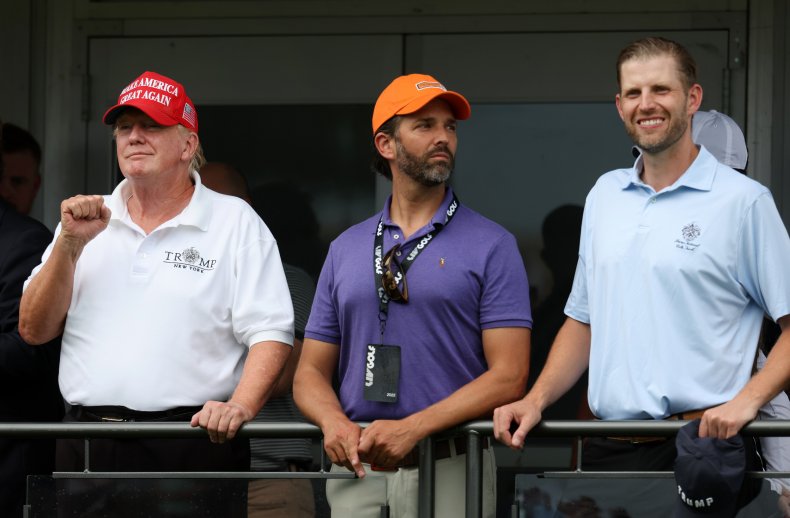 Holder made other comments about Trump's oldest sons and daughter Ivanka Trump. (He noted that he didn't spend enough time with Trump's other offspring, Tiffany Trump and Barron Trump, to form an opinion. Holder also said he did not interview former first lady Melania Trump.)
"Eric is probably least like his father but I say this only because Don Jr and Ivanka are very similar to their old man," Holder said.
Elsewhere, he added, "Eric was the friendliest. I don't think Don Jr liked me very much. (Not sure why..!)"
When someone later asked in the AMA why Eric Trump seemed scared of his brother, Holder responded, "Have you seen Don Jr???"
The topic of the classified documents that were recently seized by the FBI from Trump's Mar-a-Lago estate was also brought up. A Reddit user asked what Holder thought the former president's plans were for the documents and suggested Trump was looking to sell the papers to "the highest bidder," use the information to organize a "coup" or something "more sinister."
Holder said, "I think he just wanted them because he thinks they belong to him!"
Another person said they felt Holder's documentary portrayed the Trumps "as a close-knit, godly family" and asked if he was a "fan" of the family.
"I think it's difficult to be a fan of anyone who undermines democracy and incites a mob to attack the Capitol," Holder said.
Newsweek reached out to a representative for Donald Trump and the Trump Organization for comment.