The Trump Family's Political Sway Is Showing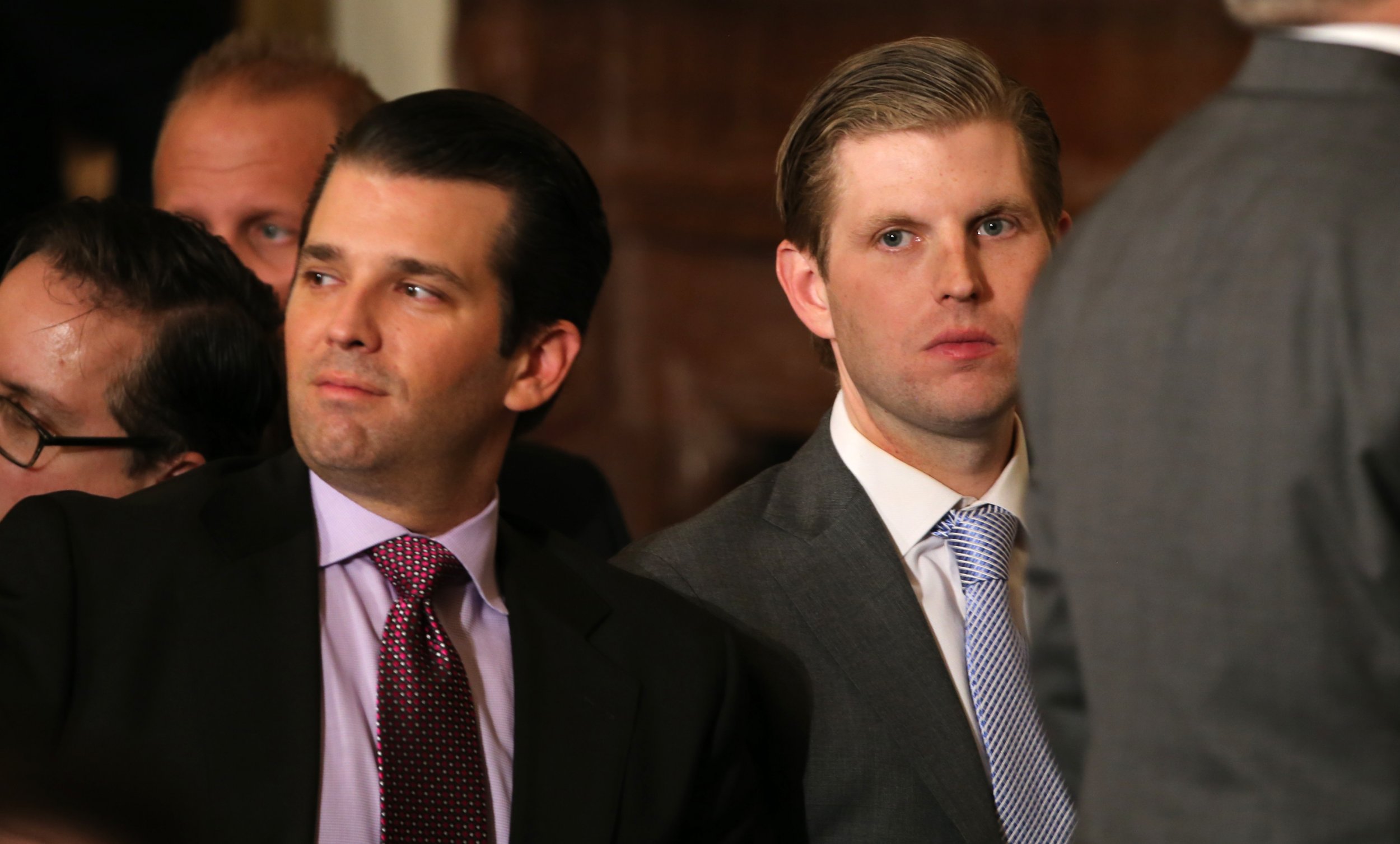 While Donald Trump Jr. isn't aiming to be the governor of New York just yet, a run could be on the horizon, and the idea is already drawing modest interest from local Republicans.
"He'd make a very strong candidate," New York State Assemblyman Steve McLaughlin told The Wall Street Journal Tuesday in response to an Associated Press report that noted Trump Jr. had ruled out a run in 2018. "Certainly, he has name-recognition and fundraising ability."
Alongside such local GOP support, there were, not surprisingly, given the level of support for President Donald Trump in recent polls, numerous critics of the potential political future for the president's son, including the website the Root, which wrote that Trump Jr. had the "political sensibilities of a racist Twitter egg and the charm of a spider bite."
This all stemmed from the AP interview in which Trump Jr. denied he would challenge New York Governor Andrew Cuomo in 2018, shooting down a report on the New York Post's Page Six. But he also hinted things might change in the future.
"Maybe someday," Trump Jr., 39, told the AP in the article published Tuesday morning. "It's not something I'm doing now. But you never know, it's fascinating stuff."
He added: "People keep asking me: when are you running for mayor? Well, I'm not. If I was, New York City mayor is much less interesting to me than perhaps other things like governor of a state. That's not saying I'm running. It's just saying that, hey, if I ever did something, I'd probably be more interested in something like that."
In the interim, the branches of the Trump family tree can be seen to hold considerable political sway. The president has always loved to get his family involved in his affairs, to the point that his son Eric said this month that nepotism is a "beautiful thing" and "kind of a factor of life."
The political career of another Trump sibling—Ivanka—has already gotten under way. Despite voter discomfort, the president's daughter has an office in the White House and an official, albeit unpaid, role in the administration. The 35-year-old fashion entrepreneur even reportedly was involved in the decision to launch an airstrike on a Syrian air base. Eric told the Telegraph that she was so "heartbroken and outraged" over an apparent chemical weapons attack carried out by Bashar al-Assad's regime that it helped inspire the president to order the air base bombing Thursday.
Meanwhile, Ivanka's husband, Jared Kushner is seen as the president's right-hand man. Also an unpaid employee, Kushner's official role is as senior adviser, but he has been charged with multiple Herculean tasks, including making the federal government run like a business, fixing Veteran's Affairs and brokering peace in the Middle East. In essence, most everything the president does runs through the 36-year-old who previously worked in real estate and publishing.
And while the young couple just recently dove into politics, the Trump family has long been in the political arena. Trump's father Fred—a controversial New York City real estate maven who inspired folk legend Woody Guthrie to write a contemptuous song—famously schmoozed with politicians, regardless of party, to curry favor for his projects. Trump's sister, Maryanne Trump Barry, is a federal judge who reportedly helped narrow the president's shortlist of potential nominees to serve on the Supreme Court.
President Trump himself long boasted about his political sway, which was bought through donations. He famously claimed last year: "As a businessman and a very substantial donor to very important people, when you give, they do whatever the hell you want them to do."
So, in the short term there's only one Trump who's an elected official, but the family's political tentacles can be seen to be getting more far-reaching. And, as America discovered in the 2016 election, a Trump political run could quickly shift from a rumor to reality.
As Trump Jr. told the AP this week: "You always leave your options open."