Trump Family Spends Thanksgiving at Camp David As Don Jr. Says He's COVID Free
Donald Trump's children spent Thanksgiving at the presidential retreat Camp David just days after Don Jr. tested positive for COVID.
A photo posted by Dan Scavino, a senior adviser to Trump and the White House deputy chief of staff for communications, showed the president's adult children and their partners sitting around a fire pit at the Maryland residence.
The picture showed, from left to right: Kimberly Guilfoyle and Donald Trump Jr., Ivanka Trump and Jared Kushner, Scavino, Eric Trump and Lara Trump, and Tiffany Trump and her boyfriend Michael Boulos.
Eric Trump shared the same photo on his Instagram account. Sarah Huckabee Sanders, former White House press secretary, commented on the image: "Happy thanksgiving to this awesome group!"
In a previous Instagram post, Eric Trump shared an image of him in a car with his wife and their two children. The photo was captioned: "We'll report back on how this goes. #HappyThanksgiving"
A spokesperson for Trump's eldest son, Don Jr., revealed he had tested positive for coronavirus last Friday, saying at the time that he had been quarantined for several days already.
"Don tested positive at the start of the week and has been quarantining out at his cabin since the result," the spokesperson said last week. "He's been completely asymptomatic so far and is following all medically recommended COVID-19 guidelines."
In an Instagram post on Thursday, Don Jr. said he was "Rona free." He said: "Got to start our Thanksgiving a little bit early... I wasn't sure if I'd be able to be cleared to be with my family but I got the medical OK I'm all done with the Rona so @kimberlyguilfoyle and I made our back up plan meal today and are just going to double up on the Thanksgiving day feast."
The president had Thanksgiving dinner with "immediate family" on Thursday, the White House said, declining to specify who attended. He is due to arrive at Camp David later on Friday.
Catoctin Mountain Park, where the presidential retreat is located, said "increased security measures" from Friday at 8 a.m. to Sunday at 8 p.m. meant portions of the park would be closed to the public.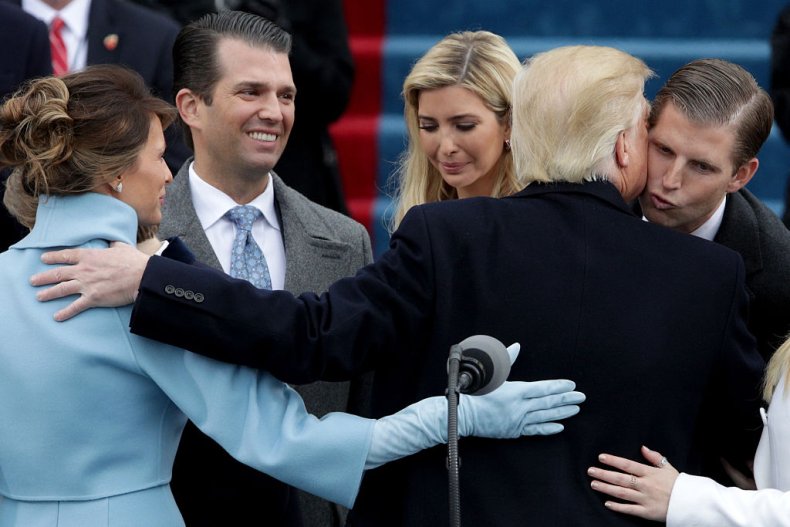 From Friday evening, a Notam—"Notice to airmen"—was due to come into force closing the airspace above Camp David from ground level to 18,000ft.
Last year, Trump made an unannounced visit to US troops in Afghanistan for Thanksgiving.
During the brief appearance at Bagram airfield, the president served turkey to soldiers, posed for photographs and met Afghan President Ashraf Ghani. It was his first visit to the country.