Will Trump Fire Rod Rosenstein and Will Robert Mueller Be Next? Deputy AG Reportedly Wanted to Invoke 25th Amendment
Deputy Attorney General Rod Rosenstein could soon face President Donald Trump's wrath following a report Friday that Rosenstein had discussed invoking the 25th Amendment to oust Trump and even considered secretly recording the president.
Rosenstein reportedly spoke to fellow FBI and Justice Department officials about the dysfunction he witnessed in the White House after Trump fired former FBI director James Comey in May 2017, according to The New York Times.
Rosenstein denied the allegations. But the idea that a top member of the Justice Department believed he could tap Attorney General Jeff Sessions and then-Homeland Security secretary John Kelly to potentially remove Trump from power could enrage the president.
Rosenstein was reportedly upset and concerned after Trump fired Comey, but his alleged actions are not likely to calm a president who has repeatedly claimed that a "deep state" within the Justice Department and the FBI has been attempting to hinder his administration. But according to the Times, Rosenstein never truly attempted to record him or push for the 25th Amendment.
Trump firing Rosenstein could have serious knock-on effects, potentially setting up a path to dismiss special counsel Robert Mueller and end the investigation into Russia's interference in the 2016 election.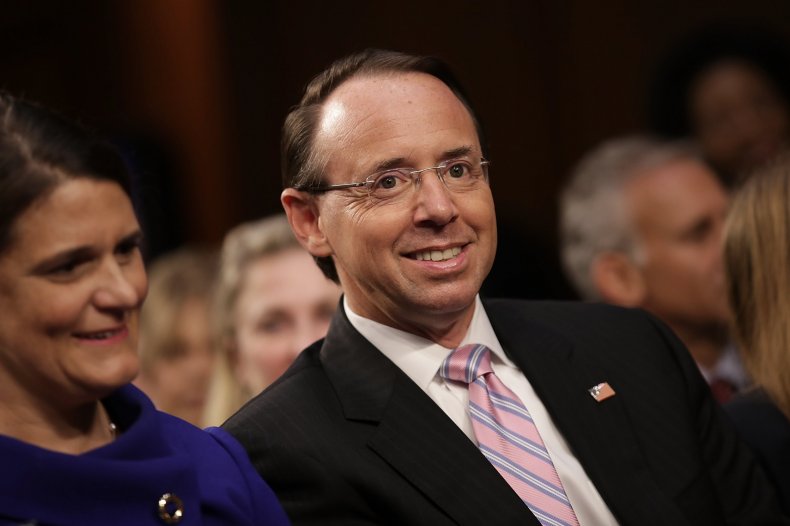 After Sessions recused himself in March 2017, Rosenstein, as the No. 2 at the Justice Department, automatically became the head of the Mueller probe and would decide if charges should be brought against anyone.
Senate Minority Leader Chuck Schumer of New York responded to the Times report by stressing it should not serve as reason to fire Rosenstein and then permit Trump to dismiss Mueller.
"This story must not be used as a pretext for the corrupt purpose of firing Deputy Attorney General Rosenstein in order to install an official who will allow the president to interfere with the Special Counsel's investigation," Schumer said.
Trump has publicly lashed out at Rosenstein several times, though not always with the same disdain he has shown Sessions for recusing himself.
"Much of the bad blood with Russia is caused by the Fake & Corrupt Russia Investigation, headed up by the all Democrat loyalists, or people that worked for Obama. Mueller is most conflicted of all (except Rosenstein who signed FISA & Comey letter). No Collusion, so they go crazy!" The president tweeted on April 11 in reference to the Mueller investigation and his claims of political bias against him.
The "Comey letter" Trump referred to was written by Rosenstein about Comey's handling of Hillary Clinton's private email server investigation in 2016, and was later used by Trump and the White House to justify the firing of Comey.
Should Trump decide to fire Rosenstein, he could appoint a deputy attorney general with the power to fire Mueller. Republicans and Democratic lawmakers alike have warned Trump that such a move could be politically dangerous.
Were it to happen, the firing would echo the infamous "Saturday Night Massacre," in which former President Richard Nixon fired several top Justice Department officials in an attempt to end the Watergate probe.