Trump First President in Decades to Not Host a State Dinner, Is Melania to Blame or Chaotic Administration?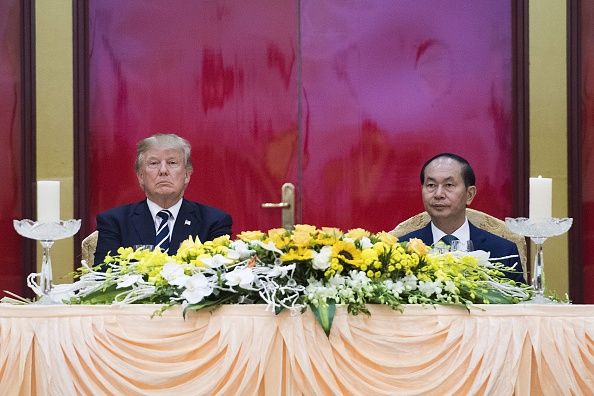 President Donald Trump is the first president in almost a century to not host a state dinner during his first year in office. White House Press Secretary Sarah Huckabee Sanders said there was not a "singular reason" Trump has not held a state dinner, the Associated Press reported Tuesday.
Sanders said the Trump administration is hoping to extend a state visit invitation sometime early in 2018. State dinners are significant for friendships and to showcase country ties to one another, according to Anita McBride, a veteran of three Republican administrations who most recently served under first lady Laura Bush.
"The White House is the world stage to elevate that," Baker told the AP. "These occasions really go a long way to solidify and strengthen relationships."
Trump was critical of President Barack Obama's 2015 state dinner with Chinese President Xi Jinping during his presidential campaign and said he would not throw him an elaborate dinner at the White House. "I would not be throwing (Xi) a dinner," Trump said at the time. "I would get him a McDonald's hamburger and say we've got to get down to work."
Trump also vowed that he would not have a state dinner as long as the U.S was operating at a trade deficit. "It's going to be different, folks. It's going to be different. We're not going to have state dinners," Trump said at the time. "I'll have state dinners — when we break even I'll have a state dinner, and when we start making money, I'll have a double state dinner."
The Chinese leader and Trump met at Trump's Florida estate in April, and Trump treated Xi to a full dinner. When Trump visited China during his state visit in November, Xi Jinping hosted an elegant banquet that included video highlights from the Chinese leader's visit to Florida with a video clip of his Trump's granddaughter, Arabella, singing in Chinese.
But first lady Melania Trump may also be to blame for not throwing a state dinner. While her husband talks political affairs, Melania Trump is known to stay away from the spotlight. During their visit to China, President Trump handled all the major political affairs while the first lady met with children. She also didn't move into the White House until June, months after her husband did in January. First ladies typically host and plan state dinners.
"Melania has been the prominent parent to her son, Barron, and seems most comfortable talking with children...meeting with kids at hospitals and schools has certainly become a staple of her trips. She is content having a minimal role and being by the president's side when necessary," Jean Wahl Harris, a professor at the University of Scranton and a first lady historian, previously told Newsweek.
Former President Calvin Coolidge was the last president who ended his first year in office without hosting a foreign leader for a state visit, according to the White House Historical Association.