Trump's First Year Is a Big Win for Conservative Judges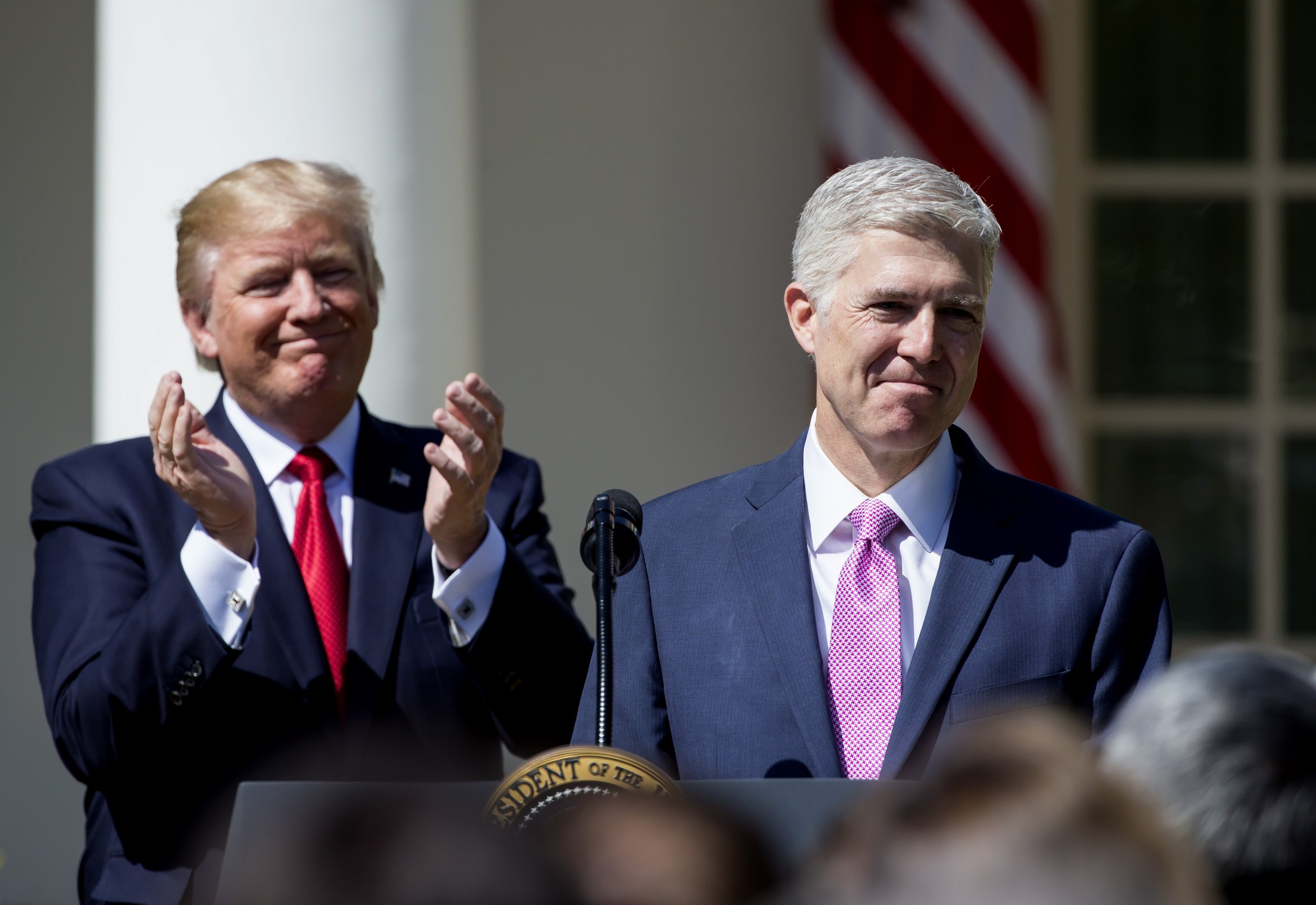 The past year was probably the most consequential in modern history for the appointment of conservative judges to the federal courts, with a successor to Supreme Court Justice Antonin Scalia who shares his judicial philosophy, and a historic number of appeals court judges who will shape the law for two generations. What led to this transformative moment was a unique presidential election, the first in American history during which the composition of the federal judiciary, particularly the Supreme Court, was cited as a major factor for a large swath of voters. The issue might well have been decisive to the outcome of that contest.
Since the 2016 election, President Donald Trump has nominated judges who have a demonstrated commitment to, as the president puts it, interpreting the Constitution "the way it was meant to be." In so doing, Trump is ensuring that his legacy will last far beyond his term in office. Tax and health care reform can quickly evaporate with future changes in congressional majorities, but federal judges serve for life, often making decisions about our Constitution and laws that affect one or two generations. History shows, just as well, that federal judges can block a president's agenda, preventing the executive branch from accomplishing its goals when it comes to deregulation, national security and other aspects of domestic and social policy reform.
The year of "extraordinary accomplishment," as Majority Leader Senator Mitch McConnell described it, began with the nomination and confirmation of Neil Gorsuch to the seat left vacant by Scalia on the U.S. Supreme Court. He will likely serve for decades, and may well be the deciding vote in enormously important cases touching on free speech, religious liberty, gun rights and the scope of authority of the administrative state.
Less noticed, but almost as important, are the many federal appeals court vacancies the president had an opportunity to fill last year. The Senate confirmed 12 nominees to fill those vacancies on the appeals courts, which was an all-time record for a presidential administration in its first year. The record was previously shared by Presidents John F. Kennedy and Richard M. Nixon, with 11 in their respective first years. Only three were confirmed during President Barack Obama's first year.
Statistics, however, tell only part of the story. What makes this judicial sweep so significant is the extraordinary backgrounds of Trump's nominees. Gorsuch and the president's appeals court nominees have among the most distinguished credentials possible and demonstrated records of applying the Constitution and laws as they are written. Many have explicitly rejected, in word and deed, making decisions based on their own political preferences, or any partisan agenda, and they have demonstrated and promised independence, invoking the separation of powers, federalism and checks and balances that are the hallmarks of limited government under our Constitution. Many have records of refusing to take issues unaddressed by the Constitution away from the people and those they elect to represent them.
Though relatively young as judicial appointees, they almost uniformly have some of the most extraordinary professional resumes in the legal system, with service on state supreme courts or other very distinguished posts in government or on leading law school faculties or at the best law firms in the country. Several, such as Joan Larsen of Michigan, Allison Eid of Colorado, David Stras of Minnesota and Don Willett of Texas, have been leading conservative intellectuals on their state supreme courts. Others, such as Amy Barrett of Norte Dame and Stephanos Bibas of the University of Pennsylvania, are leading constitutional law scholars committed to the original meaning of the Constitution. And, several, including Gregory Katsas and Kyle Duncan have argued important limited government cases before the Supreme Court. People with such talent and philosophical commitment are very likely to prove transformational for the future of our legal culture. That is particularly meaningful given the widespread skepticism held by so many Americans toward government institutions.
In a year when legislative victories were hard to come by, the "judicial wave" of 2017 was a very important benchmark of political success. And, looking ahead to the rest of 2018, it is likely to become the GOP leadership's case-in-chief for redoubling unified and intense action on the many federal judicial nominees the president still has to nominate and get confirmed.
Leonard Leo serves as an outside adviser to the president on Supreme Court and judicial selection.