Trump Remains Fixated on 'Executive Time,' Tweets to say he Feels he Works Very Hard
President Donald Trump tweeted on Sunday to defend himself against rampant speculation surrounding his leaked schedule listing so much "executive time."
"The media was able to get my work schedule, something very easy to do, but it should have been reported as a positive, not negative," Trump wrote in his Twitter post. "When the term Executive Time is used, I am generally working, not relaxing. In fact, I probably work more hours than almost any past President," he argued.
In a second tweet, the president repeated his popular claim that the country "was a mess" when he took office in 2017. "I had no choice but to work very long hours!" he insisted.
Despite Trump saying it would be "very easy" to get a hold of his schedule, a former aide suggested otherwise in an interview with CNN's Reliable Sources on Sunday.
"The thing that strikes me about it, is just the sheer effort that went into this," Cliff Sims, the former director of Trump's White House message strategy, told CNN host Brian Stelter. Sims explained that he received these schedules every day when he worked in the White House and that they are not kept stored in any central location. "To leak three months of them … you would have to go back through just weeks and weeks and weeks of emails to get these," he said.
The former Trump staffer also said that he believes reports that the Trump administration is frantically hunting for the source of the leak are likely true. "I've talked to some people in there about this, and I do think that it is real," he said. "There's definitely a hunt going on for whoever this individual is."
News site Axios initially leaked Trump's schedule last Sunday, showing that the president spends the majority of his day on "Executive Time." Aides have since said that the term refers to when the president watches television, reads newspapers and does other work, according to Politico. Previously, Politico reported in October that Trump spent an unprecedented amount of his day on free time. "Official meetings, policy briefings and public appearances — typically the daily work of being president — consumed barely more than three hours of his day," the site reported based on reviewing the president's schedule.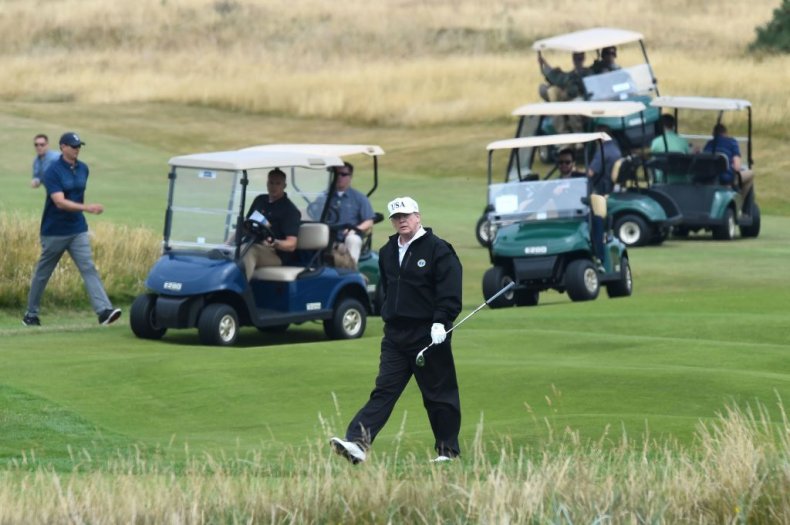 Trump has also faced criticism for spending large amounts of his time on "working vacations." On these trips, he generally visits his golf resorts in New Jersey or Florida. Many critics have pointed out that as a presidential candidate, Trump said he "would not be a president who took vacations." He frequently criticized his predecessor President Barack Obama for taking vacations.
Back in 2016, Trump also vowed that he would not "have time to go play golf" while serving as president, something that he routinely slammed Obama for doing. But as the website Trump Golf Count has meticulously tracked, Trump has been confirmed to have played golf 72 times since taking office just over two years ago. Comparatively, Obama was confirmed to have played golf 60 times at the same point in his tenure as president.