Video Shows Teacher Wrapping Trump 2020 'MAGA' Flag Around Student's Head, School Investigating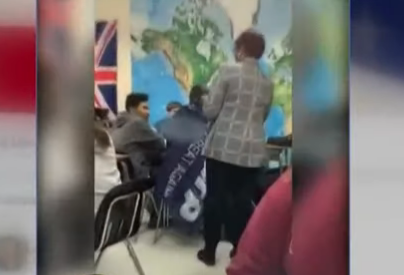 A Virginia school district is investigating video appearing to show a teacher's assistant wrapping a "Make America Great Again" flag supporting President Donald Trump around a student's head.
A now-viral video emerged on Facebook this week showing a teacher, later identified by the York County School Division as a para-educator, attempting to wrap a "Trump 2020" flag around a student's head and neck as others in the class laugh and record the seemingly playful incident. York County School Board Chairman James Richardson told the Williamsburg Yorktown Daily newspaper the incident occurred last week during "spirit week" activities and that administrators and parents of the involved students have been notified.
The incident occurred at Tabb High school, in Yorktown, Virginia after the student chose to wear the Trump 2020 flag for spirit week activities. The video was recorded by another classmate and gained widespread exposure through a Facebook group called "Uncle Sam's Misguided Children." Students online identified the para-educator as "Mrs. Brinkley" and claimed the teacher had previously attempted to take the student's phone.
York County School Division confirmed they were aware of the incident from last week and issued a statement via Facebook:
The York County School Division is aware of the video being circulated on social media depicting an interaction between a para-educator and a student at Tabb High School. We take this matter seriously, as we do all concerns brought to our attention.

The York County School Division believes every student is entitled to a safe and welcoming school environment. School Board policy also recognizes that school time and school property should not be used for any political purposes. Employees are expected to refrain from engaging in any activity supporting or opposing a candidate or political party while on duty, while on school property during school hours, or while representing the school division.

As such, we would like to assure our community that school and division administrators are continuing to review this personnel matter in accordance with division policies and procedures.
York County School Division spokeswoman Katherine Goff told local news outlets that official policy states that neither school time or school property are to be used for any type of political purposes.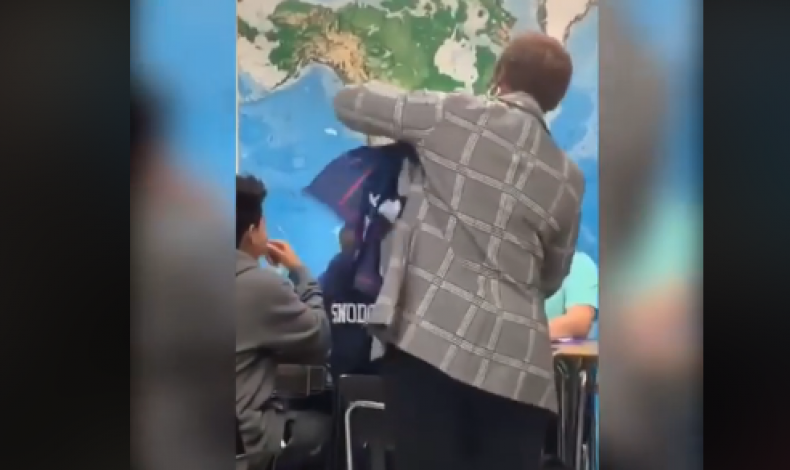 Facebook commenters and members of the York County community immediately condemned the video on social media. "Wrapped it around his neck. Now you see the true left. You sue the school board, teacher, county and state. You can not silence the First Amendment. Take her check for the rest of her life," reads one irate Facebook response to the video.
"I don't think any grown-up teacher, parent or anybody that's an adult should wrap anything around kids' face," one local man told Norfolk's WVEC-TV.