Trump Focus on China Threat Means U.S. Will Withdraw Troops From Africa
The United States military is looking to withdraw hundreds of its troops from Africa as Washington shifts its resources toward dealing with threats from China and Russia.
U.S. defense officials said the troop cuts would involve scaling back missions in Central and Western Africa, where the focus has been on training local troops to tackle Islamist militant groups.
The leader of the United States Africa Command, General Thomas Waldhauser, told The New York Times the drawdown would start in countries such as Cameroon.
"We're not walking away," Waldhauser said, adding that the U.S. would "reserve the right to unilaterally return" if needed to protect American interests.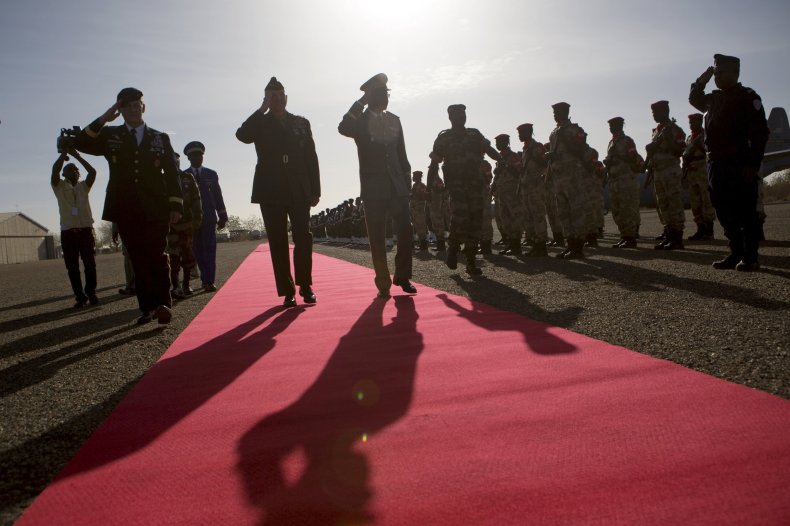 Last October, four American soldiers were among those killed when their convoy was attacked by militants in Niger, near the border with Mali. A Pentagon report outlined flaws in the operation, including command mistakes and insufficient training. A U.S. adviser was killed in Somalia in June.
There are more than 7,300 special operations troops around the world, many targeting militants in Yemen, Libya and Somalia. About 1,200 of those troops are on missions in Africa.
Earlier this year, U.S. Defense Secretary Jim Mattis revealed a shift in Washington policy as he described how "threats have changed. There is increasing global volatility and uncertainty, with challenges from Russia and China coming to the fore," he said, according to the Department of Defense website.
Carter Ham, a retired general who once led the Africa Command, agreed with this move but told The Times, "My concern in Africa is that with an already very modest presence and level of engagement, reducing that will lessen the likelihood for good outcomes across the continent."
Pentagon spokesperson Major Sheryll Klinkel told CNN that no decisions or changes had yet been made yet regarding the forces operating in Africa.
"The Department consistently reviews plans, operations and military investments across the globe to develop the best options that address the constantly evolving threat to U.S. national interests," she said.