Why is Trump Focusing on North Carolina? President Readies to Rally GOP Ahead of Key Special Election
Just one day before an important special election for House Republicans in North Carolina, President Donald Trump will take his reelection campaign to Fayetteville Monday evening to host a rally for a GOP candidate.
The swing state's 9th Congressional District, typically a Republican stronghold, is up for Democrats to grab and widen their House majority in the do-over election that was scheduled after allegations of fraud in the 2018 election nullified the results. The Tuesday race will be of topic for Trump at his rally that's set to kickoff at 7 p.m. at the Fayetteville Regional Airport and will represent a preview for what could come in next year's general elections.
Trump won the district in 2016 by 12 percentage points — but the president's name won't be appearing on the ballot this time around.
Dan Bishop is the Republican state senator who hopes to beat Democratic opponent Dan McCready, a veteran, business executive and attorney. In addition to the campaign rally, the Trump campaign has said last week it donated the maximum amount of $2,000 to Bishop's bid for Congress. Vice President Mike Pence made a stop in North Carolina earlier on Monday to also show his support.
"We're having a BIG RALLY for a great guy, Dan Bishop. Strong on Crime, Borders, your Military and our Vets, we need Dan Bishop in Washington badly," Trump wrote in a tweet on Sunday. "His opponent is WEAK on Crime, Borders, and against your 2nd A."
On Monday, Trump added: "His opponent is a far left Sanctuary Cities supporter."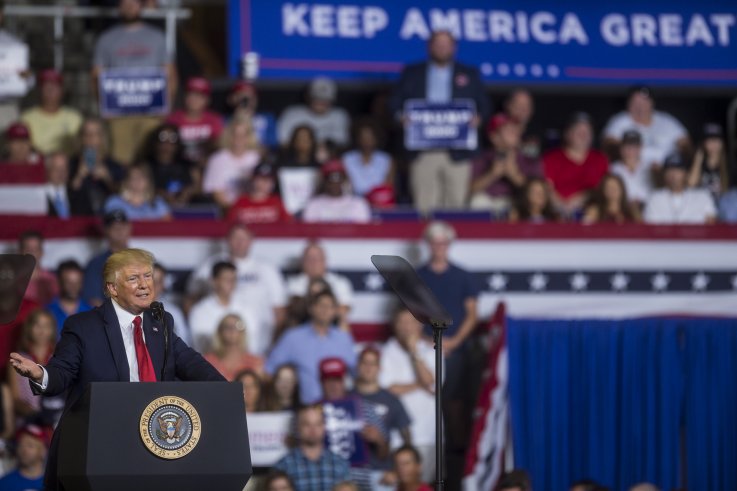 Trump has made similar untrue claims about McCready's immigration stances in the past, which PolitiFact has rated to be "mostly false." McCready supports the DREAM Act and opposes a state bill that would require local authorities to cooperate and turn over immigrants who are in the country illegally to federal immigration officials.
The special election is the last race from 2018 and will fill a vacant seat. McCready ran last year and narrowly lost against Republican Mark Harris by roughly 900 votes. However, the results were tossed out altogether and a do-over was ordered after the state elections board concluded an illegal ballot tampering scheme regarding absentee ballots had occurred that involved Harris.
A political operative of Harris conducted a "coordinated, unlawful and substantially-resourced absentee ballot scheme," state elections investigators concluded early this year. Following the 2018 election, voters came forward to say McCrae Dowless, a GOP operative hired by Harris, personally collected their absentee ballots, along with others that Dowless paid to help. The act, known as "ballot harvesting," was illegal. Dowless and his associates also allegedly altered ballots, including forging voter and witness signatures.
Harris denied he was aware of any wrongdoing and ultimately chose not to run again against McCready.
Why is Trump Focusing on North Carolina? President Readies to Rally GOP Ahead of Key Special Election | Politics