Trump's Latest Weird Meal: Rice and Two Slices of Cherry Pie During GOP Lunch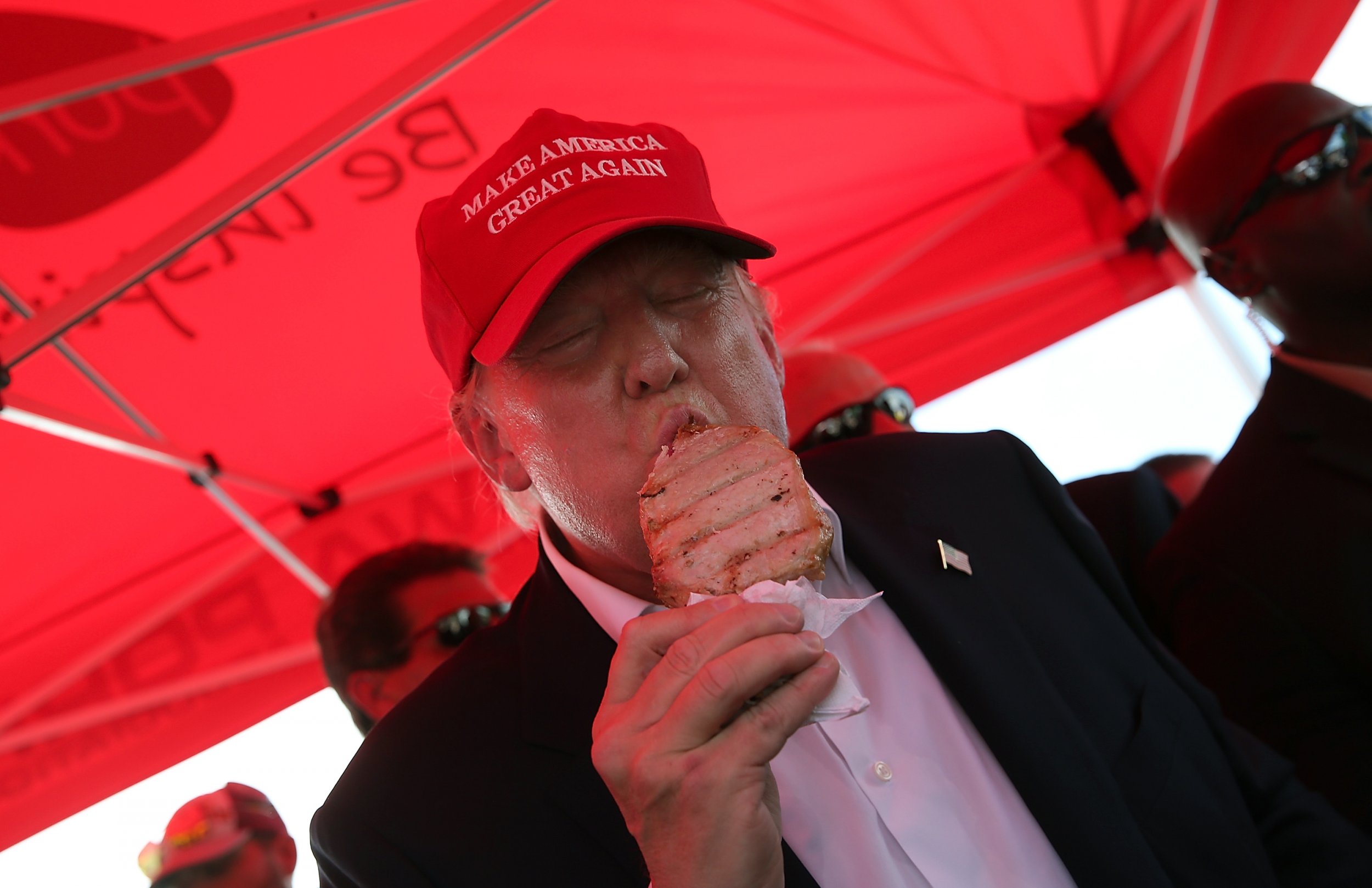 Add another page to Donald Trump's weird recipe book—the president apparently ate rice and cherry pie for lunch on Tuesday with Senate Republicans.
NBC News reporter Leigh Ann Caldwell broke the story right after the meal, tweeting that she overheard a Secret Service agent discussing Trump's intake: "He ate rice and two pieces of cherry pie. Took a few sips of his drink," Caldwell tweeted. "'He loves rice.'"
Meatloaf was also served at the Tuesday luncheon, which came as top GOP senators were preparing to revamp the tax code. It's unclear whether the president ate any, but the American people already know meatloaf is one of his favorite foods—New Jersey Governor Chris Christie confirmed it after the duo dined together in February.
"This is what it's like to be with Trump ... He says, 'There's the menu, you guys order whatever you want,' and then he says, 'Chris, you and I are going to have the meatloaf,'" Christie said, according to CNN. "The meatloaf was good."
Trump's food habits are a subject of perpetual fascination for fans, critics and journalists alike. Ever since he launched his presidential campaign back in 2015, they've been collecting crumbs of information about his preferences: that he orders his steak well done, that he doesn't consume coffee, that he demands Thousand Island dressing on salads. We now know Trump loves Kentucky Fried Chicken and McDonald's and Trump Tower Grill taco bowls, especially on Cinco de Mayo and especially during a campaign when he demonized Mexicans.
Trump is also obsessed with Diet Coke, despite tweeting back in 2012 that he's "never seen a thin person drinking" the soda, and can have one delivered to the Oval Office at the push of a button. Really.
His strange appetite has played a role in politics, as well. Back in April, when Trump decided to launch air strikes on Syria, he told Chinese President Xi Jinping over baked goods—and then boasted about it.
"I was sitting at the table, we had finished dinner. We're now having dessert—and we had the most beautiful piece of chocolate cake that you've ever seen—and President Xi was enjoying it," Trump later told Fox Business. "So what happens is I said, 'We've just launched 59 missiles heading to [Syria], and I wanted you to know this.' And he was eating his cake. And he was silent."
Trump has also attempted to use food to establish superiority over his colleagues. According to TIME, the president gets two scoops of ice cream after dinner while everyone else gets one.
There's no word on how many slices of cherry pie the senators got on Tuesday, but they did reportedly give Trump three standing ovations.
But no toasts—after all, the president is a teetotaler.