House Democrats managed to stomp out new work requirements for food stamps in this year's Farm Bill, but that isn't stopping the Trump administration from finding a workaround.
The Department of Agriculture proposed a new rule Thursday that would make it more difficult for states to waive work requirements already required by the Supplemental Nutrition Assistance Program.
Able-bodied, childless adults can currently receive SNAP payments for up to three months without working. After that, they must either work, enroll in a work training program, or participate in 80 hours of educational training to receive benefits. But a number of states allow adults to bypass those regulations by applying for waivers.
States currently qualify for waivers if their unemployment rate is above 10 percent or if there are a "lack of sufficient jobs." Proposed USDA changes would define "a lack of sufficient jobs" as 7 percent unemployment and would limit the waivers to one year in length. Statewide waivers would no longer be available, and instead they would be distributed to smaller areas.
About 75 percent of areas that currently qualify for waivers would no longer be eligible under the new rules, according to Food and Nutrition Service Administrator Brendon Lipps.
USDA secretary Sonny Perdue explained his rule change to reporters Wednesday night. "These actions will save hardworking taxpayers $15 billion over 10 years and give President Trump comfort enough to support a farm bill he might otherwise have opposed," he said, discussing how much money the program would save from the people who would no longer be eligible for food assistance.
Waivers, the Trump administration argued, were meant to be given out during times of economic hardship. A 3.7 percent unemployment rate, they said, does not justify that.
"The bottom line is this," said Perdue. "In 2016 there were 3.8 million individuals on the SNAP rolls with 2.8 million or almost 75 percent of them not working. This is unacceptable to most Americans and belies common sense particularly when employment opportunities are plentiful as they currently are."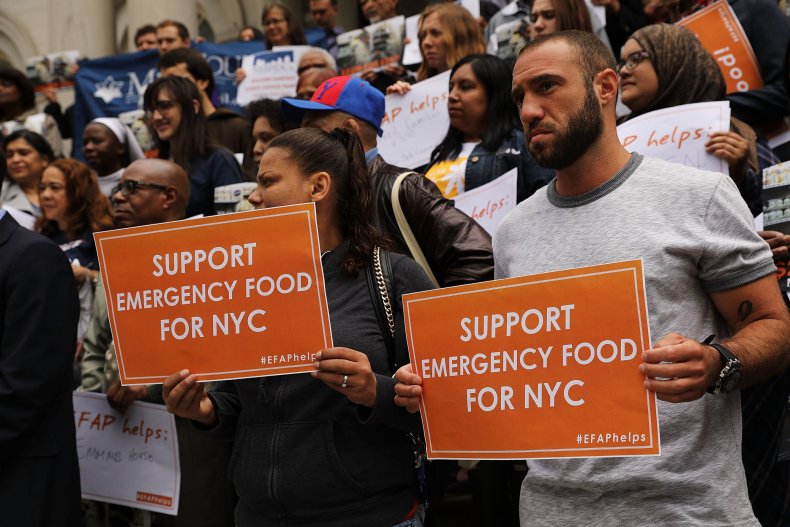 Around 42 million people nationwide participated in the food stamp program in 2017, making it the largest and most important anti-hunger program in the country. The program also tends to give back more to the economy than it takes. In a weak economy, $1 in SNAP benefits generates $1.70 in economic activity, according to Moody's Analytics.
Food stamp enrollment reached a record low this year, but it remained the sole food source for 8.5 million American families, according to the Urban Institute. Removing people from food stamps may backfire as hunger and food insecurity cost the United States at least $160 billion each year in health care costs and lost productivity, according to researchers from the Boston University School of Medicine and the Universidade Federal de São Paulo.
Calls of SNAP fraud from the right are also generally overstated. About one cent of every dollar devoted to the program is misused, according to the USDA and 82 percent of all SNAP households have at least one working non-disabled adult within a year of joining the program.
A number of SNAP recipients who qualify for waivers are working, but are unable to report their employment because they are working under-the-table or gig-based jobs.
Applying for SNAP benefits can also get in the way of work or job applications, Joel Berg, CEO of Hunger Free America told Newsweek earlier this year.
"When you're poor, a lot can get in the way of keeping a job. You need to pay your rent, you need to pay for a car and gas, and you need to eat in order to get to work and be productive," said Berg. "If you can't afford to do those things, you might not be able to keep your job. It's not so cut and dry."
Democrats and anti-hunger advocates strongly opposed the Trump administration's decision Thursday.
"As we know, Trump doesn't give up when he can't get his cruel agenda through Congress," said Rebecca Vallas, vice president of the Poverty to Prosperity Program at the Center for American Progress "The Trump [administration] is dressing up their cruel cuts in the language of work, claiming their mass starvation plan is about the 'dignity of work.' Well, I've got news for them. Making struggling workers hungrier won't help them find work any faster."
Minority House Leader Nancy Pelosi weighed in on the decision Thursday afternoon. "We should be working to help hungry Americans, not take away their food," she tweeted. "Yet under a new rule proposed by the Trump Admin (based on ideas the Congress rejected on a bipartisan basis), hundreds of thousands of ppl could lose nutrition assistance. This is the definition of cruelty."