Trump's Food Stamps Cuts Will Leave More Americans Hungry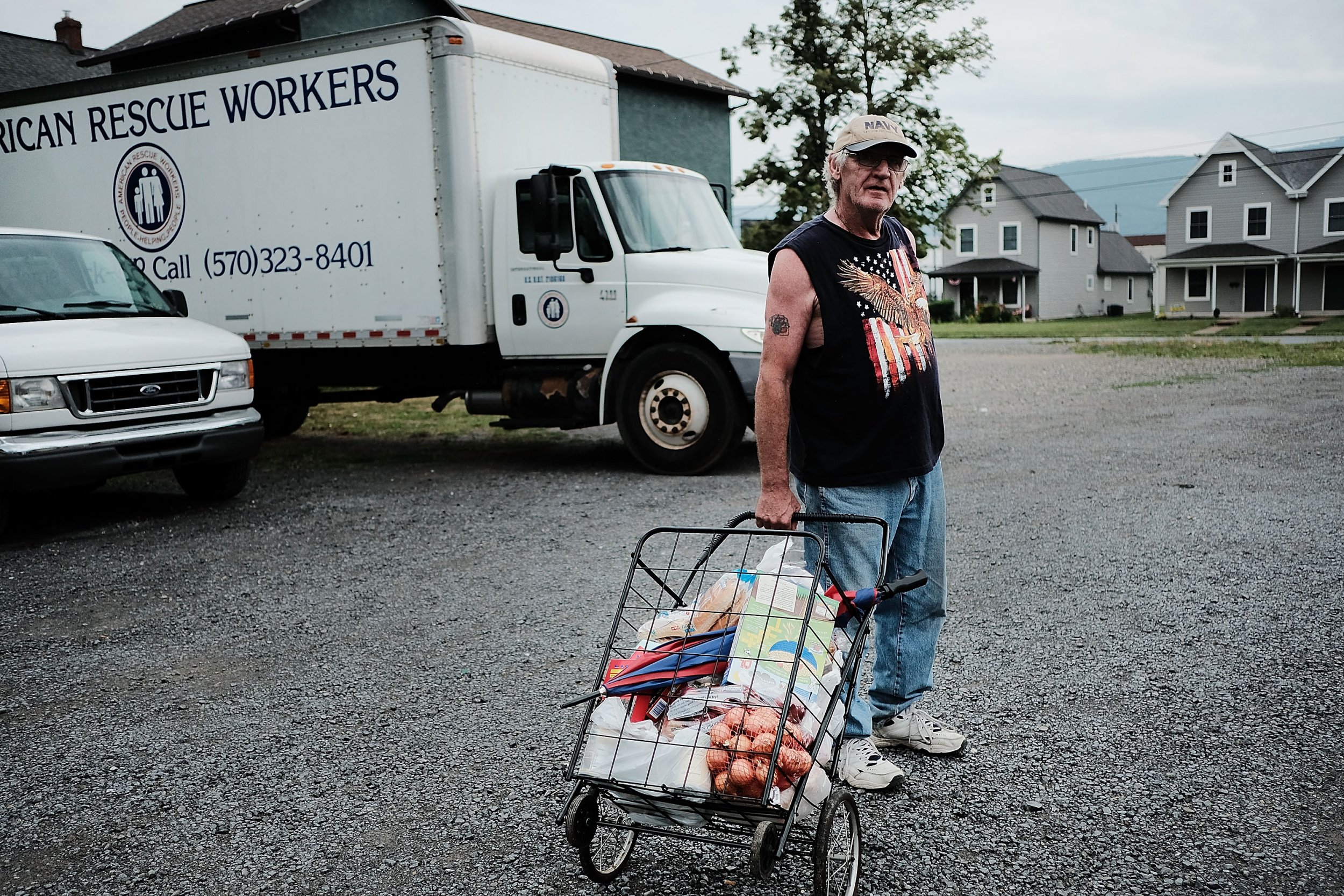 Monthly food benefits for poor Americans already do not cover the cost of a low-income meal in 99 percent of the country, a new study shows—even as President Donald Trump is proposing a 30-percent cut to the nutrition program's budget that could further reduce American productivity and health.
Forty-four million Americans currently benefit from the Supplemental Nutrition Assistance Program each month—an annual cost of $70.9 billion, or less than 2 percent of the entire federal budget. But the new study by The Urban Institute, a non-partisan think tank, shows that SNAP is the sole food source for 8.5 million American families—and roughly 41 million people in America, up 5 million from 2008, are considered "food insecure" because they lack reliable access to affordable, nutritious food. This problem affects rural and urban America equally.
"Families need to find additional resources to cover the basic costs of food, which means those resources aren't available for other things like housing and child care," said Elaine Waxman, a Senior Fellow at the Urban Institute and author of the study. "There's a tradeoff between food and other basic needs. Food insecurity drives people to find cheap coping mechanisms that make problems worse and then costs show up elsewhere."
Since its high in 2011, the average monthly benefit per recipient has fallen from $133.85 each month to $125.79. Yet Trump and like-minded Republicans continue targeted the SNAP program for cuts. In his 2019 budget, the president proposed trimming food stamps by $213 billion, or 30 percent, and instituting a meal box delivery service that has never been tested and would be difficult to implement.
"The SNAP program is not adequately funded," said Waxman. "We're asking the wrong questions here, we shouldn't be discussing how we can further reduce funding, we should be asking how we can supplement the program."
New York City resident Barbara Hart receives $168 each month in food benefits—and making it last for 30 or 31 days can be a monumental task.
"At the beginning of the month, I might just skip lunch but by the end I'm skipping a lot of meals to stretch my money," she said. The 54-year-old cancer survivor is currently on disability and cannot work. "It's stressful, there's a lot of juggling and calculating involved. I try to buy meat and vegetables because I can get canned goods at food pantries."
Hart can afford to spend about $1.80 per meal based on her benefits or less than half of the $3.96 average cost of a low-income meal in the Big Apple. Even in rural, low-cost counties, the average SNAP recipient receives 27 percent less money per meal than he or she minimally needs, the Urban Institute study said.
Hunger and food insecurity cost the United States at least $160 billion each year in health care costs and lost productivity, according to researchers from the Boston University School of Medicine and the Universidade Federal de São Paulo. And every $5 spent on new SNAP benefits generates as much as $9 of economic activity, according to the United States Department of Agriculture.
Churches, food banks, and private food charities supplement meals for the poor, but they are no replacement for federal power: Government nutrition programs provide 20 times the amount of food assistance as private charities do. There's no way these foundations will be able to pick up the slack if significant government cuts are enacted, said Joel Berg, CEO of Hunger Free America.
"People will starve, we'll see Great Depression-like conditions," Berg said.
Right-wing opponents of such programs claim there are large amounts of fraud, but in reality about one cent of every dollar received through SNAP is misused, and 82 percent of all SNAP households have at least one working non-disabled adult within a year of joining the program. SNAP has work requirements for able-bodied adults in place, and many states have supplemental stipulations.
Tens of thousands of military families receive food stamps to supplement their incomes.
The amount of recipients working often goes underreported, said Berg, as the poorest Americans often work under-the-table, gig jobs.
It's easy to ignore or deny the problem because food insecurity in America doesn't look the same as it does in undeveloped countries, in fact those who are food insecure are more likely to become obese because unhealthy foods are often cheaper than nutritious, healthy foods.
"Opponents of governmental nutrition plans say we don't have hunger issues in the U.S. because of our high obesity rates, but the two are actually tied together. The argument is akin to denying climate change because of a cold winter," added Berg.
Applying for and renewing SNAP benefits is a job in itself says Hart. "When you're poor, a lot can get in the way of keeping a job. You need to pay your rent, you need to pay for a car and gas, and you need to eat in order to get to work and be productive. If you can't afford to do those things, you might not be able to keep your job. It's not so cut and dry."
Low-income meals are calculated using guidelines provided by the Thrifty Food Plan, established by the agency "to provide a nutritionally adequate diet at minimal cost."
A spokesperson from the department's Food and Nutrition Service told Newsweek that the Department of Agriculture "will review this study and take into consideration any recommendations."