Trump Forced Kiss Accuser Rachel Crooks Responds to Twitter Attack: 'He Knows What's True and Should Be Afraid'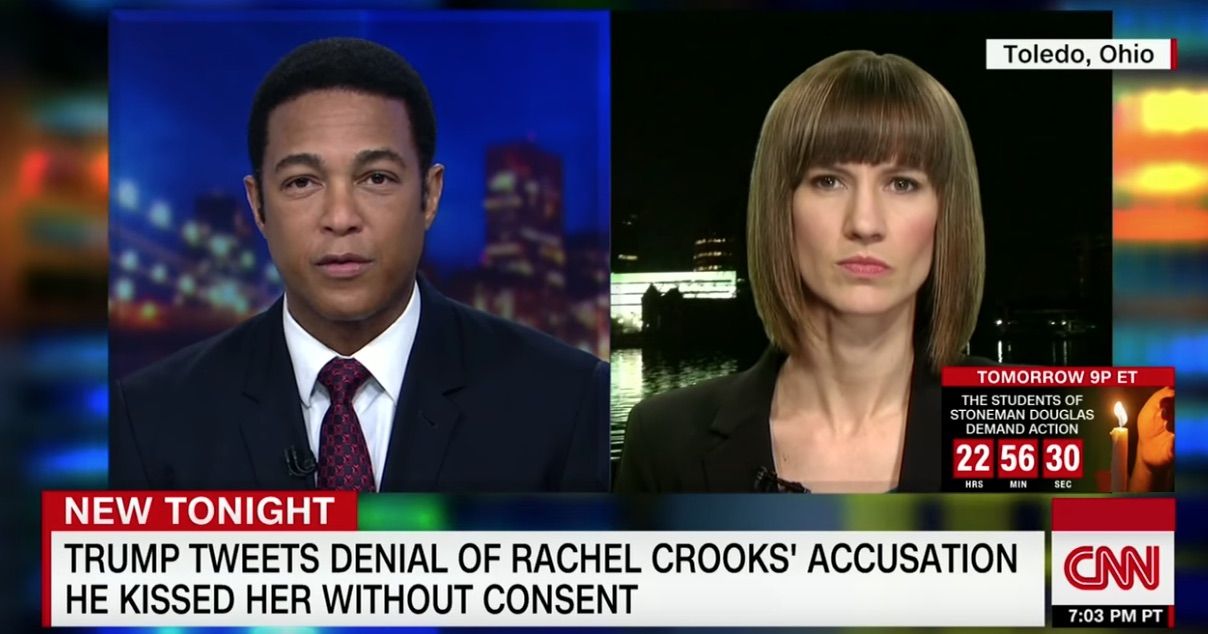 Rachel Crooks, the woman who, in a tweetstorm Tuesday, President Donald Trump again denied he forcibly kissed, warned the president: "I know what's true, he knows what's true, and he should be afraid of that."
Crooks appeared on the front page of The Washington Post Tuesday, reiterating her claims that Trump forcibly kissed her on the lips when she was working as a secretary at Trump Tower in New York in 2006.
Trump responded with a blistering comeback on Twitter saying the incident "never happened."
Crooks, now 35, appeared on CNN Tuesday night to address Trump's Twitter missive.
"I'm not surprised he called me a liar," she said in an interview with Don Lemon. "That's not the first time. But it is the first time he's attacked me personally on Twitter. His whole approach to this has been to deny the allegations of myself and almost 20 women who have come forward."
"I would think, as our president, he would have more important things to do than tweet at me and try to discredit my story," said Crooks.
Crooks is one of 19 women who have accused Trump of acting inappropriately. She first came forward to The New York Times in October 2016, a month before Trump was elected president.
Crooks, then a secretary at real estate firm Bayrock Group, located inside Trump Tower, said she introduced herself to Trump. He kissed her on the cheeks and then "kissed me directly on the mouth," she told the Times.
Earlier in February, Crooks announced her intention to run for Ohio state legislature in the state's 88th district.
"I think my voice should have been heard then, and I'll still fight for it to be heard now. Americans are really upset with politics as usual, and I want to be a voice for them," Crooks told Cosmopolitan.