Trump Forces Biden to Publicly Reject 'Defund the Police' by Accusing Him of Supporting It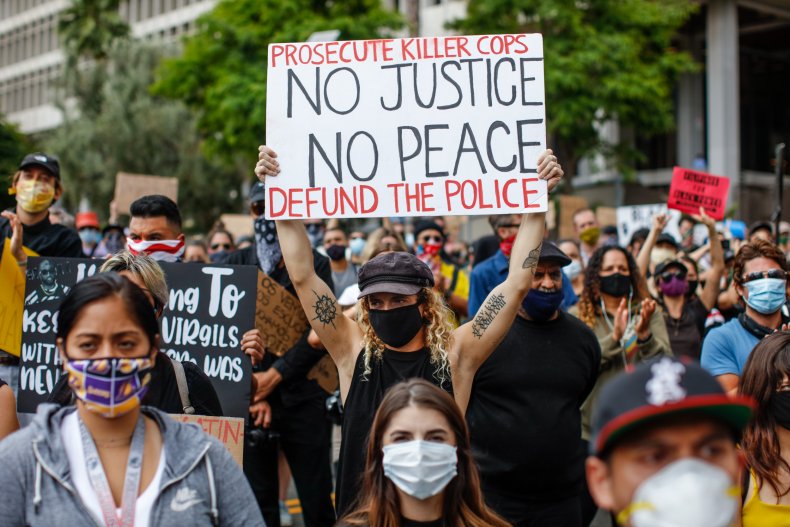 President Donald Trump accused his Democratic rival, former Vice President Joe Biden, of supporting defunding the police Tuesday.
But—surprise—there's one thing the presidential candidates agree on: Don't defund the police.
Protesters have turned to "defund the police" as a rally cry in the wake of the death of George Floyd in Minneapolis and other black people who have been killed by law enforcement. It's catapulted "defund the police" into a national debate about the future of law enforcement in the country.
And Trump—to no surprise—is capitalizing on it.
"This growing call for defunding or disbanding the police will only lead to more chaos," Trump campaign spokesman Tim Murtaugh told reporters during a call Monday before blasting Biden's quiet stance on the issue over the weekend. "As the protesters like to say, silence is agreement, and by his silence, Joe Biden is endorsing defunding the police."
The Biden campaign, however, swiftly rejected the notion that he supports the "defund the police" message.
"As his criminal justice proposal made clear months ago, Vice President Biden does not believe that police should be defunded," Biden spokesman Andrew Bates said in a statement. "He hears and shares the deep grief and frustration of those calling out for change, and is driven to ensure that justice is done and that we put a stop to this terrible pain."
Biden, Bates added, said he supports other efforts to reform law enforcement.
Supporters of the defunding the police movement say they want money redirected from law enforcement to other priorities for a more comprehensive public safety approach.
For several days during the protests, Biden and his closest allies have dodged questions about whether they back the mostly liberal-led "defund the police" message and have instead sought to focus on more broad criminal justice reform discussions.
Trump, meanwhile, is scheduled to meet with law enforcement officers at the White House Monday afternoon. Earlier in the day, he tweeted his opposition to the protestors' calls of defunding the police.
"This year has seen the lowest crime numbers in our Country's recorded history, and now the Radical Left Democrats want to Defund and Abandon our Police. Sorry, I want LAW & ORDER!," Trump tweeted.
Trump, who has had a close relationship with law enforcement, mentioned the movement during an event in Maine last week.
"They're saying 'defund the police,'" Trump said. "Defund. Think of it. When I saw it, I said, 'What are you talking about?' 'We don't want to have any police,' they say. You don't want police?"
Murtaugh declined to say what, if any, reforms Trump may support for law enforcement efforts.
White House press secretary Kayleigh McEnany also declined to provide specifics but told reporters that Trump has been reviewing proposals "over the last few days."
"He's been very clear he does not support defunding the police in any shape or form," she said.
Murtaugh accused Biden of attempting to "pander to and appease" extreme wings of the Democratic Party.
"Joe Biden is complicit in this," Murtaugh said. "Extremists are now calling the shots in his party."
Bates denied that.
He said Biden's approach is more comprehensive, and that he supports "transformative change" to the nation's criminal justice system, including additional funding for body cameras and diversifying police departments.
"Biden supports the urgent need for reform—including funding for public schools, summer programs, and mental health and substance abuse treatment separate from funding for policing—so that officers can focus on the job of policing," he said. "This also means funding community policing programs that improve relationships between officers and residents, and provides the training that is needed to avert tragic, unjustifiable deaths. This funding would also go towards diversifying police departments so that they resemble the communities in which they serve. We also need additional funding for body-worn cameras. There are many police departments across the country who are seeking to realize these kinds of changes, but haven't had the resources to - and the Trump Administration has in fact made obtaining those resources more difficult."
Murtaugh, after the Biden campaign statement's release, noted that it didn't carry Biden's name and was attributed to an aide.
"Joe Biden cannot be let off the hook after his campaign issued a weak statement from a mid-level staffer," Murtaugh said in a follow-up statement to reporters. "We still haven't heard from Joe Biden himself on the radical 'Defund the Police' movement in the Democrat Party. It would have been the simplest thing in the world to stick his name on a statement, but he didn't even do that."