Trump and Foreign Hot Spots: Who Knows What He'll Do?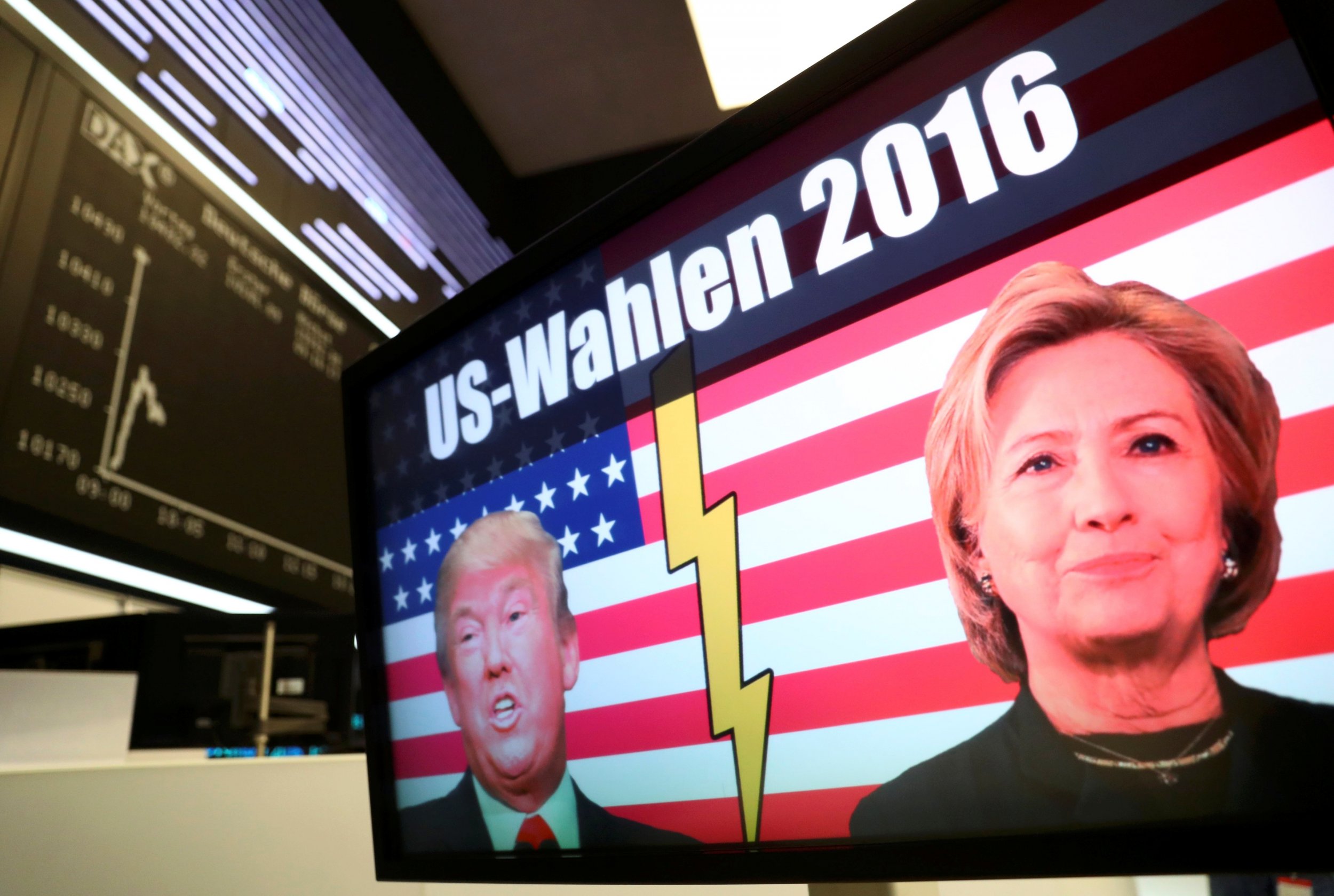 In Caracas, a local columnist threw up his hands when he tried to tell his readers what Donald Trump will do about chaotic Venezuela.
"So, it's supposed to be my job to help you figure out what the Trump presidency will mean for Venezuela," Francisco Toro wrote. "Except I can't do my job, because trying to predict how Donald Trump will behave in any given context is a lost cause."
Most foreign policy experts here said much the same: the impulsive real estate magnate, reality TV star and self-confessed, out-of-control serial groper has made so many contradictory, and sometimes incomprehensible, remarks on foreign and military affairs that predicting what he may do is well nigh impossible.
America's friends and adversaries, Henry Kissinger said, are likely taking crash courses on the president-elect, who he hoped would be "teachable." But Trump's prep time for Foreign Policy 101 may be limited, the venerable former White House national security adviser said. The Islamic State militant group (ISIS) or al-Qaeda may strike an American target first, in hopes that "Trump will react to a terror attack in a way that suits their purposes."
Would that include "bombing the shit out of" ISIS, as he so famously said? With a nuclear weapon? "I wouldn't want to tell you that…because, at a minimum, I want them to think maybe we would use it, OK?" Trump said last March. "Somebody hits us within ISIS — you wouldn't fight back with a nuke?" he said in another interview.
A "medium yield (300 kiloton) ICBM" launched on Raqqa," the ISIS capital in Syria, one analyst predicted, would instantly kill 120,000 people. Just a far smaller, so-called "tactical" nuke, 10 times the size of the first bomb dropped on Japan, could kill that many and generate a radioactive sirocco spinning toward the Mediterranean and southern Europe.
Europeans would be mad. Not that Trump has appeared to care that much about the Atlantic alliance. NATO, its military arm, is "obsolete," Trump has said, even though it forms the only bulwark against Vladimir Putin seizing the former Soviet Baltic republics like he did chunks of Georgia and Ukraine. Putin has been waging a campaign of intimidation, including cyberwar and forward missile deployments, against Lithuania, Latvia and Estonia for years, and supports separatists in Ukraine. A failure to stand up to Putin in the Baltics would unravel NATO, most analysts believe.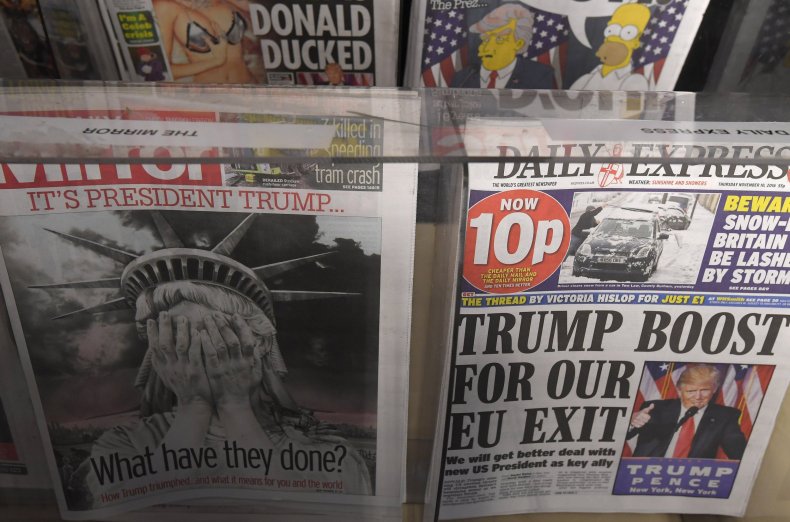 "Right now, nobody knows what the president-elect will do about ISIS, NATO, North Korea, nuclear weapons, Russia, Assad, Iran, or the size and shape of the U.S. military and intelligence workforce," wrote Defense One's executive editor, Kevin Baron. "We're not sure," Leon Panetta, who served as Obama's defense secretary and CIA director, said in an interview on CNN on Wednesday. "There's a lot of concern."
The same goes for Asia. If Trump follows through with campaign threats to slap tariffs on Beijing's U.S. exports, a ruinous conflict could result, Kissinger told The Atlantic editor Jeffrey Goldberg in an interview published Thursday. "More than anything else, a balanced, peaceful world order depends on a stable U.S.–China relationship," he said. "[A] trade war would devastate both of us." So could a U.S. military challenge to Beijing's "core interest" in the South China Sea, as some of his followers would like to see.
All such talk may be bluffs—a negotiating tactic the mogul has long embraced—or just campaign palaver that evaporated once Trump found himself unexpectedly elected. Only two days after his shocking election victory, Trump abandoned a keystone of his foreign policy plank: An alarming proposal to withdraw U.S. troops from Japan and South Korea if they didn't pay more for their defense and, in exchange, allowing them to acquire their own nuclear arsenals. On Thursday, according to news reports, Trump called South Korea's President Park Geun-hye, herself embroiled in a leadership crisis, and pledged to maintain a "strong, firm" American defense of her country from aggression from communist North Korea.
Pyongyang made nice with The Donald during the campaign, with state media calling him a "wise politician" and "far-sighted presidential candidate," according to Voice of America—no doubt for his threats to abandon the south to its own defenses. But the president-elect's toggle to standard U.S. policy leaves him with the same quandary his predecessor faced: what to do about North Korea's looming capability to hit the United States with a nuclear-armed intercontinental ballistic missile. In March, as Newsweek 's Jonathan Broder first reported, President Obama rejected Pyongyang's overtures to stop weapons testing for a year in exchange for the U.S. calling off its annual joint military exercises in South Korea. Trump, notoriously sensitive to personal slights and provocations, may not possess his predecessors' patience with Kim Jong-un's combination of vitriol and nuclear tests. "This guy doesn't play games. And we can't play games with him," he has said. But, as with virtually every other foreign policy issue, no one can predict with any certainty what the president-elect, who has never published anything beyond ghost-written books on his supposed business prowess, will do.
"Our commander-in-chief is the only person who stands between us and the possibility of getting blown to hell," Graham Allison, one of the world's leading experts on nuclear proliferation and containment, told The Atlantic a few days ago. "Whether he would be impetuous, or impatient, or not know the material, we just don't know."
Trump has already made one impetuous—or principled, depending on your standpoint—foreign policy decision. According to one of his top advisers on Israeli matters, the president-elect will enact his pledge to move the American embassy from Tel Aviv to Jerusalem, recognizing the city as Israel's capital. "It was a campaign promise, and there is every intention to keep it," David Friedman told The Jerusalem Post Wednesday. "We are going to see a very different relationship between America and Israel in a positive way."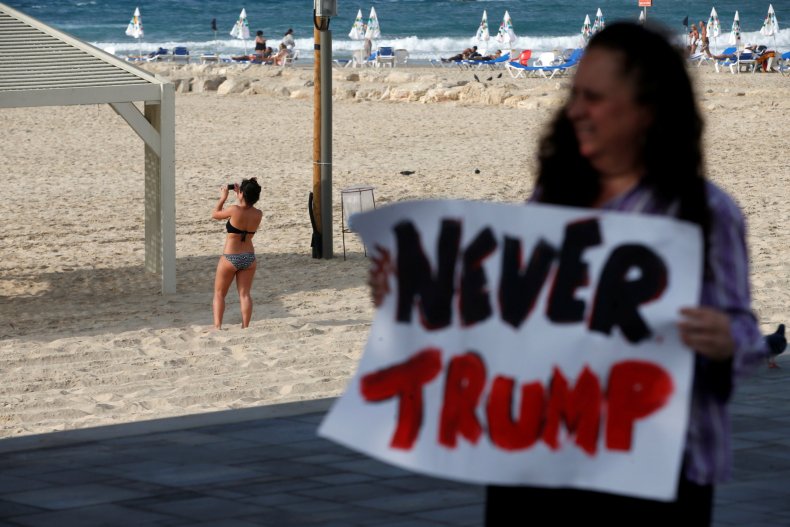 Many of Israel's rightwing politicians celebrated the proposal, which would effectively suspend Washington's long-fruitless attempts to forge a lasting peace deal between Israel and the Palestinians, who see East Jerusalem as a future capital. That door to peace would slam shut, perhaps forever, if Trump moved the U.S. embassy to the ancient city.
But some close observers think Trump will abandon the idea as easily as he shed his position on South Korea. "It would break a strong tradition in U.S. policy that dates back to 1947, which is a long time," Hussein Ibish, senior resident scholar at the Arab Gulf States Institute in Washington, tells Newsweek. "It would basically reignite an issue that is effectively dormant for the United States, and even sort of on hold for Israel." Trump "would be crazy to do it," he added. "I'm not even sure the Israeli national security establishment would be that keen on it, either. At least some of them would see the folly."
Likewise, maybe Trump will abandon his pledge to Washington's top pro-Israel group in March that his "number-one priority" would be to "dismantle the disastrous deal with Iran." But nobody can say for sure. The same goes for his September vow to blow Iranian gunboats "out of the water" if they harass U.S. ships in the Persian Gulf, an act of war that could quickly escalate into tit-for-tat responses from Iran's hardline Revolutionary Guard.
Another move that could quickly backfire came Thursday from General Michael T. Flynn, Trump's top military adviser, who suggested that the new president will embrace Turkish strongman Recep Tayyip Erdogan, a move that could complicate Washington's relationship with Kurdish forces involved in the U.S.-backed offensives on Mosul and Raqqah. "We need to adjust our foreign policy to recognize Turkey as a priority. We need to see the world from Turkey's perspective," Flynn wrote for the conservative news website The Hill. A first step, Flynn suggested, might come in honoring Erdogan's demand for Washington to extradite the exiled cleric Fethullah Gulen—who Turkey suspects of plotting a failed military coup in July—to Ankara. But the spectre of Erdogan hanging Gulen in the public square might dissuade a more sober President Trump to reject the idea.
Or maybe not. As the then-candidate told The Washington Post 's editorial board in March: "We're totally predictable. And predictable is bad."