Donald Trump Claims 'Foreign Leaders Loved' Ivanka Despite G20 Video Showing Her Butting into Conversations
Despite a viral video showing his daughter Ivanka Trump appearing to insert herself into a conversation among unenthused world leaders at the recent Group of 20 (G20) Summit — sparking the trending #IvankaResign hashtag — President Donald Trump on Friday claimed that "foreign leaders loved her."
"I thought Ivanka was amazing at the G20," the president said of his eldest daughter's interactions at last week's summit in Osaka, Japan. "And I'll tell you, the foreign leaders loved her. And they just think she's great."
The president added that his daughter, whom he appointed a senior White House adviser, is "very smart and she's done a great job." He said, "she's sacrificed a lot" and that she and her husband, fellow senior White House adviser Jared Kushner, "work very hard and they sacrificed a lot to be doing this, but they want to do it."
Donald Trump boasted that "Ivanka has worked on almost 10 million jobs, training and going to companies and getting them to hire people," before declaring again, "the people, the foreign leaders, really like her a lot."
That affection for Ivanka Trump did not appear to be on display in a video released by the French Presidential palace last weekend, showing the first daughter seemingly trying to get involved in a discussion with French President Emmanuel Macron, British Prime Minister Theresa May, Canadian Prime Minister Justin Trudeau and International Monetary Fund Director Christine Lagarde. In the clip, the leaders continue talking amongst themselves and do not seem thrilled to have the White House aide weighing in.
The president on Monday retweeted Ivanka Trump's post with a video of her speaking at the summit and with leaders.
"Thank you Prime Minster Abe for inviting me to address heads of State on the economic + national security imperative of economically empowering women globally," she said in the tweet. "I am grateful for the opportunity to elevate this critical issue, which must remain at the heart of the G20 agenda."
Ivanka Trump included the hashtag #WGDP, which stands for the administration's Women's Global Development and Prosperity initiative that she has been pushing to bring economic empowerment to 50 million women economically in developing countries by 2025.
Donald Trump added in his comments to media on Friday, "I'm not grooming her for office," seeming to brush off reports that his daughter aspires to follow in his footsteps.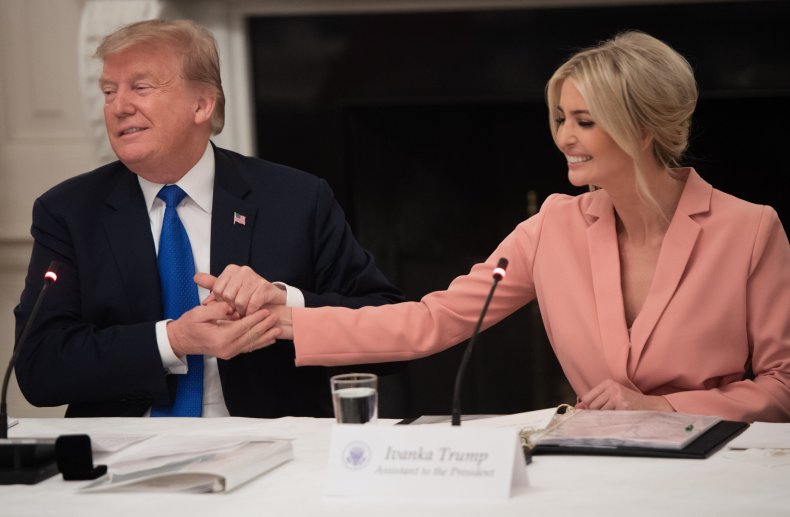 Former economic adviser Gary Cohn was quoted as saying that Ivanka Trump "thinks she's going to be president of the United States" in the book Kushner Inc. by journalist Vicky Ward.
The Democratic Coalition got #IvankaResign to trend on Twitter Tuesday, following criticism over her mingling and posing for photo ops with leaders at G20, and a request by House Democrats to broaden a probe of White House personal email use to include her and her Kushner.
"The fact remains that Ivanka shouldn't be working in the White House," the coalition's co-founder Scott Dworkin told Newsweek earlier this week. "And the list of reasons why is endless."