Trump'​s Foreign Trip in 15 Intriguing and Revealing Photos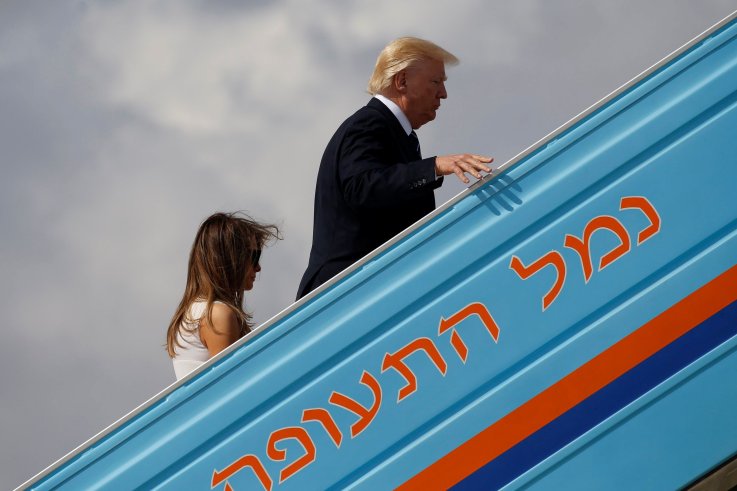 President Donald Trump neared the tail end of his first international trip as commander in chief when he landed in Brussels Wednesday. His multi-day trip has included stops in both Middle Eastern and European countries, including Saudi Arabia, Israel, Italy and now Belgium. First lady Melania Trump, who is living in New York City while the couple's son finishes with the current school year, has joined her husband abroad.
Related: Trump'​s trip includes stops in the Middle East and Europe
Earlier Wednesday, the president and first lady met with Pope Francis and Cardinal Secretary of State Pietro Parolin at the Vatican in Rome. Trump gave the pope a case of books from Martin Luther King Jr., and the Catholic leader presented the U.S. president with a medal by a Roman artist that symbolizes peace. Also, in what perhaps was a move to make Trump reconsider his stance on climate change, the pope also gave him Laudato Si, his encyclical on the environment. "He is something. We had a fantastic meeting," Trump said about the pope, according to a pool report.
The couple then traveled to Brussels, where Trump will meet with the European Union and the European Council presidents, and have a working lunch with Emmanuel Macron, recently elected president of France. On Thursday, Trump will meet and dine with Secretary of Defense James Mattis and NATO leaders. Also that day, his predecessor, former President Barack Obama, will deliver a speech alongside German Chancellor Angela Merkel at Berlin's Brandenburg Gate. The former first couple currently has been on vacation in Italy since the weekend.
The president was on his trip when a suicide bomber struck after an Ariana Grande concert in Manchester, England, an incident officials in the United Kingdom are treating as a terrorist attack. On Tuesday, British Prime Minister Theresa May raised the region's threat level to "critical," the highest rating on its five-level scale.
The U.S. Department of Homeland Security said there isn't any evidence of credible threats against domestic music venues, but officials warned that the public may experience increased security measures in and around public places and events as additional precautions are taken.
After Brussels, the president will continue on to Sicily Friday. There, he'll meet with leaders, including Italian Prime Minister Paolo Gentilon, and address American and allied servicemen and their families. On Saturday, he will depart for his return trip to Washington, D.C.