Trump's Former Chief Economic Adviser Fears No One in the White House Will 'Tell the President What He Doesn't Want to Hear'
Gary Cohn, the former National Economic Council Director and chief economic adviser to President Donald Trump, said he fears the president is surrounded by staff who tell him only want he wants to hear.
In an interview with David Alexrod, the director of the University of Chicago's Institute of Politics, Cohn said there used to be a quorum of straight shooters in the White House who told the president "what he doesn't want to hear." Now, he said, he's concerned they're all gone.
After his final resignation in March 2018—he tried once before in August 2017—Cohn joined a long list of high-profile departures from the Trump administration in the past few years: Michael Flynn, national security adviser, Steve Bannon, chief strategist, James Comey, the Federal Bureau of Investigation (FBI) director, and several other communications directors and chiefs of staff.
Trump's turnover rate among people in the executive office is 80 percent, according to an analysis by the Brookings Institution, a liberal think tank. Among senior advisers who remain: Ivanka Trump, the president's daughter, Jared Kushner, his son-in-law, and Stephen Miller, a senior policy adviser.
"We had an interesting nucleus of people when I was in the White House—the initial team," Cohn told Axelrod in his Monday podcast The Axe Files. "We were not bashful. It was a group that was willing to tell the president what he needed to know, whether he wanted to hear it or not.
"None of us are there anymore. So I am concerned that the atmosphere in the White House is no longer conductive—or no one has the personality to stand up and tell the president what he doesn't want to hear," he said.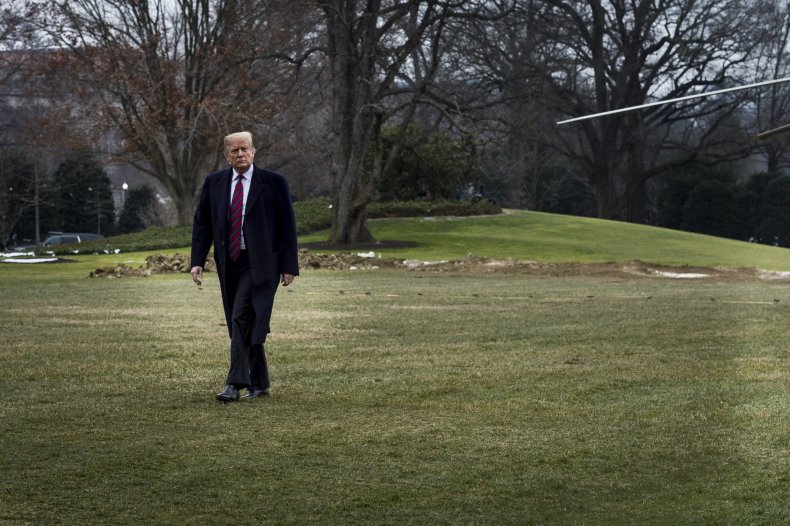 At first, Cohn, a long-time banker, wasn't sure whether he wanted to work for the White House. In one of his first meetings with the president, Cohn thought he was there to give a 10- or 15-minute economic overview of the United States. Instead, Trump let Cohn talk for more than an hour and surprised the would-be adviser with a job offer, Cohn said in the interview.
"In typical Donald Trump fashion—and this is something you sort of admire about him—about an hour into the meeting, he literally turned to me and said, 'You're going to come to work for me,'" Cohn said.
Cohn was reluctant to leave Goldman Sachs. He had worked for the firm since 1990 in a variety of positions, including as president, Chief Operating Officer and a member of the Board of Directors, according to Cohn's biography at the Harvard Kennedy School's Institute of Politics, where he is a fellow.
He eventually accepted the offer, though, because Cohn thought he could "sway" the president on key issues that Axelrod said defined his campaign: anti-trade, anti-immigration and climate change denial as well as taxes and regulation.
"But those were the sort of lynchpins of his candidacy. You knew that going in, right?" asked Alexrod.
"Yes I knew it, but remember I also thought I could potentially sway him," Cohn replied. "In my mind, having a seat on the inside and trying to influence was better than being on the outside," he continued.
In many respects, Trump had a greater appreciation for some of the unintended consequences of his decisions due to Cohn and efforts by various officials at the time, according to Cohn's account.
Eventually, he submitted his resignation over Trump's comments on the 2017 Charlottesville protests, but the president convinced him to stay. At the time, Trump blamed "both sides" for the conflict, but one side included self-proclaimed white nationalists, one of which intentionally ran over and killed a counter-protester.
In March 2018, Cohn resigned again on cordial terms with Trump and over no issue in particular, White House officials said.
In October, John Kelly, Trump's former chief of staff, said he warned the president that hiring a "yes man" to replace Kelly could lead to impeachment.
"I said, whatever you do—and we were still in the process of trying to find someone to take my place—I said whatever you do, don't hire a 'yes man,' someone who won't tell you the truth—don't do that. Because if you do, I believe you will be impeached," Kelly told the Washington Examiner at a political conference.