Trump's Former Doctor Slipped Him Vegetables and 'Made Ice Cream Less Accessible'
From hiding vegetables in the president's food to stashing candy, Donald Trump's medical team took various measures to improve his diet, according to a new interview with his former physician in The New York Times.
Trump's penchant for fast food is well-documented—from aides' revelations that he regularly dined on "two Big Macs, two Fillet-O-Fish and a chocolate malted," according to The Washington Post, to the "1,000 hamberders," served to the Clemson Tigers during a White House event.
But in a bid to improve his diet and help the president shed a few pounds, Dr. Ronny L. Jackson told The Times staff would sneaking vegetables into his mash and hide sweet treats.
"The exercise stuff never took off as much as I wanted it to," Jackson told The Times, referencing plans to introduce an exercise bike or elliptical machine to the White House.
"But we were working on his diet," he added. "We were making the ice cream less accessible, we were putting cauliflower into the mashed potatoes."
It is unclear whether or not Trump knew of these plans but it seems they did not work.
According to Jackson, the hope was to help the president lose between 10 and 15 pounds. Instead, president put on weight—four pounds by his next physical, reported The Times.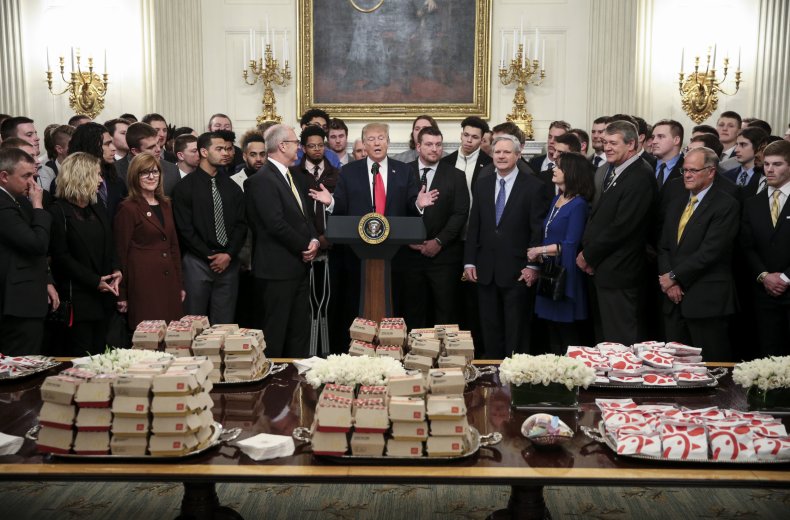 Jackson previously made headlines for praising Donald Trump's "incredibly good genes" during a White House press conference following his first physical as president in 2018.
When a reporter asked how someone with an inexistent exercise regimen and diet heavy in fast food and soda remains as healthy as Jackson claimed, the doctor replied, "It's called genetics."
"I told the President that if he had a healthier diet over the last 20 years, he might live to be 200 years old," Jackson told reporters. Adding, "he has incredibly good genes and it's just the way God made him."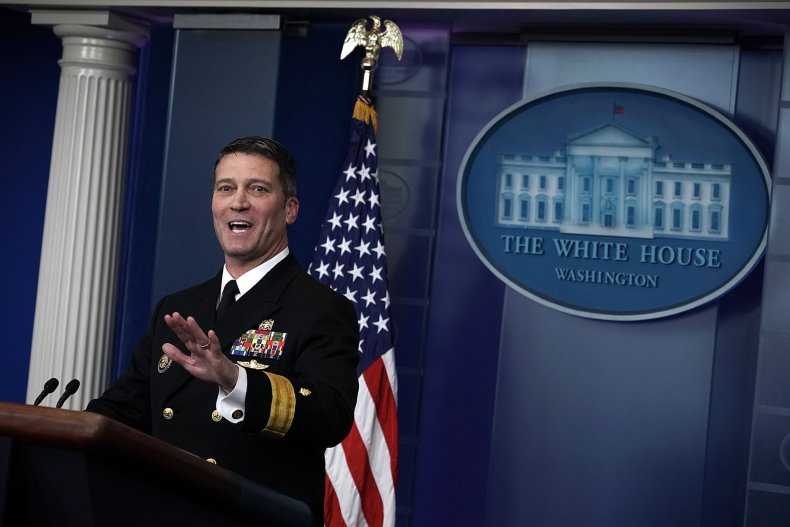 Jackson sat down for an interview with The Times ahead of a bid for Congress where he hopes to represent Texas' 13th District. (He has received the president's endorsement.)
In it, he discussed his regrets of not having been able to enforce the diet and exercise plan he had designed before leaving his position at the White House, as well as his decision to run for office.
Jackson, a retired Navy admiral, has served as Chief Medical Advisor to the President and Physician to the President during his time in the White House medical unit. He has worked under three presidents: George H. W. Bush, Barack Obama and, most recently, Trump.
Jackson was put forward to lead the Department of Veterans Affairs but withdrew his nomination amid allegations of improper conduct.
As Newsweek previously reported, there were claims he earned the nickname "candyman" for allegedly distributing prescription drugs like they were sweet treats. He has also faced accusations of being drunk during a trip abroad and overseeing a "toxic" work environment.
The White House defended Jackson. Sarah Huckabee Sanders described his record as "impeccable."