Donald Trump Tells Fox News Host Sean Hannity That 'Even the Enemies' Appreciated His Orlando Rally: 'It Was Like Love'
U.S. President Donald Trump told Fox News host Sean Hannity that he was feeling the love at his rally in Orlando, Florida, on Tuesday evening to launch his 2020 re-election campaign, a night he claimed was so special that "even the enemies" could appreciate its significance.
"There was tremendous energy in that room last night. And we've had a lot of energy at virtually every rally, but there was just a special energy," Trump told Hannity during his Fox show on Wednesday.
"It was like being at a world championship college football game where the score was tied going into the last minute."
Hannity asked Trump about the people who queued outside for two days before the event and had pitched up tents. The president said 120,000 people had applied for tickets to the 20,000 seat arena and his campaign was telling some people not to come.
Newsweek subscription offers >
"They're people that love our country and they love seeing what's happening. And it was in a way a tailgate party for our country. Not for a team, although it's a team when you think about it, but it's a tailgate party for our country," Trump said.
"And it was just, the feeling was, it was like love. But it's love for what we're all about, for the things we stand for. It was a beautiful evening.
"Even the enemies, you know, we have a lot of people who don't like us so much, you possibly have heard about that, Sean, I'm not sure, but possibly. But those people were even saying it was, some were saying they've never seen anything quite like it.
"It was special. And it was pouring. They had a monsoon. I don't think one person walked off line. They had rain like you haven't seen and it didn't, nobody left, they just sat there and stood there and some brought tents. They were there for two days trying to get in. Incredible evening."
Newsweek subscription offers >
Prior to the Orlando rally, President Trump, who has a history of inflating positive numbers, such as his inauguration crowd size, had claimed that "thousands" of supporters were lined up outside the Amway Center. But, in reality, there were hundreds of people.
The rally was typical Trump. He delivered a wide-ranging and meandering speech, talking up his handling of the American economy and his foreign policy actions, and attacking the usual targets, including the "hoax" Russia investigation and "crooked" Hillary Clinton.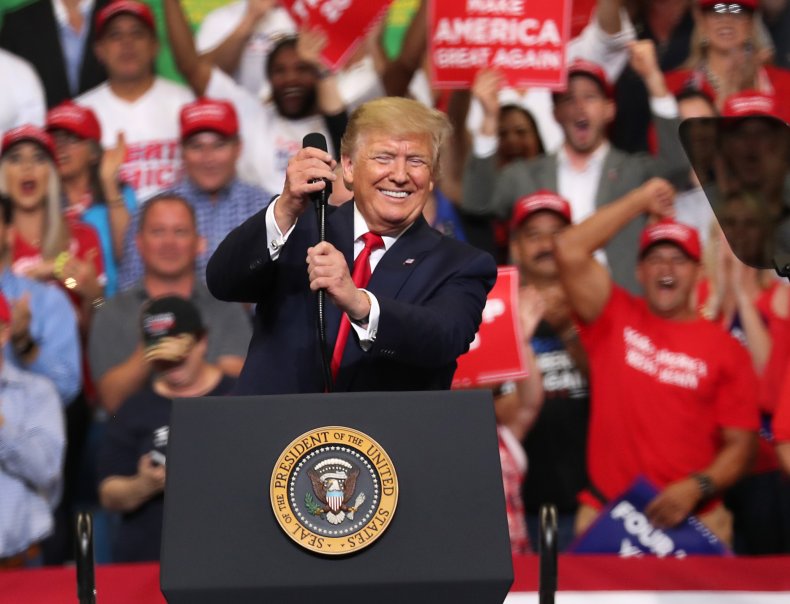 Donald Trump Tells Fox News Host Sean Hannity That 'Even the Enemies' Appreciated His Orlando Rally: 'It Was Like Love' | Politics