Trump Tells Fox News Marie Yovanovitch Refused to Hang His Picture in Ukraine Embassy: 'This Was Not An Angel, This Woman'
President Donald Trump lashed out at former Ukraine Ambassador Marie Yovanovitch on Fox & Friends Friday, accusing her of refusing to hang his photograph in the embassy and telling the hosts that she was "not an angel."
"This ambassador that everyone says is so wonderful, she wouldn't hang my picture in the embassy," Trump said during the phone interview. "This was not an angel, this woman...This was not a baby that we're dealing with."
The president also falsely accused the former ambassador of being an "Obama person." Yovanovitch was appointed ambassador under several different presidents, both Republican and Democrat, and began serving in Ukraine in August 2016.
Trump even appeared to admit that he instructed other administration officials to be harder on Yovanovitch: "I said why are you being so kind? 'Well, sir, she's a woman. We have to be nice.'"
The president called into the Fox News show Friday morning following the seven public impeachment hearings that the House Intelligence Committee held interviewing 12 witnesses over the course of five days.
In response to the week of testimony, Trump said that the Democrats "look like fools over the five days." He also referred to Rep. Adam Schiff, the leading Democrat on the House Intelligence Committee, as a "sick puppy."
The impeachment hearings shed damaging light on Trump's agenda with Ukraine. The president's efforts to press Ukrainian President Volodymyr Zelenskiy to start investigations into former Vice President Joe Biden and his son Hunter, as well as the 2016 election, prompted Democrats to start the probe in late September.
One of the biggest bombshells from the hearings was Ambassador GordonSondland's confirmation of a quid pro quo agreement. Sondland told lawmakers that there was a quid pro quo agreement linking a White House visit in exchange for Ukraine's president announcing the investigations requested by Trump. He also claimed that "everyone was in the loop" on the arrangement, including Secretary of State Mike Pompeo, Vice President Mike Pence and White House chief of staff Mick Mulvaney.
Yovanovitch was the third witness to publicly testify before the House panel on November 15. She told Congress that Trump and his personal attorney Rudy Giuliani had been engaged in a smear campaign against her since 2018 because she refused to let Giuliani use the embassy in his attempts to obtain dirt on the Bidens. She was suddenly ousted from her position in May 2019.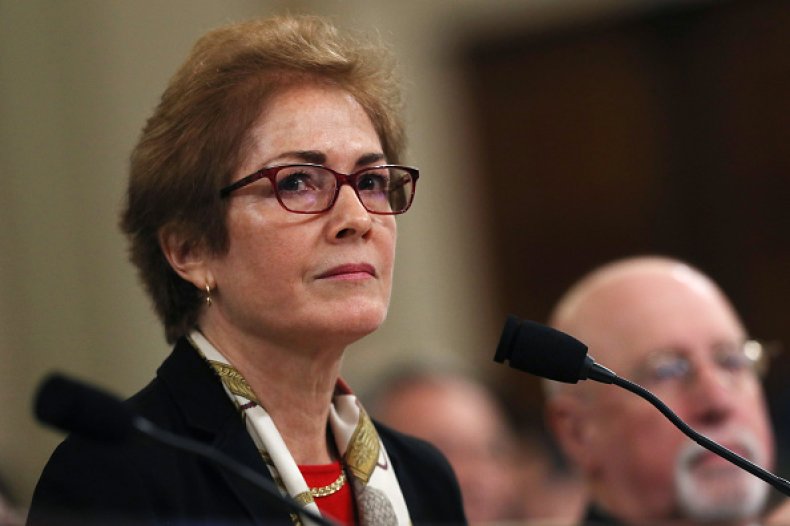 Yovanovitch said her dismissal from the ambassador position was a "terrible" thing to experience and wasn't the way she envisioned ending her long career in the foreign service.
"I mean, after 33 years of service to our country, it was terrible. It's not the way I wanted my career to end," she testified.
Fox News host Chris Wallace commented during the hearing that if the public wasn't moved by the former ambassador's testimony, they have "no pulse." He also praised Yovanovitch for giving the Ukraine scandal a "human face."
Yovanovitch was also a target of the president's attacks in the middle of her own public hearing. Trump alleged in a tweet during her testimony that "Everywhere Marie Yovanovitch went turned bad."
In response to the president's disparaging social media posts, Yovanovitch told the committee: "It's very intimidating."