President Donald Trump signed an executive order Thursday requiring public and private colleges and universities to protect and promote free speech—or otherwise sacrifice some of their federal funding.
Trump foreshadowed the executive action earlier this month at the Conservative Political Action Conference, where he said if higher education institutions "want our dollars…they've got to allow people" with conservative viewpoints to speak. Hayden Williams, a conservative activist punched in the face at the University of California, Berkeley, accompanied Trump onstage at CPAC.
"Under the guise of speech codes and safe spaces and trigger warnings, universities have tried to restrict free thought, impose total conformity and shutdown the voices of great young Americans like those here today," Trump said during the executive order's unveiling.
The order states that if public institutions do not comply with the First Amendment when it comes to free speech, and private institutions do not comply with their own written policies, the federal government will withhold federal research grants.
The president's executive action comes as public institutions—particularly U.C. Berkeley—have struggled to handle free speech issues and controversial speaking events in recent years. Schools are forced to juggle protesters, attendees' safety and the First Amendment, and have been accused by conservatives of silencing their views over those of liberals.
"Even as universities have received billions and billions of dollars from taxpayers many have become increasingly hostile to free speech," Trump said.
Milo Yiannopoulos, right-wing commentator and former Breitbart News editor, had a speech canceled at U.C. Berkeley in 2017 amid protests. Ben Shapiro, conservative commentator and founder of The Daily Wire, also prompted campus protests and had speeches canceled. White nationalist Richard Spencer, denounced by both liberals and conservatives, was allowed to speak at the University of Florida in 2017 after filing a lawsuit, forcing the institution to shovel out $600,000 in security costs and causing the governor to declare a state of emergency.
Conservatives championed the president's latest executive order Thursday, arguing that college campuses have long been plagued with a "liberal bias." Charlie Kirk, founder and executive director of Turning Point USA, the conservative activist group to which Williams belongs, labeled Trump's order as "HISTORIC."
But free speech advocates have questioned the real-world impact of such a broad directive and how it could be enforced on college campuses. Republicans and a key Trump administration official have also expressed concerns about potential government overreach.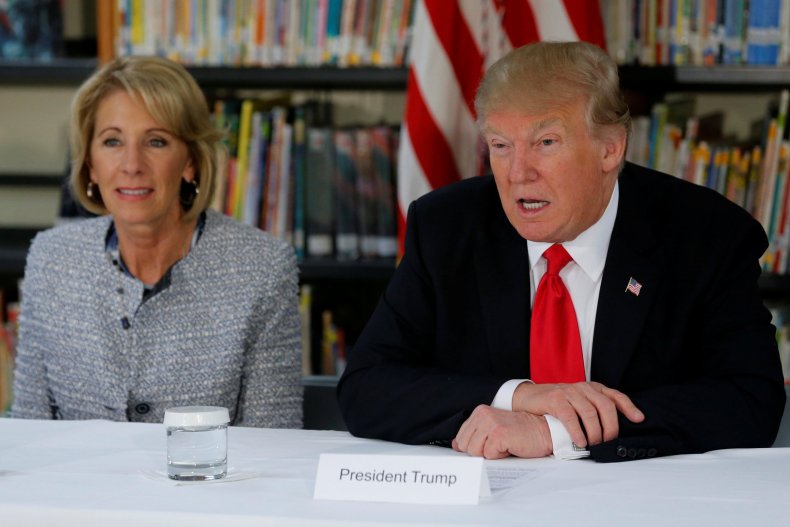 Clay Calvert, director of the Marion B. Brechner First Amendment Project at the University of Florida and First Amendment expert, said he viewed the executive action as a "highly symbolic gesture" likely playing to Trump's base, given his past rhetoric and the difficulty in enforcing such a law.
"It is encouraging to see that the president is concerned with the First Amendment and free speech on college campuses," Calvert told Newsweek. "But it's also fairly ironic, given that he constantly attacks journalists who are protected under the same amendment."
The executive order leaves it up to government agencies to create and implement their own guidelines, which will then work in coordination with the Office of Management and Budget to ensure higher education institutions that receive federal money "promote free inquiry, including through compliance with all applicable Federal laws, regulations, and policies." Those agencies are the Departments of Defense, the Interior, Agriculture, Commerce, Labor, Health and Human Services, Transportation, Energy and Education; the Environmental Protection Agency; the National Science Foundation; and the National Aeronautics and Space Administration.
"The government can condition funding on certain mandates," Calvert said. "The typical one you would think of is highway funding if states didn't increase the drinking age from 18 to 21. How that's going to be actually enforced is going to be difficult to do."
Students at public colleges and universities are already protected under the First Amendment and have the right to sue if they feel their rights were violated. The biggest difference now, Calvert said, is that institutions risk losing large sums of federal money for violating a student's free speech rights. But Calvert said making those determinations and enforcing the executive order "will be very difficult to do," due to the lack of across-the-board standards. White House officials said more details will emerge in the coming months.
Randi Weingarten, president of the American Federation of Teachers, the second largest teacher's labor union, believed Trump's executive order will "suppress speech and enable incitement," rather than protect it. He said the president's "concept of free speech is speech that he agrees with, which is, in fact, the antithesis of what the First Amendment seeks to protect."
The Foundation for Individual Rights in Education, a nonpartisan group that advocates for the rights of students and faculty on campuses, said in a statement they "will watch closely" to see if Trump's executive order "furthers the meaningful, lasting policy changes" they've advocated for, or if it will result "in unintended consequences that threaten free expression and academic freedom." FIRE noted that the executive order failed to "specify how or by what standard federal agencies will ensure compliance."
Previously, GOP Senator Lamar Alexander, chairman of the Health, Education, Labor and Pensions Committee, and Education Department Secretary Betsy DeVos signaled they were opposed to the government intervening in free speech on college campuses.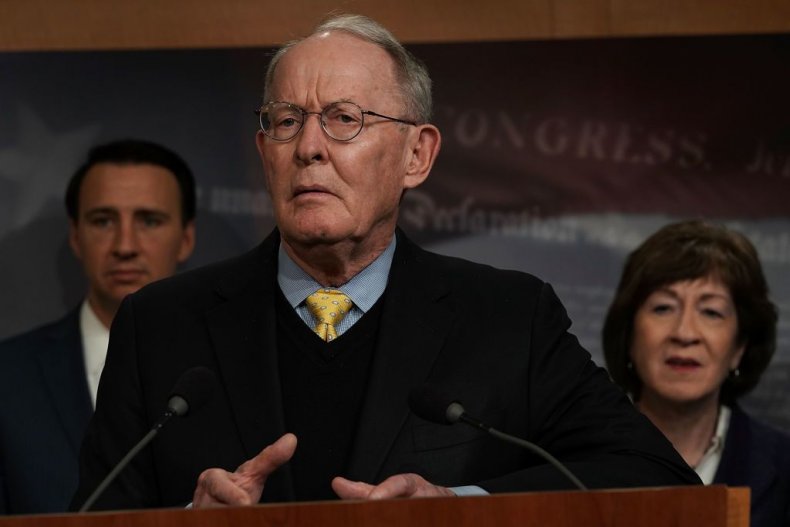 DeVos said last year that "a solution won't come from defunding an institution of learning." In a statement to Newsweek, DOE press secretary Liz Hill said that "Secretary DeVos and the President share a vision that college campuses should be places where students can freely learn and ideas are openly debated." The department did not answer whether DeVos maintained her previous stance opposing the defunding of colleges and universities.
Alexander said he supports the executive order's provision to expand the amount of detailed data from colleges and universities on the debt and earnings of their graduates, broken down by their major or program of study. Prospective students will be able to better compare and contrast schools and majors, the administration argues. Alexander also supported not "coddling students to protect them from disagreeable points of view."
"But I don't want to see Congress or the president or the department of anything creating speech codes to define what you can say on campus," Alexander said in a statement. "Conservatives don't like it when judges try to write laws, and conservatives should not like it when legislators and agencies try to rewrite the Constitution."