Trump Freezes Grants, Approves Pipelines and Considers Sharp Budget Cuts At the EPA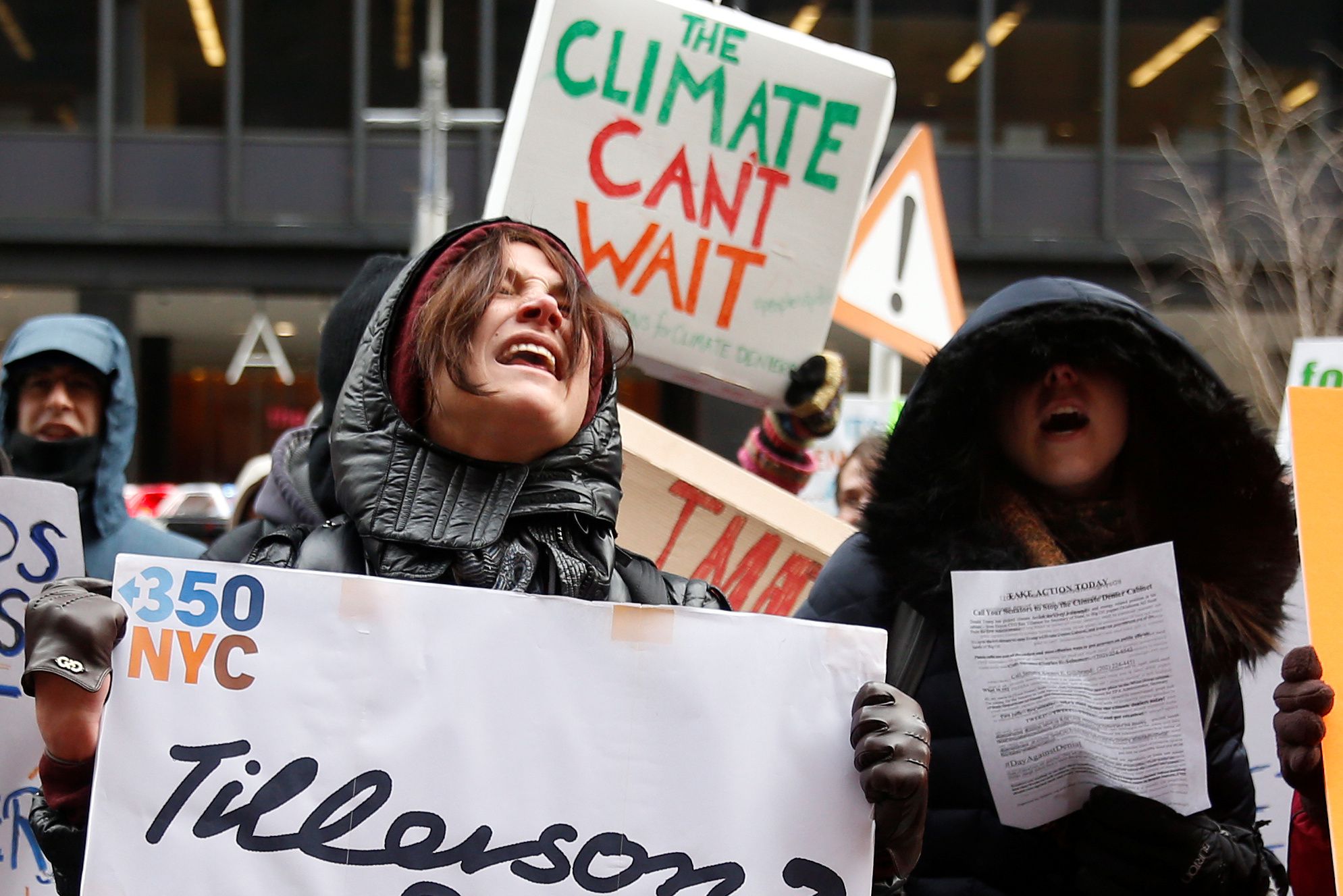 Updated | Environmentalists and scientists who hoped Trump would drop some of his anti-environmental campaign rhetoric are in for a shock: He is keeping his promises.
Less than a week after Trump's inauguration, the news website Axios published information from an internal memo calling for more than $800 million in budget cuts at the EPA and drastic changes in how the agency works. Axios reported that the memo was written by Myron Ebell, the head of Trump's EPA transition team. Ebell directs environmental policy at the fossil fuel–funded Competitive Enterprise Institute and questions much of the consensus on climate change.
That was only one of Trump's new flurry of anti-environment moves. Last night, ProPublica reported that the EPA has been instructed to freeze all grants and contracts, a move affecting research, industrial site redevelopment, air quality monitoring and education. Ebell told ProPublica that the freeze is to "make sure nothing happens they don't want to have happen."
On Tuesday morning, Trump signed executive orders to advance the Keystone and Dakota Access pipelines, controversial projects bitterly opposed by environmentalists, Native Americans, and others. The Obama administration had blocked the projects.
EPA is also changing its public face. "Individual press offers are not handling media requests right now," Enesta Jones, EPA press officer who handles climate change and other areas, told Newsweek. The halt on communications comes days after mentions of climate change were removed from the White House website. Jones says that whether and when these restrictions will be lifted is unknown.
In response to an inquiry from Newsweek about this and other rumored communications changes, the EPA sent an unsigned email that said, "The EPA fully intends to continue to provide information to the public. A fresh look at public affairs and communications process is common for any new Administration, and a short pause in activities allows for this assessment."
Scott Pruitt, the president's nominee to lead the EPA, has not yet been confirmed. But Pruitt, Oklahoma's attorney general, has filed or joined some two dozen lawsuits against the EPA.
Axios reported yesterday that Ebell is pushing for $513 million in cuts to state and tribal assistance grants; eliminating climate change programs amounting to about $193 million; and reducing spending on environment programs and management by about $109 million. Among the regulations that Ebell opposes are the Clean Air Act greenhouse gas regulations for new and existing coal and natural gas power plants; Section 404 of the Clean Water Act, which regulates discharge of dredged or fill material into U.S. waters, including wetlands; and the Total Maximum Daily Load initiative to protect the Chesapeake Bay.
The Ebell memo calls upon the EPA to stop funding scientific research. Other suggestions include overhauling the advisory process to eliminate what he says are conflicts of interest and inherent bias. The EPA should also be prevented from overturning federal and state decisions on regulations and permits, "unless in clear violation of established law," reports Axios.
Many environmental rulings cannot be easily changed, says Michael Burger, executive director of the Sabin Center for Climate Change Law at Columbia University. For example, the Endangerment Finding, the EPA's 2009 conclusion that greenhouse gases contribute to climate change—a ruling that that has influenced environmental policy since then—could not be undone or ignored without a court-approved reason for doing so. "No court can or at least should reach that conclusion," says Burger. Legal requirements plus already pending litigation could delay rule changes by two to four years.
In contrast, executive orders issued by President Obama can be superseded by executive orders from President Trump. As Vox reports, such orders include a moratorium on selling coal from federal lands. In addition, some Obama-era environmental policies have their roots not in laws but in strongly held but readily reversible guidance. For example, the Council of Environmental Quality issued guidance on incorporating the impact of climate change in reviews of new projects, such as building construction. "That could be disastrous," says Burger. For example, withdrawing that guidance could lead to the construction of buildings not designed to withstand the sea-level rise and extreme storms predicted by climate scientists.
Picking up a line from Trump's inaugural address, the Environmental Working Group was quick to speak out against "the carnage President Trump is about to unleash on the environment, public health and the integrity of science itself," said EWG's president Ken Cook. The memo, said Cook, details how the new administration "will push to undo important safeguards that in many cases literally save lives."
In short, as a Republican source told Axios, "there will not be a shred of difference between campaign rhetoric and how [Trump] plans on governing."
Update: This article was updated to include the EPA's comment on press releases and public communications.