Donald Trump's Friend Boris Johnson Taking Over as U.K. PM: 'Dude, We're Going to Energize the Country'
Boris Johnson, a man U.S. President Donald Trump describes as his friend, will take over as the U.K.'s new prime minister after winning the Conservative Party's leadership contest to replace the outgoing Theresa May.
"Deliver Brexit, unite the country, and defeat [Labour leader] Jeremy Corbyn—and that is what we're going to do," Johnson told fellow Conservatives in his victory speech at Westminster, London, on Tuesday.
Johnson noted that the Conservative Party's mantra to deliver, unite, and defeat spelled "dud," an unfortunate acronym. But to this he added an "e" for "energize," and said: "I say to all the doubters: Dude, we're going to energize the country."
Shortly after Johnson's victory, Trump tweeted to congratulate him: "He will be great!"
May's premiership came crashing down after her repeated failure to get her unpopular Brexit deal to leave the European Union through Parliament, which time and again rejected her proposals. Over time, she lost the support of voters and then her party, and leaves office with a terrible approval rating.
Johnson, an eccentric and divisive figure in British politics, who campaigned to leave the EU during the 2016 referendum, promised to deliver the twice-delayed Brexit by no later than October 31, with or without a deal.
He fought off the British Foreign Secretary Jeremy Hunt—who campaigned against Brexit, but now wants to leave with a deal to deliver on the referendum result—in the final stage of the party's leadership contest. Around 87 percent of the 160,000 Tories eligible to vote turned out. Johnson secured more than 92,000 votes.
May will formally resign as prime minister on Wednesday after taking part in her last Prime Minister's Questions in Parliament. She will head to Buckingham Palace to tender her resignation with the Queen.
Johnson, a socially-liberal former Mayor of London, will then arrive at the Palace to be appointed prime minister by the monarch. The Conservatives have a tiny majority in the British Parliament, requiring, in practice, government-by-consensus.
A charismatic and well-known figure, Johnson is seen by supporters as the only hope the Conservative Party has of keeping it in government as its support in the polls sinks to historic lows. They hope that his personality and drive to deliver Brexit-at-all-costs will be enough.
The graphic below, provided by Statista, illustrates British public confidence in the U.K. leaving the EU on October 31.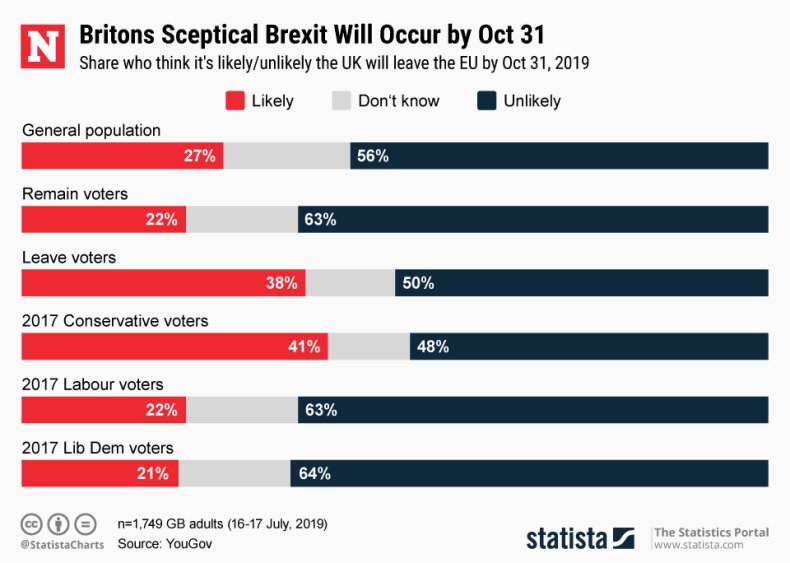 But to his opponents, Johnson is a politician fueled by little more than personal ambition, a shallow man whose political beliefs are malleable and whose legacy as London mayor is at best trivial, and at worst a record of incompetent leadership.
A general election is now widely seen as inevitable if not this Autumn, then by the Spring. Parliament is deadlocked over the issue of Brexit, unable to agree on a path forward other than rejecting a no deal scenario.
Johnson has flirted with the controversial idea of proroguing Parliament—temporarily closing it as though it were a normal recess—to force a no deal Brexit through by default when the Halloween deadline passes.
Ahead of Johnson's selection as leader, several current serving members of the government have resigned, citing their differences with his views on Brexit, and that they could not support a no deal scenario.
While he was Mayor of London, Johnson made derogatory remarks about the then-presidential candidate Trump, accusing him of being "out of his mind," of "stupefying ignorance," and of being "unfit" for high office.
But Trump and Johnson have since warmed to each other after the latter became Britain's foreign secretary in 2016, a role he held for two years until he resigned over May's handling of Brexit.
Like Trump, Johnson has a history of making outrageous and offensive comments sparking accusations of racism, homophobia, and misogyny.
Johnson, a former journalist, has, for example, referred to homosexual men as "tank-topped bumboys," and in a satirical piece about former British Prime Minister Tony Blair, described Commonwealth Africans as "flag-waving piccannines" with "watermelon smiles."
The new prime minister was also born in New York City and held U.S. citizenship until he relinquished it in 2016 after the Internal Revenue Service hit him with a tax bill over the sale of his property in North London.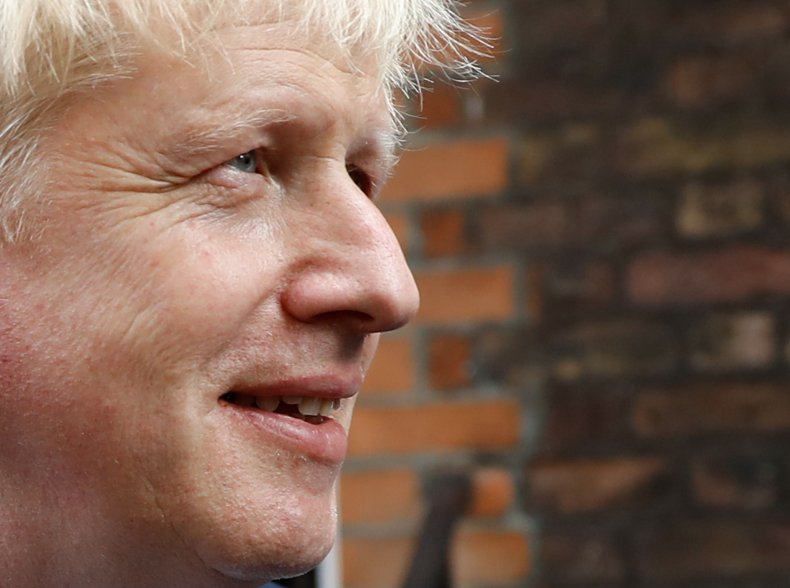 This article was updated to include a tweet by President Trump, and an infographic.