Trump's 'Good Friend' Who Vowed to 'Get Rid of the Illegal People' Wins Republican Pennsylvania Senate Primary
One of President Donald Trump's early supporters in the 2016 election will take on Democrat Bob Casey in November for one of the key seats Republicans are hoping to capture in order to keep hold of the Senate. Lou Barletta backed Trump enthusiastically early in his campaign and the president returned the favor in the closing days of the Pennsylvania Senate primary.
"Tuesday is Election Day, and I need you to go out and vote for my good friend, Lou Barletta, a very special guy," the president said in a robocall that was launched Monday.
On Tuesday, voters heeded the president's words. Barletta beat his Republican rival Jim Christiana with the Associated Press able to call the race with around 60 percent of precincts reporting. At the time of publication, Barletta, who currently represents Pennsylvania's 11th congressional district, led Christiana 61 percent to 39 percent.
It was in that position that Barletta broke ranks with the majority of elected Republicans to endorse Trump in March 2016.
"I wish that the establishment, instead of trying to stop Trump, you know, would look at why he's so popular and coalesce around him so that it's one team in November," he said at the time.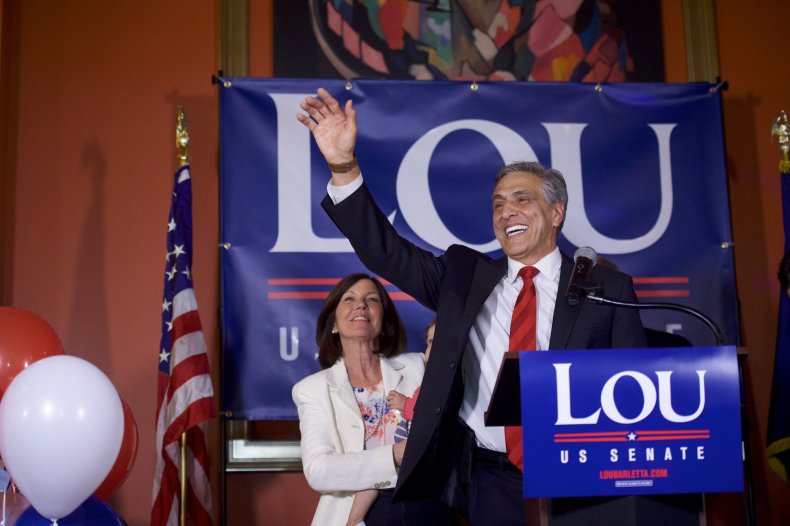 The mutual admiration between Barletta and Trump should be of little surprise. Like Trump, Barletta has taken a hardline stance on immigration. As mayor of Hazleton in 2006, Barletta passed the "Illegal Immigration Relief Act," which sought to punish businesses and landlords who provided work or homes to undocumented immigrants.
Despite being the grandson of an immigrant, Barletta vowed the make the city "the toughest place on illegal immigrants in America.
"What I'm doing here is protecting the legal taxpayer of any race," he said in 2006. "And I will get rid of the illegal people. It's this simple: They must leave."
A decade later, Trump would sweep to a shock presidential election victory espousing a similar message, vowing to build a wall along the United States-Mexico border and put in place a ban on all Muslims entering the United States.
"Donald Trump was criticized the same way I was criticized when I was mayor because he addressed an important issue," Barletta said in 2016. "I don't believe the issue would have been addressed if it wasn't for Donald Trump bringing it up."