Donald Trump Doesn't Have Any Friends at Mar-a-Lago, Local Billionaire Says
Donald Trump has no friends at Mar-a-Lago despite the Florida resort being constantly full of his supporters and those who praise the former president, according to a billionaire member of the club.
Jeff Greene, 67, a real estate tycoon who made his fortune buying credit default swaps on subprime mortgages prior to the 2008 financial crash, made the remarks while speaking to the Financial Times for a profile about Trump's Florida home and sometime political base.
Greene, who unsuccessfully ran for Florida Senate in 2010 and for governor in 2018, described how he felt more welcome at Mar-a-Lago than the other exclusive clubs in Palm Beach, but that he and Trump were never personally close.
"He would come over to my table, I think because I was a billionaire. He likes billionaires," Greene said. "That's a big deal to him. He likes people who are rich and famous."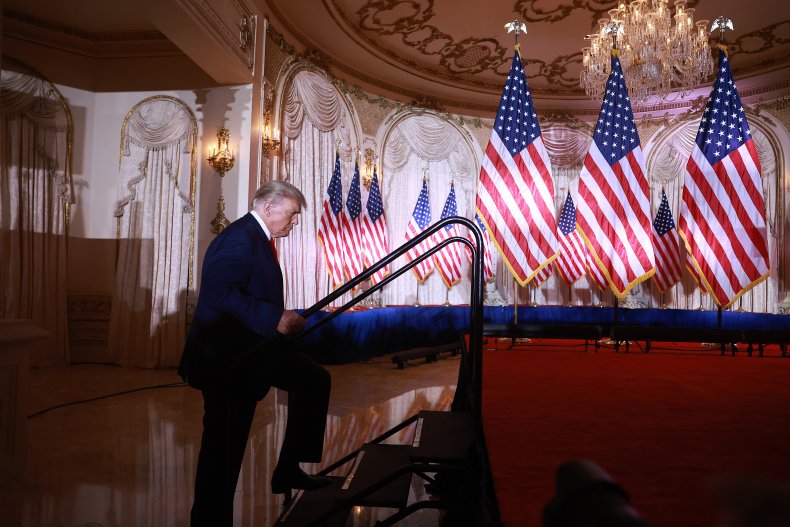 When asked who are Trump's friends at Mar-a-Lago, Greene replied that he doesn't think the former president has any at the resort.
"I mean honestly, I have this friend who …plays golf with him all the time but you know, he never went to the White House. I don't even think he was even invited," Greene told the Financial Times.
Instead, Greene says Trump seems to surround himself with people who can heap praise upon him, and in return be close to him at his own home.
"It's all transactional. They want to be around him because he's the ex-president," Greene said. "He likes people to defer to him … and tell him how good he is."
Greene, who joined Mar-a-Lago in 2010 and lives near the Palm Beach resort, said any hopes of him being close with Trump appeared to end after Greene unsuccessfully ran in the gubernatorial primary to face off against the Trump-endorsed Ron DeSantis.
During his 2018 campaign, Greene released adverts which criticized the then-president, a move Greene purely put down to politics.
In 2020, Greene said he was playing golf with a friend at Mar-a-Lago when Trump came up to him at the 16th hole.
"He looks at me and he goes, 'What a nerve you have coming to this club!' Then he just drives away," Greene said.
He said Trump's hostility towards him was magnified when he bumped into the former president later on in the club's grill room.
"He looks me in the eye and he goes, 'You know, you spent all that money, millions and millions of dollars, and came in fourth. What a loser!' In front of all of my friends," Greene said.
According to Forbes, Greene, whose net worth is more than $7.2 billion, spent $30 million in his bid to win the Democratic primary for governor of Florida.
Trump has been contacted for comment.
Do you have a tip on a politics story that Newsweek should be covering? Do you have a question about Donald Trump? Let us know via politics@newsweek.com.