Trump-Funded Recount Turns Up More Votes for Biden Ahead of Wisconsin Certification
Results for one of the two counties President Donald Trump's campaign paid have been tallied, giving President-elect Joe Biden a slightly bigger lead over the president in the 2020 election.
The Trump campaign spent $3 million for a partial recount in the Wisconsin's Milwaukee and Dane counties. The Milwaukee Journal Sentinel reported that the Milwaukee County recount found 257 more votes for Biden and 125 for Trump, giving Biden a slightly larger lead of 132 in that county. The final recount showed 317,527 ballots cast for Biden and 134,482 for Trump.
Dane County is anticipated to finish its recount by Sunday. As of Saturday, Dane County Clerk Scott McDonell said that officials were about 83 percent done with the recount.
The deadline for recounts is Tuesday, so the state election commissions can certify the election.
"There was an examination of every ballot by election workers, a meticulous recounting of every ballot that was properly cast, a transparent process that allowed the public to observe, a fair process that allows the aggrieved candidate who sought the recount an opportunity to observe and object to ballots they believe should not be counted," Milwaukee County Clerk George Christenson said, reported the Journal Sentinel.
Trump has repeatedly claimed that voter fraud cost him the election in many of the states he lost. Many of his allegations have been debunked and dismissed.
Rick Baas, a Republican member of the County Board of Canvassers, cited human error as the reason for any mistakes. "I trust the Trump campaign is looking forward to its day in court. There were a number of things that had to be corrected, and they're often represented as just human error, and usually they are," he said.
"It is important for people to understand how their government works. A recount is just that: a recount. There's evidence that will be taken to another level, and it'll be reviewed there, but as this body has conducted itself in a manner that is exemplary," he continued.
The Trump campaign has filed several lawsuits to try to prove that voter fraud cost him the election in a number of swing states, such as Pennsylvania. Most of the lawsuits have been dismissed.
On Twitter, people mocked Trump for the results of the Wisconsin recount, with people pointing out the irony. Katie Couric tweeted: "Be Careful What You Wish For."
According to the Associated Press, Biden won Wisconsin by a very small lead with almost 21,000 votes. Biden received 49.6 percent of the vote, and Trump received 48.9 percent.
On Saturday afternoon, Trump tweeted that the recount was for "finding people who have voted illegally," rather than "finding mistakes in the count." He claimed that the campaign has found illegal votes and will be brought about on Monday or Tuesday, after the recount is finished.
The president ended his tweet by telling his followers to "Stay tuned!"
In an emailed statement received by Newsweek, Trump campaign legal adviser Jenna Ellis said the Dane and Milwaukee County recounts showed "serious issues regarding the legality of ballots cast." The full statement reads:
The recounts in Dane and Milwaukee Counties have revealed serious issues regarding the legality of ballots cast. As we have said from the very beginning, we want every legal vote, and only legal votes to be counted, and we will continue to uphold our promise to the American people to fight for a free and fair election.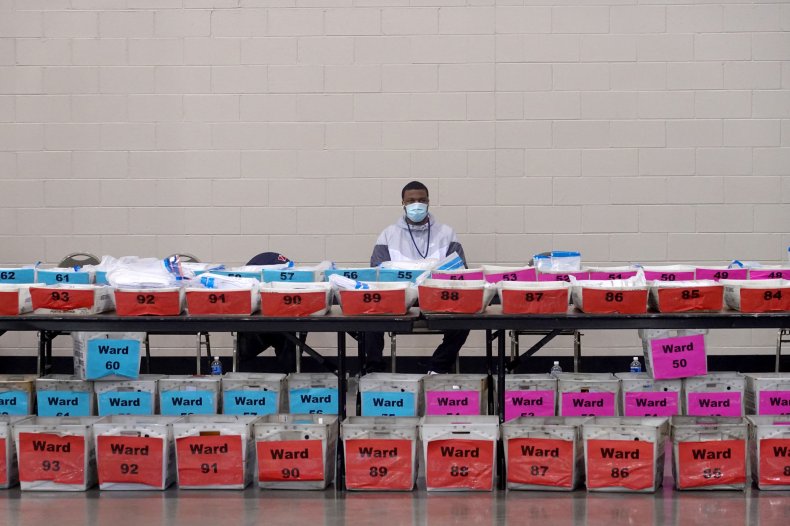 Update 3:25 p.m. EST: This story has been updated to include Trump's tweet about the Wisconsin recount.
Update 11/29/20 2:53 p.m. EST: This story has been updated to include comment from the Trump campaign, which was received after the story was originally published.