President Donald Trump's first virtual fundraiser has bagged almost twice as much as Joe Biden and Barack Obama did in their first joint-fundraising call.
The president's re-election campaign announced on Tuesday that it had raised $20 million with a virtual event co-hosted by Trump and Kimberly Guilfoyle, the national chair of the Trump Victory Finance Committee.
More than 300,000 donations were made during the fundraiser, which preceded a call between Trump and a contest-winning support teaching in Texas.
Releasing a statement on the fundraising haul, Guilfoyle said: "Trump Victory's groundbreaking fundraising record proves the American people are passionate about gaining four more years under President Trump's strong leadership.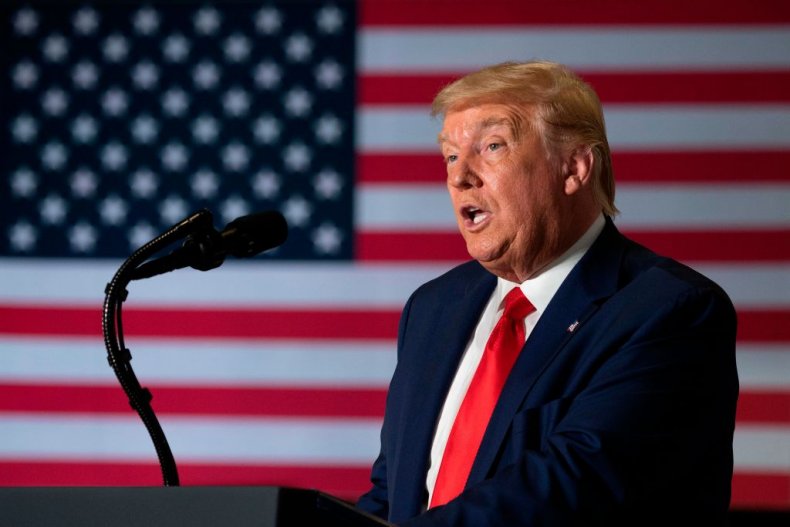 "Across the nation, the SILENT MAJORITY are coming together to donate their valuable time and hard-earned money to help make this President's re-election a reality."
She added that enthusiasm was the "most important measures of success" in an election race, and argued that the enthusiasm among Trump supporters "cannot be matched."
The president's eldest son, Donald Trump Jr., and campaign communications director Tim Murtaugh also congratulated Guilfoyle on the fundraising haul.
The campaign's tipped $20 million in fresh donations almost doubles the sum raised by former Vice President and former president Barack Obama in the first joint fundraising call at the end of last month.
Biden and Obama raked in a total of $11 million at the June 23 fundraising event, with $7.6 million coming from 175,000 supporter contributions while a further $3.4 million on a private section of the event, according to The Guardian.
The former vice president's campaign manager Jen O'Malley Dillon tipped the haul as the largest single fundraiser at the time, saying it highlighted "the power of the grassroots movement" behind Biden.
Speaking to the Democratic nominee's backers on the call, Obama warned against complacency heading into the November election.
"We can't be complacent or smug or sense that somehow it's so obvious that this president hasn't done a good job because, look, he won once," he said at the time.
According to Federal Election Commission data, Trump's re-election campaign has more cash on hand than Biden's team, with the president's coffers holding more than $108 million.
By comparison, the former vice president has a little over $82 million cash on hand, having raised more than $215 million in the 2020 cycle.
Newsweek has contacted the Trump campaign for further details. This article will be updated with any response.