Trump Fundraiser Asked Top Congressman For Help With Romanian Defense Contract, Emails Show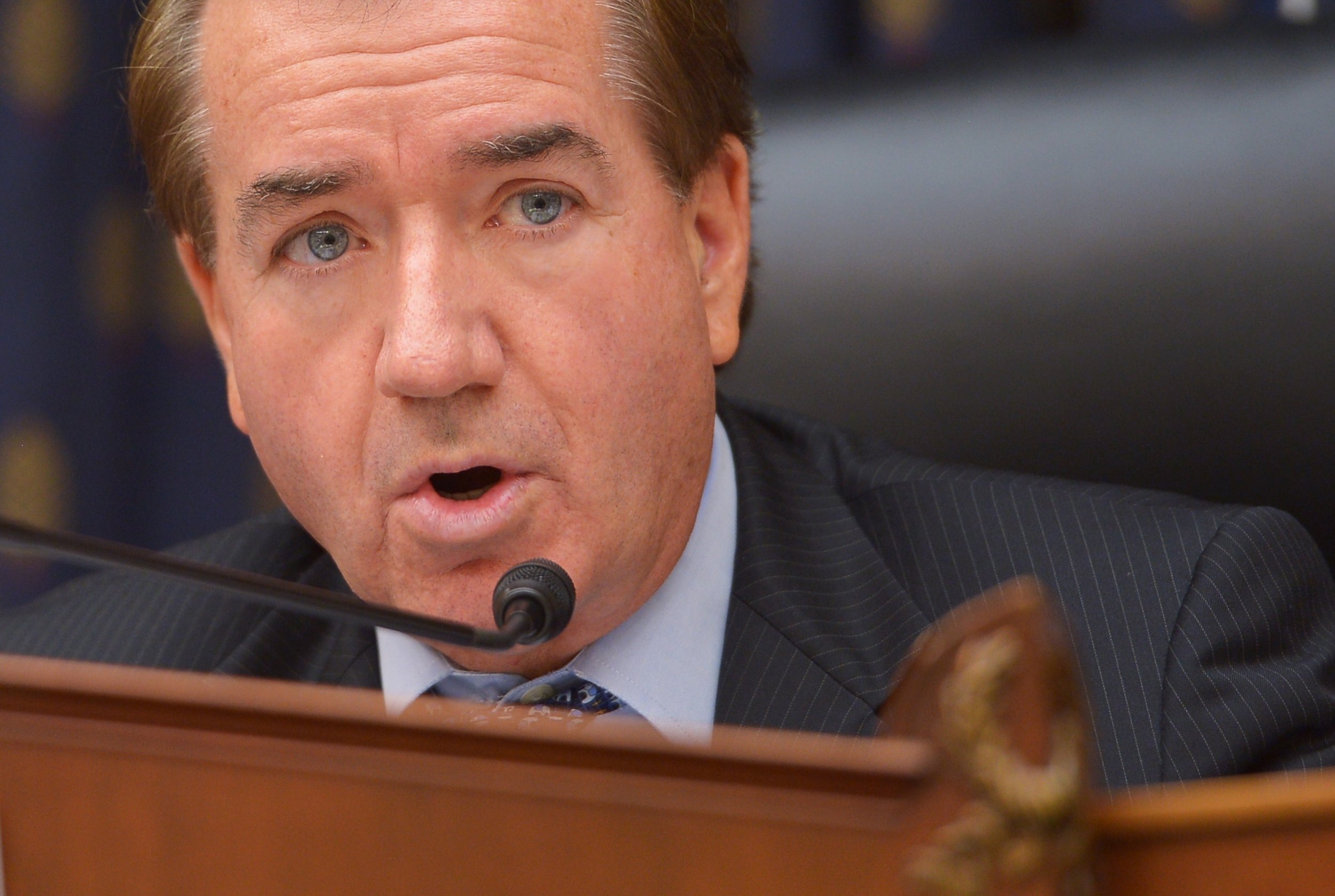 A top fundraiser for President Donald Trump and the Republican National Committee asked the head of the House Foreign Affairs Committee last year to help his defense company win a lucrative contract in Romania, according to emails and documents obtained by Newsweek.
Venture capitalist manager Elliott Broidy, owner of space and defense firm Circinus, went so far as to work with executives of his company to draft letters in the name of U.S. Representative Ed Royce, a Republican from California, the documents suggest. The emails were designed to promote the firm to high-ranking Romanian officials following the congressman's trip there in August 2017.
Emails shared with Newsweek appear to show a Circinus employee drafting a letter to Romania's economic minister on Royce's behalf. In the letter, the congressman supposedly praises the welcome he received from Romanian officials during his visit as "outstanding" and said the U.S. government is "happy" to see Romania make "significant investment" in its defense industry.
The emails were first reported by McClatchy.
In the draft apparently written by the Circinus employee, Royce then highlighted Circinus, the company Broidy acquired in 2015, as the defense firm capable of ensuring Romania's national security and NATO defense spending requirements. The letter said the company "was renowned for their expertise" in C41SR – short for command, control, communications, computers, intelligence, surveillance and reconnaissance – and cyber programs.
"I request you offer this consortium the strongest endorsement," the letter concluded, with Royce's name and titles printed at the bottom.
A Royce spokesman said the congressman spoke with Broidy about the trip, but that Royce never sent the letters endorsing Circinus.
"Broidy was aware of the trip, and offered unsolicited input," Royce spokesperson Cory Fritz told Newsweek. He also said Royce did "nothing on behalf of Circinus" and that Royce did not authorize Broidy to craft letters to Romanian officials in his name.
Broidy said his company followed all laws in its pursuit of defense contracts.
"Circinus is involved with efforts around the world that will enhance our national security and that of our allies and foreign military partners," Broidy said in a statement through a spokesperson. "We have been particularly adept at and are uniquely positioned to compete in markets that have required highly specialized national security and counterterrorism expertise. Our company ensures that all of our efforts are in full compliance with U.S. and international laws."
Ciricnus last month reached a deal with a Romanian state-run firm that may allow it the "inside track" on deals potentially worth $200 million, according to The New York Times and Romanian news outlets.
But the deal was more like a "teaming" agreement or "partnership," a person with knowledge of Circinus business operations told Newsweek, adding the company does not have contracts presently in Romania.
The episode shows the remarkable access Broidy, a longtime fundraiser, enjoys in GOP circles. Broidy has served as a deputy finance chairman for the RNC since April 2017, after initially acting as the RNC's finance chair for the 2004 and 2008 elections. He's long been known as a "bundler" for the committee, gathering large sums for campaigns for years.
Following the 2008 elections, Broidy was charged and pleaded guilty in a pay-to-play scandal involving the New York state pension fund in 2009.
On July 31 of last year, less than two weeks before Royce would make his trip to Romania, Broidy made two personal donations to Royce's campaign for a total of $5,400. Broidy had never before made such donations to Royce, who faced a difficult re-election battle at the time in a district that Hillary Clinton won in 2016. The 13-term congressman announced in January he would not seek re-election in this year's midterm elections in order to focus on chairing one of Congress's most powerful committees. But as late as December he was still raising money and had received more than $120,000 in total from the California Victory 2018 joint fundraising committee.
In another email that Broidy allegedly sent to himself, with the subject line "Final Message to Ed Royce," he expressed dismay at how the U.S. Embassy in Bucharest had yet to authorize Royce meeting with specific Romanian officials. Broidy wrote that unless the embassy complied, "I think we should cancel your trip…and reschedule for a time these meetings are possible." It's unclear if the email was ever sent to Royce.
The emails and other internal Circinus documents were sent to Newsweek from an anonymous ProtonMail account. Attempts to reach whomever sent the emails and documents went unanswered.
Broidy has been the subject of numerous media reports about his lobbying, businesses and apparent influence with the Trump administration. Those reports have also been based on leaked emails and documents. Broidy has not directly denied many of the allegations against him, but has said he's been a victim of computer hacking.
Broidy and his link to George A. Nader, a witness in Special Counsel Robert Mueller's investigation of Russia's meddling in the 2016 election, has been particularly exposed. Nader, lobbying on behalf of the United Arab Emirates, reportedly transferred some $2.5 million to Broidy in April of last year in an attempt to have legislation passed against UAE rival Qatar, the Associated Press reported Monday.
Since then, Broidy has given a little less than $600,000 to Republican members of Congress and party political committees, and also sponsored a conference built around Qatar's links to Islamic extremism, according the AP.
Broidy has accused Qatar of orchestrating the supposed hacking of his emails. Qatar officials have denied this. He filed a lawsuit against Qatar Monday claiming the Gulf kingdom had launched a "hostile intelligence operation" in order to smear him.
Broidy has, too, used his apparent political influence with Trump's White House to court Romanian officials. He invited two controversial Romanian officials, head of the Social Democratic Party and speaker to Romania's lower house in Parliament Liviu Dragnea and former Prime Minister Sorin Grindeanu, to Trump's inauguration over a year ago, McClatchy reported last month.
Dragnea and Grindeanu sat at a table with Trump and spoke with him. Dragnea, who was subject to a criminal investigation over corruption charges last year, wrote on Facebook about his interaction with Trump.
"We will make it happen! Romania is important for us!" Dragnea quoted Trump as saying on his Facebook post, McClatchy reported. The post also included pictures of Trump, Broidy and Dragnea sitting at a table together.
Dragnea also snapped pictures with Royce, and the pair discussed Romania's partnership with the U.S. and how to better improve ties, McClatchy reported last month. He also took a photo with former national security adviser Mike Flynn, according to a Romanian news outlet. Dragnea's party also reportedly paid $100,000 to a Washington lobbying firm last year to set up meetings with Vice President Mike Pence and Speaker of the House Paul Ryan.